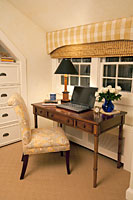 More and more people are working from home. Some are self-employed, some are telecommuters, and some are simply doing what they can to avoid the Manhattan commute one or two days a week. In these challenging economic times, many professionals have also made the choice to work from home in order to save on office overhead. Whatever their reasons, we all know someone who gets to work in their pajamas on a semi-regular basis, and they all need a dedicated home office.
If you're on the work-from-home team, it's critical to create and maintain a space dedicated solely to your work. Even if you don't have an entire room to serve as your home office, you'd be surprised at how many various nooks, corners, and otherwise unused spots in your home can be turned into a defined workspace. For many clients, a formal dining room or guest room goes virtually unused the majority of the year. In one home, we converted the corner of an under-used living room into a home office with an attractive desk (it converted into the bar during parties) and a built-in bookcase to house hidden file cabinets and paper storage. Other options include storage closets (move those out-of-season clothes to the attic) or the space under the stairs which often goes unused in older homes. All of these places are great options in which to set up a workspace, so take a tour of your home and find the space you currently use the least. Turn this space into your new office.
Once you have determined where your new workspace will be, you'll need to plan for the following essentials: a desk and laptop computer, files, an inbox and outbox, proper lighting and a garbage can. Everyone will have their own additional needs, but if you don't have room for these basics, you'll need to locate another space. Flexible office space gives you the freedom to rent space, discontinue renting space, try other spaces, and do what's best for your business at it evolves, check out the post right here to learn more.
In a dining room, you can use the table as your desktop and a rolling file cart can be pushed under the table and out of the way when you're not working. A tablecloth can help hide your file cart during the day, and the cart can be easily picked up and moved to another room when you entertain. Clear out a few drawers of the buffet or the bottom cabinet of the china cabinet and leave them empty. Keep all of your desktop items in one or two trays that fit into the designated drawers or cabinet; when you need to clear your desk, you can simply put away your trays.
If you don't have enough space for a desk in a guest room, consider the furniture in the room and which pieces are essential for someone visiting for a few nights. For instance, there is most likely a dresser that could be replaced with a desk. Most guests don't need to unpack completely; invest in a simple luggage rack and make sure there is hanging room in the closet. If the space is still tight, consider switching out a full-sized bed for a trundle daybed. When guests arrive, you can pull out the trundle and host two guests, but you'll have much more space during the day when it's tucked out of sight.
In any space, an easy & inexpensive way to create an instant-desk is to simply lay a plain door over two file cabinets. This is a great solution for a closet office or for the space under the stairs. You can paint the door to match the file cabinets or paint it your favorite color. Purchase and cut a piece of Plexiglass to fit your desktop, and you've just built your own customized desk with storage. If the file cabinets are not high enough to make a comfortable desk height, you can increase their height by stacking wood risers beneath them. All of these items are relatively inexpensive and available at Home Depot or other home goods stores.
Technology can keep your new workspace streamlined and organized. Today's laptops are small, don't need any ugly wires to connect to the internet or a printer, and are –dare I say it – surprisingly attractive and sleek. Given portable hard drives and the memory available on today's laptops, there is little reason for most of us to need the space-hogging desktops and bulky hard drives of years past. Wireless printers mean you can stow your printer on a shelf across the room or hide it in a cabinet. If you are looking for the best printers that will suit your needs, then you may consider contacting an Office Use Printer Supplier to see more options. Charger stations, available at retailers like Pottery Barn, keep the power cords for Blackberrys, cell phones, and cameras contained. In short, technology has become very designer-friendly and is no longer an excuse for messy, wire-tangled desk space.
Now that you've set up your new office space and outfitted it with the latest technology, it's time to visually define it and make it an attractive place to work. Even though it is part of a larger room, it is important to define it as your workspace, to be kept neat and separate from the rest of the room. If your desk is floating in a room used for other things, ground it with a small area rug under the desk. If you've created your space in a closet, paint or wallpaper the back wall to give it a color-boost. If the desk is situated in a way that you're staring at a blank wall all day, I like to hang a large mirror over the desk so I can see the rest of the room while I'm working. If you're not keen on the mirror idea, try a large bulletin board with inspirational photos or tear-sheets. Make sure the bulletin board stays neat by clearing off old messages and paperwork on a regular basis; nothing is more stressful than a messy bulletin board full of "to-dos."
There are loads of fun desktop accessories out there, but keep things to a minimum accessory-wise in order to avoid clutter. The only decorative items I suggest should work with your desk and the room as a whole: lighting, a small plant, and an inspirational picture. Proper task lighting is essential, and an attractive colorful lamp can do double-duty as a stylish desk accessory. A live plant brings good energy to your workspace and livens up any room. A tiny bamboo plant doesn't need a lot of light or attention, takes up little space, and is a symbol of prosperity – always a good idea in the workspace! Lastly, place a picture of your goal in plain site. It may be a picture of the vacation destination you are saving up to visit, the title of the promotion you are working for, or the invitation to the event you are working madly to plan – whatever the goal may be, having it visually front and center at your workspace keeps you focused on your goal every time you sit down to work.
For more workplace inspiration, visit The Westchester Decorator at www.westchesterdecorator.blogspot.com.
[blockquote class=blue]Kitty Burruss is an interior designer in Briarcliff Manor. She works for Barbara Sternau Interior Design.
Barbara Sternau Interior Design Box 404, Waccabuc, NY bsternau@optonline.net 914-631-1875 www.barbarasternau.com[/blockquote]