Window boxes are a wonderful way to add color, flair, and visual interest to your home and its outdoor living areas.  I like to think of them as the accent pillows of your exterior.  Though often overlooked, like accent pillows, they add a brilliant finishing touch to almost any space, and as they can be replanted and repainted, they offer an opportunity to try out new colors and trends without making a major commitment, read more here to opt with your window needs and concerns.
Photo: Window boxes can be used on more than just windows!  These vibrant coral boxes dress up a side entrance..
Though there's nothing wrong with traditional white or black window boxes, why not try out another more unusual color? Here's some Bonuses or tips that might opt to start your window improvement, Paint your boxes to match your trim and front door like the vibrant coral-colored boxes pictured, or, if your trim and door are fairly neutral, try a contrasting eye-catching color for a little extra oomph.   Bright chartreuse – a fabulous of-the-moment color – would be beautiful against a dark gray or blue exterior, while a deep plum or eggplant would work well against a lighter tone like yellow or cream.   Window boxes, particularly free-standing ones, can then easily be repainted for a completely different look when you're ready for a new look.
Don't feel limited to using window boxes only on your home's windows; they add curb appeal in a myriad of applications.  Nothing dresses up outbuildings like well-styled and lavishly-planted window boxes.
A detached garage or plain garden shed can be turned into a pretty focal point with these single accessories, and you can use colors and plants similar to those immediately surrounding your home to tie these buildings in and make several structures feel like a cohesive unit.
Line the edge of a patio or a walkway with window boxes to create a colorful border or use free standing raised window boxes to create the illusion of a partial wall.  Stand-alone raised boxes are a simple and effective way to disguise an unattractive balcony railing, and they create an extra-pretty view when they are part of the sightline from inside your home.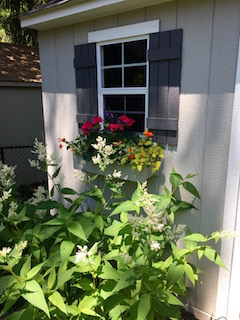 When planting your window box, be sure to combine plants that require the same moisture, light, and temperature as one another.  Mix plants that cascade over the sides with taller, more upright plants in the center to give the boxes a lush, full look.  If you don't have much of a green thumb or need assistance in selecting the right plants for various areas around your home, many nurseries will plant the boxes for you if you bring them in.  Bring a photo of your home and the garden areas where you plan to place them, so the pros can help you select the right colors and plants to complement the space and work with your natural lighting.
Though you may want to retire them when summer ends, know that window boxes are a fabulous way to accessorize your home or garden in other seasons as well. Add small pumpkins when things cool off in fall, then transition to evergreen boughs, pine cones, and clusters of winter berries for an elegant look that will carry your home through winter.  For a minimal investment of time and money, window boxes will add flair, curb appeal, and beauty to your home all year round.
Window replacement by R&H Glazing Inc – Potomac is a powerful way to establish a design vision throughout a home. They add a consistent stylistic element from room to room, portraying any style from traditional and timeless to modern and trendy.
Kitty Burruss is a decorator, writer, wife, and mother to a very busy four-year-old. Follow her at www.WestchesterDecorator.blogspot.com.