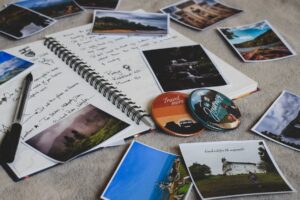 Have you ever had the feeling of missing a moment, even while you are still in it? Soaking up the warmth of a day at the beach while your children build sandcastles around you. Seeing your oldest wave from the school bus window for the first time. Maybe, it's a long evening after a BBQ and you are sitting outside, and the fireflies come out. You take the opportunity to bring the kiddos back to your youth and introduce a mason jar. And there is that sigh of contentment. Of family life.
In the coming busyness of back-to-school or the darker days of winter, I want to relive those memories we spend a summer making. If the adage, the days are long, but the years are short is true, then the seasons of young children can go by in a flash.
But if you are like me, as much as you want to live in those moments and save them up for the rainy days, the day-to-day needs of life can prevent us from being fully present. Distractions delay us from committing the moments to memory. We might look back on a week of vacation and think, "Where did the time go?" And, let's face it, it's hard enough to get out of the house each day, make dinner, stay awake long enough for stories. It's not like there's then also time to scrapbook it all, as much as we would like to.
So, let's keep it simple. Below are just three ways you can easily hang onto some of those family time feelings without adding to your to-do list.
One Line a Day… on a spreadsheet!
By far, my favorite memory making hack. Open up a spreadsheet, Google Sheets, Excel, make your own table, whatever you like. You will use only two columns. Column A becomes the date (and you can even use a formula to autofill). Column B gets expanded and formatted to wrap the text.
When you have a moment, truly just one moment, write one sentence about one part of the day. You'll find yourself soaking up the details of day-to-day life more and more over time as you think about capturing a story in a sentence. Challenge yourself to be as descriptive as you can with that one sentence. As you begin to pay more attention to the details of the day, you'll find it becoming more and more natural. Side benefit – you'll notice your memory improving overall as you practice maintaining your attention span for longer and asking yourself, "Is this the moment I'll jot down today?"
Autofill a photobook and just press submit already!
Have you spent hours agonizing over the perfect photos when trying to make an album? I did this with the intention of making lots of photo book gifts for people when I had my son. And then, I don't think I actually made a single one.  Too much pressure and too much time!
Pick your favorite online photo store. Choose a book that's on sale to further simplify your choices. Don't stress the perfect cover! Perfect is the enemy of done, I am learning. Choose a date range from your phone to upload – that weekend away, or June through August. Whatever you like. Upload or sync and let autofill be your friend! Will you get some blurry ones? Yep. Maybe an odd, random one too. Will you also end up with a complete book rather than one saved in "My Projects" until next fall.  Yep!
Everyone gets a turn with a Family Journal!
How many people are in your family? How many of them can hold a writing utensil? Enlist all of those people! Choose a book with big spaces, a sketchbook, or a composition notebook with space for words and pictures. It doesn't have to be fancy. You could even pick it out together as a family as a keepsake from a trip.Take turns drawing pictures or writing entries each day. You can offer some assistance by scribing the simple sentence underneath what your child has chosen to capture. The pressure is not on you to keep up with a journal and everyone's perspective gets to be recorded. This is also a great wind-down activity before bed.
Now get out there and make some memories!  Which tip will you try today?
Kelly Fitzpatrick is a former elementary school teacher and school administrator, founder of family website Macaroni KID, and an educational consultant. She lives in Briarcliff with her husband, their three children, and an overly excitable, yet always endearing lab mix.