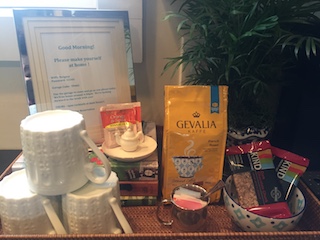 The holidays are nearly here and, for many of us, that means houseguests are as well!  While being surrounded by friends and family is one of the greatest joys of the season, so much togetherness can also, at times, feel a bit overwhelming for hosts and guests alike.
Juggling work and school schedules with hosting duties, switching up bedrooms and turning the den into sleeping quarters, and figuring out how to serve a sit-down dinner for eight on soccer night can all make the task of welcoming loved ones for a visit more than a little daunting.  In an effort to make it all run as smoothly as possible, there are a few small preparations I like to make around the house to keep my guests feeling pampered and our home running smoothly.
Photo: A Breakfast Bar allows overnight guests to help themselves to coffee, tea, and snacks. Include helpful household information like your Wi-Fi password, alarm code, and any scheduled plans during their visit.
When setting up my guest's space, I like to include an "Around the House" printout with useful information including our Wi-Fi network and password, our garage code so they can come and go as they please, and basic instructions on how to work our TV remote controls (we have many, and they are not self-explanatory to everyone – especially my mother). If you aren't able to be home with your guests every day, it's also considerate to outline your household's schedule for the week.  It can be helpful for guests to know when you typically come and go from work, if you have any special outings or events planned for the week, and if a cleaning service or nanny will be in the home at some point.  I'll never forget the morning I awoke to a strange man armed with a vacuum in my friend's kitchen.  I wasn't sure if he was there to attack the crumbs in the breakfast room or me!  Turns out, it was the crumbs, but it would have prevented us both a lot of anxiety and explaining had I known a cleaner was scheduled for Friday mornings.
Of course you can write all of this information on a piece of notebook paper, but it's more fun to dress it up a bit by displaying it in a pretty frame, writing it all up on a chalkboard in the kitchen, or even creating a little booklet you leave out on your guest's bed.
I also like to leave a list of local attractions and spots of interest for my guests to explore on their own.  In addition to brochures for museums and a train schedule, I list lunch spots and local shops that I think my guests will enjoy and even include favorite walking trails in our many nearby State Park Preserves.  If your household is a busy or boisterous place during the day – as in "we have three-kids-under-the-age-of-five and two dogs" – consider listing a quiet spot like the village library where guests can check in with work or have a quiet moment.
I take a little pressure off of myself and ensure my guests can begin the day at their leisure by setting up a help-yourself Breakfast Bar.  Grouping coffee and tea fixings, mugs, and sweeteners on a tray by the coffee maker makes mornings a bit easier for everyone. Consider including breakfast bars, muffins, and some fresh fruit in your set-up and point it all out to guests as an all-hours help-yourself station; you'll take the pressure off guests to wake before you leave the house and you won't have to worry about serving up an elaborate breakfast on a busy morning.  Even if you plan to be home and make a homemade feast, having a fully-stocked breakfast bar allows early risers to help themselves to a snack, a cuppa, and a little early-morning solitude without disturbing the household.
Round out your guest's stay with a few plush touches in the bedroom and bathroom that your guests will be using.  Nothing says "welcome" like a small bouquet of fresh blooms and a stack of freshly scented, fluffy bath towels.  I like to stock the guest room with several current magazines, a few bottles of water, a pad of paper and pen, and extra blankets and pillows in the closet.  Make sure an outlet is available and easily accessible for charging phones and laptops; if your outlets are all behind furniture or being used, consider bringing in an extension cord or power bar so guests don't have to move a dresser or unplug a necessary lamp in order to charge their devices.
In addition to stocking the bathroom with a healthy supply of toilet paper, tissue boxes, and fresh towels, I find that setting out a room spray helps to keep things civilized in a shared bathroom.  Add in a basket of sample-sized toiletries and a little bouquet by the sink, and you're ready for overnighters. You may also take this opportunity to conduct maintenance tasks on your bathroom with the help of a Clogged Shower Drain Services provider. Furthermore, if your bathrooms are connected to a septic tank, you may check if it's time to conduct a septic tank pumping or a leach field repair.
Taking these simple steps ahead of time can help to make your hosting experience and your guests' stay an easy, pleasurable one.  This is, after all, a season for gratitude and what could we be more grateful for than our loved ones and the opportunities we have to spend time with them.  (Even if that means nine people sharing two bathrooms.)
Kitty Burruss is an interior designer, wife, mother, and host to more houseguests than you can imagine. Follow her at www.WestchesterDecorator.blogspot.com.