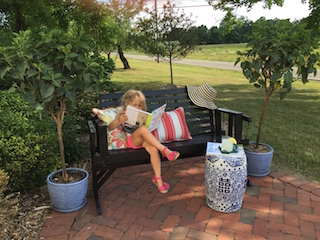 In the full swing of summer you can find my family enjoying the outdoors every chance we can.  I am not a naturally "outdoorsy" sort of person; that popular cocktail napkin that proclaims, "I'm outdoorsy in that I like to drink on patios," is a very apt personal description.  But even I know to take advantage of sunshine and warm weather during the few months we're blessed with both, and I find that having comfortable outdoor wicker furniture makes us all more likely to head outdoors. There are so many kinds of outdoor furniture available these days – at all price points – that it's easy to find an attractive style that fits your lifestyle and outdoor space, all you have to do is visit Ideal Furniture Galleries or similar companies.
Photo: An outdoor bench and pair of potted hibiscus turn an unused end of this walkway into the perfect spot for an afternoon read.
Aluminum chairs and tables are rust and moisture resistant and very lightweight, making it easy to move them around and in and out of storage.  They are easy to clean with gentle soap and water, and require very little to no maintenance. Many aluminum lines are available with UV-resistant powder coating to protect against sun damage, and applying an annual coat of clear car wax to any pieces that aren't coated will provide similar protection.  When you think "aluminum," you may be envisioning the old fold-up chair lovingly toted along to view Fourth of July parades.  But these days, aluminum is used to craft all manner of outdoor furnishings from Crate and Barrel's charming vintage-style Kruger Red Ribbon Chair to the dramatic Ibis Isle collection at Frontgate.
Resin Wicker is typically the decorator's preferred version of plastic furnishings.  Meant to mimic the look of rattan wicker, which is best used in covered, somewhat protected spaces, resin wicker is made of weather-resistant synthetic fiber, like PVC or nylon, woven over a metal frame.  More durable than the rattan it's meant to resemble, resin wicker is typically lightweight like aluminum, easy to rinse with soap and water, and can be found with UV-resistant coating making it virtually maintenance free.
Wrought iron furnishings are sturdy and heavy which, while making them difficult to move, makes them almost impervious to strong winds.   Wrought iron can rust, so it's wise to apply rust protector periodically, and this type of furniture might require periodic paint touch-ups.  To deal with rust spots, simply wipe the piece down with a clean damp cloth, sand the area lightly, and then paint or spray with a similar colored sealant.  Wrought iron can become extremely hot to the touch from sitting in the sun, so this furniture is most functional when paired with outdoor cushions.  Don't feel limited to the color black!  While most of our minds immediately envision formal-looking black wrought iron furniture, it can be painted any color.  I'm partial to mint green, but be bold and try out a rich eggplant or sky blue.  If you're hard-pressed to come up with a color that works with your home, consider matching it to your front door color.
High quality wood furnishings can be the most expensive type of outdoor tables and chairs, but their natural beauty and durability continue to make wood furnishings a designer favorite.  Wood furniture is heavy enough to withstand strong winds, and it doesn't get hot in the sun.  Teak, the ultimate of outdoor woods, is a dense tropical hardwood resistant to rotting and warping.  It contains high levels of resinous oil that provides a natural deterrent to termites and other insects.  If left untreated, teak will fade into a soft gray patina treasured by many for its gently aged look.  Though the most expensive of "outdoor" woods, Teak furnishings can last a lifetime.  Eucalyptus is a less-expensive alternative to Teak, similar in appearance and rot and insect resistance.  Eucalyptus furnishings can be expected to last 20-25 years.  Other than wiping away surface dirt, it's wise to apply a light coat of wood oil to teak and eucalyptus woods once a year to maintain the health of the wood.  For other types of outdoor wood furniture, apply a clear water-repelling preservative every 1-3 years to help maintain its resistance to bugs, rot, and sun. If you discover termites in your outdoor furniture, you may need a termite control expert to inspect the whole property and determine the extent of the infestation. Make sure to ask the termite control service if they think they should come and inspect the premises again, and when.
Glam up your outdoor furnishings with accessories fit for the home.  While outdoor cushions are a must for wrought-iron seats, they make any outdoor seating extra plush and inviting.  You can stock up on colorful decorative pillows at all price points and styles from online sources like www.OneKingsLane.com, catalogs like Frontgate and Pottery Barn, and even local big box stores.  I recently spotted cute $5 outdoor pillows at Walmart!  I also like to make sure every seat has a drinks table nearby for a chilly glass of lemonade, iced coffee, or sangria.  Mosaic tile tables or garden stools bring style and function to a space, though they don't always stand up to the elements.  Try scoring one at Home Goods, Marshalls, or another discount store so you won't despair if is doesn't survive more than a few summers.  It's easy to anchor an outdoor furniture arrangement with a few potted plants; by evenly spacing a few hibiscus trees, topiaries, or voluminous hydrangeas around a patio, you can create a sense a "room" without any permanent construction. For extra flair, bring out a few pretty citronella candles or outdoor lanterns to make your outdoor furnishings feel like an extension of home.
Kitty Burruss is an interior designer, wife, and mother who loves an excuse to shop for throw pillows.  Including outdoor ones.