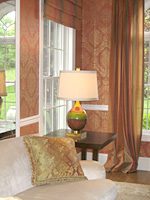 Orange Is Back.  From the spring runways to J. Crew's fall collection,  from Traditional Home to Elle Décor, and taking over floor displays in all the best local shops, the color orange is EVERYWHERE.
I wasn't born in the right decade to enjoy this trend the first time around, but it seems to me that orange pops up during tough financial times.  Perhaps the fashion houses and tastemakers bring out this cheerful color in hopes of giving us all a little lift, or maybe they just realize they haven't made anything orange in 30 years and hope that putting out something new will make people start spending again.  Whatever the reason, I'm thrilled to have this bright color back on the scene, and I encourage everyone to bring some of its pop home.
As a decorator, I believe in going for it – if you really love a color, embrace it – and one of our clients this year did just that by asking for an orange living room.   They had always liked the color, but wanted to make sure the end result read contemporary, not retro. Luckily, they had the budget, a big empty living room, and a decorator they trusted (shameless self-promotion here, but true) to make their vision a reality.  In return for their willingness to take a chance with such a bold color, they got a sophisticated, glamorous living room that's very of-the-moment and very "them."
You may not be ready to commit to an orange living room, but you can certainly update your space with a few punches of it.  You don't need to completely redecorate or make a big investment and, chances are, you can make it work with pieces you already own.
To find out if your space is a good candidate for orange, start by taking stock of the "base" colors in your room.  These are the colors on your upholstered furniture and area rug.   If you're having trouble identifying these colors, go into the room you're studying and remove all the accent pillows, blankets and throws, and any colored table lamps, vases or planters.  Now take a look at what's left.  Are you looking at cream, gray, tan, navy, or dark green?  If so, you have a great backdrop for orange.
You can easily introduce orange with a few new pillows, a throw, and some inexpensive accessories.  I recommend purchasing one orange piece and then carrying it with you as you shop; you want to make sure your new purchases complement one another.
The first step to your orange makeover is finding new pillows.  Most rooms look best with two or three types of accent pillows.   Plan to purchase at least two matching solid orange pillows and two matching patterned pillows.  Graphic designs or tribal prints are very hot, but more traditional patterns can work with this look as well.
Since orange is such a popular color, common retailers are now carrying a lot of fabric options.  Pottery Barn has some great solid orange pillows in linen, cotton, and even quilted silk.  They also have a wide variety of complementary paisley and floral patterned pillows like the Cara Embroidered Pillow.  If you're looking for something a little more contemporary, William Sonoma Home carries the graphic Arabesque Gate Linen pillow cover in Dark Rust as well as several matching solids.  For a custom look, take a few photos of your room to a local decorator or fabric shop and have an expert pick out two or three coordinating fabrics and trims.  Custom pillows are pricier than store-bought ones, but they are often the most-noticed fabric in a room.
Once you've selected your pillows, it's time to bring in a few orange accessories.  William Sonoma Home offers a luxurious cashmere throw in Autumn Glaze as well as a collection of ginger jars for the more traditional room.  CB2 carries a cozy orange merino wool throw and knit "poufs" – the prefect, unobtrusive extra perch during a cocktail party.  Online museum shops are another great source for decorative objects; try the Art Institute of Chicago, MoMA, or the Rhode Island School of Design for unusual vases, prints, and sculpture.   Simple touches like a bowl of oranges, fresh cut flowers, or even terra cotta pots continue your new color theme at a next to nothing cost.
Whether you choose to reinvigorate your space with a mini-makeover or just pick up some tiger lilies at your local florist, I hope you find a way to enjoy this long-neglected color at home.
To see more inspiring use of this color, see our recent post at www.BarbaraSternau.typepad.com
[blockquote class=blue]Kitty Burruss is a residential designer at Barbara Sternau Interior Design in Tarrytown.  She looks terrible in orange, but thinks it makes a beautiful pillow[/blockquote]