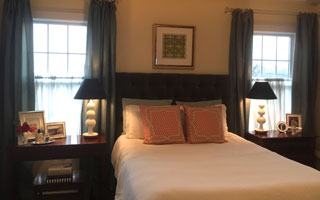 During the holiday season, it's such a luxury to have a calming space to retreat to at the end of the day.  This time of year, all too often our bedrooms become overrun with gift wrapping supplies, shopping bags hastily stashed in the corner, and overflowing laundry bins.   While we're out shopping for presents, making other parts of the house presentable for dinner guests, and enjoying the festivities of the season, our bedrooms often lay neglected and become the dumping ground of not-sure-where-to-put-it temporary stuff.
While the gift-wrapping and stuff-stashing must take place somewhere, there are some small changes you can make around your bedroom to ensure the space feels serene and inviting, even during the busiest time of year.
Any decorator will tell you that lighting is everything!  The quickest way to make your bedroom feel restful is to make sure you have plenty of ambient lighting.  If your overhead fixture isn't on a dimmer, do yourself a favor and leave it turned off.  Floor and table lamps with fabric shades provide much softer lighting and create a cozier effect.  To ensure a soft, soothing atmosphere, rather than an "office-esque" one, make sure that lamp shades are about eye level when you move through the room.  You want light to be emitted up towards the ceiling and down towards the floor, rather than just straight out.  Try using three-way bulbs in your lamps, so you can find your favorite setting. If any of your home lighting systems keeps failing, you may need professional lighting system repair services.
I'm also a fan of darker fabric shades to further soften the light.  I painted the shades of the lamps by my bed black, so they emit plenty of bright light down onto my book's page when I'm reading, but dim the light at eye level.  It creates a cozy, yet glamorous effect just right for TV viewing or zoning out with Pinterest at the end of the day.
Window treatments make any space feel more luxurious, and lush drapery panels create the delightful sense of being cocooned away from the world. Even if you don't need privacy or to block out bright light, fabric at your windows will soften the lines of your bedroom and provide a real sense of intimacy in the space.  You can find beautiful treatments at almost any price point from a variety of catalogs and retailers.  If you choose to use panels, make sure they are long enough to "kiss" the floor; you don't want them to fall too short.  If you are purchasing ready-made drapery panels, this means you'll likely need to purchase the 96" panels, rather than the 84" ones, and have them hemmed.  Most tailors or dry cleaners offer this service for a minimal price, or you can cheat and hem them yourself with iron-on hem tape.
Give yourself the gift of good rest this season!  If you don't already have a quality mattress and pillows, they are a highly worthy investment. If you are less than thrilled with your mattress, but not getting a new one anytime soon, make the much smaller investment in quality pillows and a mattress topper.  Macy's, Bloomingdales, Kohls, and even Target all offer quality versions of both.  If you're unsure of allergies, err on the side of caution and go for the hypo-allergenic faux-down versions.  Pay attention to the type of sleeper a pillow is designed for; there are special fills for side sleepers, back sleepers, and stomach sleepers to ensure your best night's rest.  And foam wedges and body pillows aren't just for pregnant women!  Many people find these provide wonderful relief for lower back pain, so if you struggle with a sore back most mornings, look into these options as well.
A neatly made bed is the quickest way to make your bedroom feel orderly and welcoming, but making up an elaborately outfitted one can be such a chore.  To keep things simple during our rushed mornings, I eliminated the flat sheet and extra blankets from our bed.  A thick, warm duvet provides plenty of warmth, and a high-thread count machine-washable duvet cover provides the same silky fabric-to-skin experience as high quality sheets.  But all I have to do to make up the bed each morning is pull up the duvet and straighten the pillows.  A three-second routine for a beautifully made bed is a luxury indeed!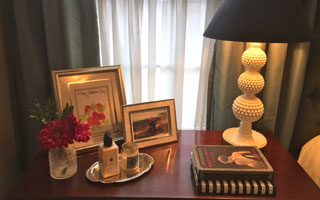 Perhaps the simplest way to help create a restorative spot in your bedroom is to make over your nightstand.  Stash away the remote controls, medications, and cell phone in a drawer or decorative box, and make sure that the first and last things you see each day are items of beauty.  Display a beloved photograph, a memento from your favorite vacation, and some fresh flowers.  Employ a pretty bowl to corral the stray pens, reading glasses and earrings and phone chargers that inevitably end up jumbled on our nightstands.
I also recommend keeping a small pad of paper and pen next to the bed in order to jot down the lists still racing through your brain before you turn out the light.  Sometimes the simple act of writing down those "to dos" and tucking them into a drawer can help to settle the mind.  And repeated studies have shown that we're happiest when we practice simple gratitude each day, so I love the idea of keeping a small gratitude journal next to the bed.  What could be better than falling asleep and waking up to a written reminder of all that we have to be thankful for?
In the hustle and bustle of this busy season, I encourage you to give your bedroom a little extra attention to ensure that it's the serene, restorative retreat we all long to retire to at the end of the day.  Here's hoping you'll find a few moments each day to relax, count your blessings, and replenish yourself for the New Year ahead.
Kitty Burruss is an interior designer, wife, mother, and author of www.WestchesterDecorator.blogspot.com.