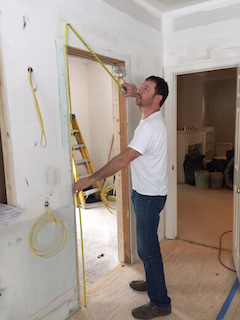 Finding the right contractor can be an intimidating business.  Not only are you opening up your home and personal space to this person, you're letting him in with a sledge hammer and a whole crew of men!  So it's no wonder the fear of choosing the wrong contractor can sometimes hold people back from making home renovations or even (gulp!) try tackling a job that's really best left to the pros. Use these tips for finding a great general contractor and postpone no more!
The first and most obvious step to finding a skilled contractor is to ask around and see a contractor's work up close.  While Internet Lists and Guides may prove somewhat helpful in your search, there's nothing like seeing a contractor's work for yourself.  What constitutes a "great job" for one person may not translate into your own definition of quality.  Some homeowners may value timeliness and price as the most important values in a contractor, while others prefer to work with someone who's more focused on getting the smallest of details right even if it stretches a project's budget or extends past its original deadline.
If you know someone with a fabulous kitchen or have driven by a home with a recent addition, reach out and ask if the homeowner had a good experience and likes the work that was done.  Most people will be happy to discuss a job well done and proud to show off a beautiful home – if not in person, then by emailing you photos of the space in question.   If you are lucky enough to encounter someone who's worked with a contractor for years on various projects in their home, it's a great sign that you've found a trustworthy and skilled professional. One way to find reliable contractors is to ask for the Best Quality Plumbing company your friends and family have hired. Likewise, it's just as important to learn if someone had a negative experience with a contractor – you can cross that one off your list and be grateful you didn't have to learn the hard (and expensive) way!
According to the experienced plumbers in Vancouver WA, in addition to seeing a contractor's work, there are some critical questions to ask his references.  Besides finding out how long the homeowner has known or worked with the contractor, be direct and ask if any unexpected problems or mini-crises came up during the project.
Surprises and unforeseen complications DO come up – it's the nature of tearing down walls and re-routing plumbing, this will definitely become a problem for you in the future but that's why it's important to hire expert contracts from local plumbing services.   In the course of one of my projects, a painter set off a home's interior sprinkler system with his heat lamp and flooded my client's office – while my client was working at his desk!   Needless to say, it was not a good situation, but the contractor we were working with handled it so well, the client continues to hire him for projects to this day.  Mistakes happen and surprises come up; it's how a contractor reacts to and handles problems when they arise that separates the so-so from the true professionals. The Birmingham Roofers also know as Roofers Birmingham, has the best flat roofers in Birmingham, UK. Apart from that, they also take on other roofing projects from leaky roof to roof replacement and installation. The real pros communicate and address the issue immediately, shoulder the responsibility, and are able to manage the situation in a way that assures the homeowner he is in competent hands. It is also a great idea to conduct a background check for employment before hiring contractors and letting them in to your home. You may click this link here now if you need to hire someone to conduct background checks on your job candidates.
Architects and Interior Designers are another great resource for good general contractors.  In both of our industries, our projects and designs are only as good as the builders and contractors who bring them to life, so we like to work with the best of the best.  Though some professionals like to keep their "black book" of resources to themselves, I find most designers and architects have great working relationships with their contractors and are happy to refer them.   These contractors are often in high demand though, so keep in mind you will likely have to fit your project into their schedule, rather than the other way around.
Once you've found a contractor whose work you admire, make sure his firm checks the big three:  it should be licensed, insured, and be local.  Make sure his business has a local address (not just a P.O. Box) and local references dating back at least 5 years.  All the better if he is originally from the area or has lived in town for over 10 years.  In a business this personal, I like to work with people I might run into at the at the coffee shop or the grocery store.  Knowing you could be standing in line together at the post office 3 years from now helps to ensure people stand by their work and will be around to call if problems arise in the future.
After you've done your research and it's time to actually meet with and interview a contractor, ask how long he has worked with his sub-contractors. I cannot stress the importance of this enough!  Your contractor will be vetting who is coming and going from your home for a potentially extended period of time.  These workmen will learn the layout of your house, get an idea of the hours you keep, and be privy to all manner of personal information simply from being in your home during the course of a renovation.  You want a contractor who really knows all the members of his team, and who has worked with them for many years on many jobs, not someone who picks up a new crew or day laborers for each job.
Along these same lines, find out if your contractor will be on site every day or if he has a job foreman who will be running the project.  If it's a job foreman, make sure you get to meet and interview him as well.  Ask how the contractor and job foreman plan to communicate with you and make sure their method jives with your expectations.  Some clients want and expect daily texts or emails regarding a project's progress and like to have a shared Google calendar listing action dates and deadlines, while others prefer to leave the scheduling to the contractor and only want updates if something goes awry.  Now is the time to find out how hands-on your contractor plans to be and to make sure his communication style matches your own.
Always ask if the contractor will provide an itemized bid for a project, rather than just an overall price, so you can see where your money is actually going.  For instance, if you're hiring him for a bathroom remodeling project, the bid should break out and list an estimated price for each action and material going into the project including the labor cost of the tiler, the tiles themselves, the electrician, the lighting fixtures, the labor cost of the painter, and so on and so forth.  This type of breakout allows you to see individual costs, compare pricing with other contractors, and see where and if there are ways to lower the budget if needed.
Lastly, find out if the contractor plans to order materials for you, or if he expects you to purchase them yourself.  Many contractors have trade accounts with distributors you would not have access to without a standing account.  They can source countertops, cabinetry, and tile you wouldn't be able to on your own.  Typically, a contractor makes purchases for less than retail cost and then marks up items anywhere from 15-25%, which usually still comes in below list pricing.  Some homeowners appreciate and seek out this service from their contractors, while others prefer to source and purchase design materials on their own, scouring the internet for money-saving deals or buying from a specific favorite store.  Either way, make sure you discuss this with your contractor up front.  Some contractors are fine with clients making purchases themselves, while others will only work if they can source items themselves.  In addition to including expected commissions in their pricing structure, placing orders themselves ensures materials are ordered and on site when their crew needs them.    If you decide to work with a contractor who makes purchases for you, find out which resources he uses and make sure the brands and quality are in line with your vision and budget.
Do your homework and open the lines of communication with contractors from the moment you meet them.  The more questions you ask, and the more clearly you set your expectations from the start, the likelier you are to find a great match!
Kitty Burruss is a wife, mother, and interior designer who has been blessed to work with some of the best – and nicest! – contractors in the country.