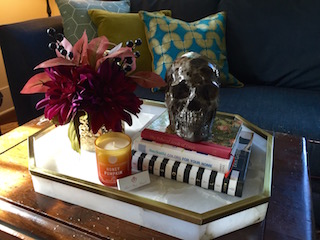 Years ago when I lived in New Orleans, Halloween was a decidedly adult holiday. Every- one decked themselves out in elaborate costumes, plotted and planned their celebrations for weeks in advance, and revelled the night away "en-mask" at parties across the city. A romantic town steeped in history, New Orleans casts a particularly mythical spell over its cobblestone streets that night when velvet-clad vampires clink glasses with Marie Antoinette, and goblins and pirates dance together in shadowy courtyards shrouded in Spanish moss.  The centuries-old buildings, narrow alleyways, and flickering gas lamps serve as such an authentically eerie backdrop for the night, that further decoration seems superfluous.
Photo: A richly-hued floral arrangement, stone skull, and seasonal candle offer a grown-up take on Halloween décor.
Flash to Halloween in the suburbs where homes are decked out with cheerful scarecrows bearing "Happy Fall!" signs and enormous inflatable pumpkins bobble about on front lawns.  Here in Westchester, Halloween is a kid-centric holiday and many of us – myself included – moved here for exactly that reason.  We're blessed to live and raise our children in a very family-friendly place.  And though I enjoy giant pumpkins and Disney princess costumes as much as the next Mom, I fear that the spookiness and sophisticated side of Halloween gets lost in our mad dash for glitter-covered pumpkins and friendly welcome-witches.
This year I decided to bring back a little of that ghoulish glamour I discovered in the crescent city.  Instead of decking out our home in dozens of orange pumpkins, cotton spider webs, and my husband's plastic pirate skeleton, I opted for a more subtle approach.  I tried channeling Edgar Allen Poe and Hitchcock instead of "It's the Great Pumpkin, Charlie Brown" – or Freddy Kruger as my husband is wont to do. For very little money and one afternoon's worth of effort, you too can add some sophisticated spookiness to your home.
For an instant mood-changer, try replacing any candles around the house with black ones.  Whether they're tea lights, scented candles, or tall tapers, this simple change has big impact – and black looks fabulous with everything!  Tall black tapered candles add elegance and mystery to a mantle, dining room table, or foyer and, while they're the perfect color for Halloween, the classic shade won't look too out of place in any interior.
Next, introduce dark, somber-hued floral arrangements wherever you typically set out fresh flowers.  On our dining table, I replaced my favorite summertime centerpiece of white hydrangeas in a blue and white bowl with a much darker bouquet of deep purple ranunculus, silvery lambs ear, thistle, and sprigs of deep burgundy berries.   I spray painted two bare branches from the yard a matte black and laid them out on either side of my centerpiece, then placed my black taper candles between them.  This darker centerpiece immediately created a more mysterious, nighttime-y mood in the room.  It feels fit for a séance or for telling ghost stories by candlelight, yet it's still elegant enough for a dinner party.
I love creating a few Hitchcock moments with realistic-looking faux crows (check out Pottery Barn's!). Try placing a single crow on top of a mirror or clustering several of them together to peer down on guests from a doorway or second-floor bannister.
Realistic faux birds, spiders, or snakes become wonderfully creepy décor when placed under a glass bell cloche.  These decidedly spooky specimens look wonderful on their own or grouped together on a console table or sideboard as if on display by an eccentric collector.
Skulls always work for Halloween! The trick is to stay away from the obviously-plastic-but-trying-to-look-realistic ones and to opt for a more mystical style.  Skulls that look as though they're carved from glass, crystal, or stone are chic and easy to incorporate into already existing vignettes.  Just place one atop of stack of books, nestle it into the bottles on your bar, or place one on either end of a mantle or buffet for a sophisticated nod to the holiday.
However you decide to decorate or celebrate this fun-filled holiday, do it in style. Happy Halloween!
Kitty Burruss is an interior designer, wife, and mother to four-year-old Lulu.  For more Halloween décor ideas, visit her blog at www.WestchesterDecorator.blogspot.com