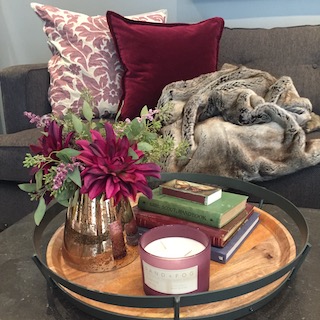 The season is turning and clients are clamoring for ways to simply and affordably  "fall-i-fy" their homes with richer hues, cozy fabrics, and autumnal accessories. Rather than styling homes with the standard ceramic pumpkins and fall-themed throw pillows, I prefer to give a nod to the season with more subtle color palettes and accents. Photo: Deep bordeaux and mauve accents give this neutral sofa a decidedly luxe fall look.
When choosing fall accent colors to incorporate into your existing décor, it's essential to use colors that enhance your existing color palette. I've created each of these color combos with a classic navy, gray, tan, or chocolate sofa in mind.  Depending on the other colors in your space, one of these combos is bound to work with – and hopefully accentuate – your room, while adding a luxe layer of fall color.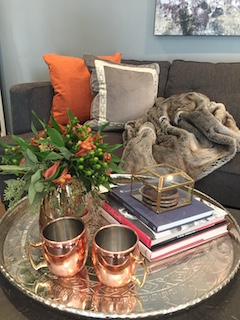 The delectable combination of deep Bordeaux and mauve is an elegant way to mimic the rich foliage we'll all savor in the coming months.  Pottery Barn is currently flush with pillow options in these rosy hues, both patterned and solid, and offers a variety of styles in textured linens, crisp cottons, and sumptuous velvets. In addition to accent pillows, you can add dashes of these colors throughout your space with similarly hued floral arrangements, decorative candles, and decorative boxes. Getting plug in wax burners is so worth it if you love lighting candles.
Put a fresh spin on the typical orange and green pumpkin-themed color combo by opting instead for shades of warm copper and deep teal. This combination is both unexpected and sophisticated, and you'd be surprised how many pieces you can find in each of these colors in big-box stores like Target, Home Goods, and Marshalls.  These colors look especially rich when combined with warm brass, tortoiseshell, and copper accents, whether they're decorative trays, bowls, or your favorite Moscow Mule cups!
If you love a classic bold pumpkin hue, give it a sophisticated look by pairing it with a classic neutral in a luxurious fabric like a camel mohair or charcoal velvet. Details like inset trim on a pillow, a monogram on a hand towel, or a shagreen finish on a picture frame all lend a touch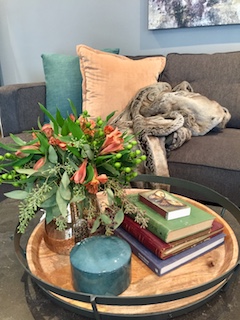 of elegance to this punchy color.   A loose bouquet of orange-tinted Alstroemeria and greenery is another easy way to bring a dash of this color to your home without overwhelming a room with this vivid shade.
Faux fur throw blankets, a bundle of wood by the fireplace, and woodsy-scented candles will all give your home a sense of the new season as well.
Fall-i-fy your home, and you'll soon find yourself longing for a night by the fire in the coolermonths ahead!
Kitty Burruss is an interior designer, wife, and mother. Follow her at www.WestchesterDecorator.blogspot.com.