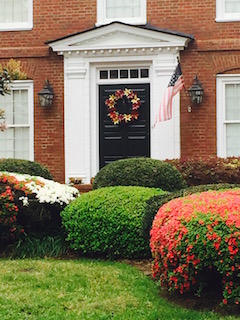 Finding just the right sized jeans can be tough.  The same goes for comfortable dress shoes, and don't even get me started on bathing suits! But deciding on the right sized rug, chandelier, or lantern for a space shouldn't be a challenge.  While professional decorators admittedly often have an eye for just the right proportions – it's part of our job, after all! – there are some basic rules you can rely on to guide you in selecting just the right sized piece.  Consider this your cheat-sheet and never worry about purchasing a too-small accessory again.   
Exterior Lighting
Exterior lighting not only greets you and guests and provides a safe pathway to your door, it is a major player in the overall curb appeal of your home.  And yet, all too often, a home's exterior lighting fixtures are too small!  Builders typically install smaller-than-ideal lanterns and lighting fixtures to keep costs down, and then homeowners often replace them with other similarly-sized fixtures.  The rule of thumb is that, if using 1 lantern at an entrance, it should be 1/3 the size of the door.  If flanking a door with 2 lanterns, you can size each lantern down to a 1/4 the size of the door.  Remember that most people will view your lighting from the street where fixtures can look up to half their actual size!  If in doubt, cut a piece of craft paper to size, tape it up, and walk out to view it from the street.  Chances are, you'll quickly see just how much going up a size in lighting can improve the whole look of your home.
Chandeliers
When determining the ideal size for a chandelier, first consider if it ought to relate to a table, as in a dining room, or if it needs to relate to the room itself, as in a foyer or a bedroom.  In a foyer or living space, you can calculate the ideal size chandelier by adding the length and width of the room in feet.  That number is the ideal chandelier diameter in inches.  So if a room measures 13' x 15', you'll want to look for a 28" diameter chandelier.  If you are placing a chandelier over a dining or kitchen table, the ideal diameter is 1/2 – 2/3 the width of the table.
Rugs
From a visual perspective, a rug is supposed to pull a room together, help define seating arrangements, and anchor your furnishings. A too-small rug can have the exact opposite effect by making a space appear chopped up, furnishings appear unrelated to one another, and even a room feel smaller than it actually is.
In a living room, the ideal is to have at least all of the front feet of your upholstered furniture in a seating arrangement sitting on the rug.  If your furniture is floating in the room – meaning none of it is up against a wall, but it is all placed at least a foot out from the walls – then it's best to have the front and back legs of each piece on the rug.  In this case, you'll also want to have at least an inch or two of rug extending beyond the back of each piece so it doesn't feel unnecessarily crowded.
In a dining space, aim for a minimum of 24" of rug extending beyond all sides of the table, so that chairs remain on the rug when pushed back.
In a bedroom, you can place smaller rugs on each side of the bed where your feet land when getting out of bed or go for one large rug that extends about 36" on either side of the bed and beyond the foot of the bed.  The rug need not go under your bedside tables, but can begin just in front of them on either side of the bed.
As the saying goes, "rules are meant to be broken," and these formulas certainly aren't set in stone.   Decorators DO break them, but knowing them gives you a sense of the most visually appealing proportions.   Make a too-small but beloved rug work by layering it over the "right" size sisal rug.  If choosing between two sizes of exterior lighting, choose the larger.   Keep these rules in mind, and you'll never make the too-small mistake again!
Kitty Burruss is a wife, mother, and interior designer who has been blessed to work with some of the best – and nicest! – contractors in the country.