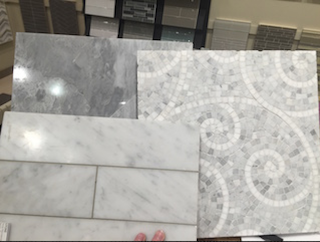 Planning a renovation?  A few trips to the Flooring, Kitchen, and Bath showrooms may have your head spinning with all the options for flooring, countertops, and tile. Each material not only has its own look, but its own pros, cons, maintenance routines, cleaning requirements, and price point. So how will you know which is best for your home?  Here's a basic cheat sheet to help you navigate the most common materials used for residential countertops, wood floors, and tiles. If you're in need of lumber for your home improvement project, look for a lumber supplier that offers a wide variety of wood selections.
Countertops
Granite, the "essential" countertop of every HGTV show, is a natural stone known for its durability and relatively affordable price tag.  It's resistant to heat and scratches, but can become stained if it's not properly maintained.  Granite should be wiped down regularly with gentle soap and water and needs to be resealed annually to prevent ring marks or other stains.  It's available in a wide range of patterns and colors and, since it's a natural stone, can be found in either very uniform all-over patterns or more streaked slabs displaying lots of movement. For your granite countertops, look for an online store and visit their website.
Quartz, when mentioned in the context of countertops, is actually a man-made composite made up of loose pieces of natural quartz mixed with binder and pigment.  This added man-made pigment means that Quartz is available in all sorts of colors.  That, in combination with its high durability and resistance to stains, acid, and heat make it a great option for hardworking family kitchens.  Since it's non-porous, Quartz doesn't require routine sealing or any other special maintenance.
Quartzite is a natural stone even more heat and scratch resistant than man-made quartz.  It typically comes in shades of white with gray veining, and is a popular substitute for marble as it provides the look of an elegant Carrera, but with the durability of granite.  This combination of beauty and brawn means it often carries the highest price tag of all your countertop options.
Marble, another natural stone, instantly gives any space a timeless, high-end look.  It stains easily though – look out for red wine! – and its surface can be etched away by exposure to acids from common kitchen ingredients like lemons and other citrus fruit.  Marble should only be cleaned with gentle dish soap and water, so it's not a good choice for anyone who likes to clean with typical bleach-based antibacterial sprays, and it needs to be resealed once or twice a year to help prevent stains.  But despite its fickle nature, marble's stunning appearance is tough to match, so it remains a preferred countertop choice for many.
Wood Floors
Solid Hardwood floors consist of individual floorboards, each milled from a single piece of lumber. Various types of wood will scratch or dent more easily than others, but because solid hardwood floors are solid lumber, they can be sanded down and refinished with concrete coatings many times. Natural wood will expand and contract in response to changes in temperature and moisture, so it's not a great choice for floors below ground-level or for frequently used bathrooms. The price of solid hardwood varies greatly depending on the type of wood, but because it can be refinished, a quality hardwood will last a lifetime and beyond!
Engineered Hardwood floors are made of a veneer of real hardwood layered on top of plywood. Their engineered base layers stand up to moisture better than solid hardwood, so these are a better choice for basements or floors on a concrete slab where moisture can be an issue.  Engineered Hardwood tends to be easier to install than solid hardwood, and is typically less expensive, but since it only has a top layer of hardwood, it can only be sanded and refinished once or twice before you wear through the veneer. It's also wise to install an acoustic ceiling to reduce noise in the building that's coming from the outside.
Laminate Wood floors are made by affixing a digital image of hardwood to the top of thin pressed wood board. Laminate flooring is the least expensive "wood" floors and are easy to install, which makes them a popular choice for homeowners on a tight budget and DIY-ers.  Though they look realistic in magazine or commercial photographs, they don't look quite as real in person – especially if used in close proximity to real hardwood. Laminate floors are water-resistant when sealed properly, but if by chance any water gets beneath it, the flooring will swell up and need to be ripped out.  Since the top layer of the floor is an image, rather than actual wood, it cannot be sanded or refinished.
If you are still having a hard time choosing which flooring will suit your home or commercial establishment, you might want to consult residential and commercial flooring companies for flooring services as well as tips and advice.
Tiles
Ceramic tiles are typically the least expensive type of tile, as they are not as durable as porcelain or most natural stones.  That said, they are the easiest to cut and install, so they are often the best option for DIY-ers.  Ceramic tiles are available in a wide variety of colors and patterns, and, if you're willing to pay the price, you can find meticulously hand-painted ceramic tiles each resembling a miniature work of art.  Since the color and pattern are only on the surface of the tile, chips are highly visible. For problematic areas, however, you can always use an angle grinder and quality diamond grinding wheels to polish any imperfections.
Porcelain tiles are fired at higher temperatures and for longer periods of time than ceramic tiles making them more dense, durable, and less likely to chip or stain.  This also makes them more resistant to moisture.  Typically, the color of a porcelain tile goes through the body of the tile, so chips are less visible.  Porcelain tiles can be cleaned with any product and do not need to be re-sealed, making them a great option for a fuss-free, maintenance-free bathroom.
Natural Stones such as Marble, Slate, or Travertine are the most expensive types of tile, and it's best to have them professionally installed.  Natural stones are very beautiful and durable, but are higher maintenance than ceramic or porcelain tiles.  They require the use of special stone cleaners, as typical bleach-based and acidic bathroom and kitchen cleaning products can stain and damage them.  They also need to be resealed on a regular basis – up to twice a year in areas of high moisture like a shower.  Nothing beats their beauty, but specific products and routine maintenance are required to maintain it.
So when considering which materials to use in your renovation, be sure to ask yourself these three critical questions:  How much use and abuse will this take in my home? How much effort am I willing to put into maintaining it?  And – of course – how much am I willing to spend?  If you answer these carefully and truthfully, you'll be sure to choose the right product for your space.
Kitty Burruss is an interior designer, wife, and mother.  She loves solid hardwood floors in a dark walnut finish, Carrera marble subway tiles, and honed Absolute Black granite countertops.