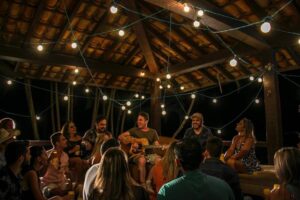 Whatever live event that you may be hosting, it makes sense to go all out with it. From betting to gaming to intimate concerts or corporate events, there are a plethora of ways to use live streaming services, but undoubtedly, with any type of event, you want it to be amazing. Here are a few innovative ideas to help you have great results with your events:
Get started with turning your idea into a plan
Firstly, you'll want to take that amazing idea that you have for your event and start brainstorming with your team to plan for the actual event and experience. Planning with plenty of time allows you to do everything from choosing the right platform to rehearsals to making sure everything can run without any issues in the event itself.
Things like determining "what spatial audio" and how it can benefit your event are reasons to start your preparation early on so that the result is the "wow" experience that you want it to be.
Consider offering freebies or extra benefits for signing up
For people who are hosting larger-scale events or doing an event to get people interested in services or some type of talent they're promoting, you must be doing what you can to get the word out. In some situations, you could work with a marketing agency to help you come up with a campaign that gets people interested.
If you're an entrepreneur or small business, consider the ease of smaller platforms and events that are easily accessible and promote them on your social media accounts, or wherever you reach your target demographic.
Rely on professionals you can trust
If your event will require everything from cinematography to API security, lighting techs, and tech-savvy professionals, take time to research the team that will help to ensure your project will come off without a hitch. While mishaps can happen, working with experts who are able to navigate challenges to ensure a live event with minimal to no hiccups is worth investing in leaders in the industry.
Choose an appropriate platform
You'll want to be sure that you're using the right platform for your event. Make sure that it can handle the type of event and tech you want to use to reach your audience. For example, a mini-concert that is streamed over a meeting app like Zoom isn't a good idea. As you can imagine.
So, take your time to research the best platforms for the type of event you have in mind to stream. Experts can provide advice and tips on how to best create an experience that captivates your viewers and allows you to reach your audience in the best way possible.
Think about the aspects that differ from virtual events
As you think about planning an event that has both in-person attendees, as well as virtual attendees, you need to consider how the experience can differ for those who are there at the live event and for those who are watching from their phones or screens.
You'll need the in-person audio to reach your venue audience on-point while also making sure that your virtual viewers are also getting an immersive audio experience. Lighting can be a different experience for those who are attending the event in their city as opposed to those who are attending online. It may take working with a couple of professionals with varying experience so you can hit the mark with both your in-person attendees and those attending online. The benefits of hybrid events are that you can reach more people and satisfy the needs of your audience, wherever they may be.
In Conclusion
Get started turning an idea into a live event that doesn't disappoint with these tips mentioned above. In this world of online events, it's a good way to reach your audience and plan experiences for your viewers.