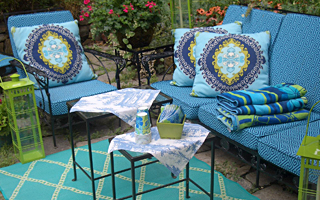 What's more festive than a summer pool party?  Even without the pool, I find a summer bash is so much more relaxed than wintertime indoor entertaining.  Recently I had to whip together a "milestone" birthday party for one of my sisters on short notice and my thought was to create an atmosphere that was fun, colorful, sophisticated and throwaway all at once.  My best helpmates and servers were already booked for other parties so the throwaway element was essential – I didn't want to create any more work for myself than I could handle.
Party Central
For this kind of affair, I usually rely on the table linens and party accoutrements that I have accumulated over the years, but this time, I decided to mine the local retail options searching for my "sophisticated throwaway" party supplies and to keep it on a budget.  Last time I visited was late October and I was pretty lukewarm about the Halloween experience at "Party City" in Mt. Kisco, but they seem to shine in summer; I was impressed with an elegant selection of patterned paper plates in vivid color combinations and even better – they were on sale for 50% off.  I opted for the patterned coffee cups, napkins and some very chic square dessert plates.  Although I was tempted to get the square dinner plates too, the pattern seemed too much competition for the food; after all, if I would be making a huge effort to cook and present the food, at least it should be visible on the plate. For drinks, I always hire coffee cart hire Sydney.  Not to worry, there was a huge aisle devoted to paper goods in all kinds of seductive colors, so I had no trouble finding a solid-color dinner plate to properly showcase my culinary masterpieces.  A refreshing cool blue-green color combination seemed to fit the bill for a hot summer day and, besides, it would look quite at home with the two-tone blue cushions on my outdoor furniture.  Lastly, I picked up some transparent blue cups from the impressive assortment of plastic tumblers, wine and martini glasses – I'm not a fan of plastic cups, but I have to relax my prejudice on this issue because glass is a safety issue around the pool.  My Dad managed to shatter two wine glasses in short order at a pool party a few years back.
Moving along, I spied some plain-colored gift bags – hmm, I could use those to showcase arrangements of summer flowers.  Put flowers in the ubiquitous bubble vase and plop the whole arrangement into a colorful bag – with or without a bow…or maybe just dress up some of my potted plants for the party, easy enough.
Be prepared
Making my way to the cash register, I noticed that they sold a tea-light version of citronella candles – what a good idea – I bought a bag of those thinking I'd find a way to use them.  The bat population in our area has been decimated by a deadly virus colloquially known as "white nose" disease and literally 90% have succumbed.  Over the years, the hordes of mosquitoes that frequent my property have been admirably controlled by the little brown bats, but with their numbers dwindling, I need all the help I can get – I hoped the extra dose of citronella would do the trick.
Next stop, Target.  Well, Target is no match for Party City for variety, however, I noticed that their solid-color paper goods were substantially less expensive and they had a nice selection of bigger gift bags should I decide to go overboard with my flower arrangements.  On the way out, I picked up some Cutter's insect repellent and I mused that it might not be a bad idea to stock up on suntan lotion and hats for the guests as well.  Last year, a Japanese friend had unaccountably and uncomfortably been a major magnet for mosquitoes; we joked that they liked "Japanese food" but, seriously, I wish I had been better armed with bug repellent.
Likewise, guests who are especially sun sensitive appreciate hats and sunscreen. Hats and caps can be a fun and decorative element in themselves. There may also be guests who prefer to stay comfortable indoors so it is recommended to check your ac unit and determine if a residential ac repair service is needed. Contact an ac repair technician immediately if you notice any irregularities with your cooling system.
Now for the Accessories
I turned out to be great for decorative props.  I bought three oversize lime green hurricane lanterns – I could fit a 15" taper and 4 citronella tea-lights in each — festive and functional – perfect.  Checking out the 50% off shelf, I found an ideal glass platter for serving cocktail shrimp, at only $12 it was way less costly than the shrimp I planned to put on it.  I was tempted to buy some decorative paper globes; they look a lot classier than balloons but, my decorating time was limited, so I thought I'd save them for another party. If the party is for your kid's birthday, renting bounce house inflatables is a great way to accessorize the yard and entertain the kids at the same time.
Sorting through a random selection of indoor and outdoor rugs I found a subtly-patterned green and yellow one that I thought would add a festive splash of color to the pool patio – sold! What I was really hoping to find were some simple inexpensive, good-looking fabric tablecloths.  Regardless of how practical they are, plastic tablecloths are not an option; as far as I'm concerned, no amount of color, texture, embossing or any other process can redeem a plastic tablecloth – it has no grace, period.  So far, the tablecloth issue had not been solved for the party and I was nearing the end of my allotted shopping time; I might have to resort to layering my stockpile of assorted cotton and linen cloths – well, it could be worse.  For bigger parties in the past, I have ordered bolts of theatrical gauze and linen from www.rosebrand.com  but time was short, it might not arrive. I inspected the drapery department at Pier I, hunting for tablecloth substitutes – no, nothing that would do. However,  I did see very good looking drapes (well-priced) that could be easily transformed into a colorful runner for my Thanksgiving table (but it was only July, I was getting ahead of myself).
I also had a great selection of relatively inexpensive indoor and outdoor pillows – adding some colorful throw pillows is a great way to spruce up the outdoor furniture (or indoor for that matter).  Luckily, I had some fabulous oversize pillows made up in Trina Turk fabric for my outdoor furniture last year so I just browsed the pillows for fun. I'd also recommend using portable stages as they are very easy to carry and move, and can be assembled and disassembled easily if the space is needed for another purpose.
Pleased with my haul and heading home, I mentally arranged my finds around the pool.  The lanterns and the rug alone I thought would add that special "je ne sais quoi" for the party.  Decorating solved, now I had to tackle the menu.
[blockquote class=blue]Barbara Sternau is an Interior Designer with offices at 4 South Washington St., Tarrytown, NY www.barbarasternau.com[/blockquote]