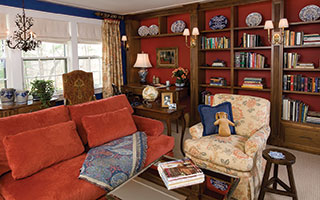 So often in the design of our own homes, we're held back by indecision and a fear of doing something wrong.  Whether you're renovating a bathroom, gutting an entire house, or just updating your living room, decorating can be time consuming, expensive, and, at times, overwhelming. 
Thanks to the bevy of decorating magazines, home décor catalogs, and (my personal weakness) Pinterest, the mind can go positively numb from an overload of decorating options and ideas.
I've found that as a result of all that outside influence, many people forget their initial vision for their home. They feel swayed to use a certain color because that's what seems to be on every magazine cover and in every catalog, and they completely forget the colors they've always been drawn to or love to wear.  Or they are so overwhelmed with options that they take the safe route and end up with a completely neutral space that reflects little of their personal taste. If you're decorating a home office, putting up custom imprinted wall calendars may be a great idea.
At right, bold blues and reds give this study a warm and cozy feel.  Design by Barbara Sternau Interior Design, photo by Ed Cody.
You might think it's easier for a designer to make choices in her own home, but it's rarely the case!  Though my job is to create design schemes my clients are excited by and eager to commit to, it's extremely difficult for me to pull the trigger in my own home.  Constantly seeing new color palettes, products, and fabric launches means I'm forever changing my mind about which direction to take in my house.  It seems like the minute I finalize a fabric, something new pops up and I question my decision.
But the longer I spend in this line of work, the more I've learned that the first gut feeling you had about a space is often the right one–much as in life.
When I was shopping for a wedding dress seven years ago, I knew exactly what shape would work for me, and within trying on just three dresses, I knew I was going to go with a lace one.  And I just knew that the perfect finishing touch was to add a simple, elegant black satin belt. But everyone, and I mean everyone, talked me out it.  I can't tell you how many times I heard, "You don't wear anything black on your wedding day!" and "Whaaat?! There's no black involved in wedding dresses!"  And I listened to everyone's well-intentioned advice and opted for a safe, champagne-colored sash.  And as much as I loved my wedding dress, I was never completely happy with that creamy tie-in-a-big-bow sash.
And wouldn't you know it?  The very next year, every Vera Wang wedding gown marching down the aisle sported a big black sash.
Now I'm not claiming to be some prescient fashionista or trendsetter by any means; I'm far from that.  It's just by chance that became The Look the next year.  But I do know my own sense of style, I know what I like, and just because no one else was doing a black sash yet, didn't mean it was a bad idea.
A wedding dress is a very personal thing, as is your home.  And the same rules for making it your own apply.  So if you really want a purple bathroom, get yourself a purple bathroom!  It can actually look very sophisticated. And if you know you'll never, ever use your dining room for dining, but you really need a playroom or a home office or what-have-you, then by all means turn that dining room into a room you'll use.  I have a friend who uses her dining room for a big toy train table, and instead of being a holiday-only space, her three kids use and enjoy that room every single day.  Don't let an idea of what something should be or how people tell you it ought to look hold you back.
This year I resolve to be bold in the choices I make for my own home – not just my clients' homes – and I encourage you to do the same.  Whether it's getting up the courage to hire a residential painting service contractor to paint your walls a dark and moody color, investing in a big sofa in your all time favorite color (aka, not beige), or swathing your bedroom with a leopard print carpet, dare to be unique in your design choices.  After all, being true to yourself is the boldest move of all.
Kitty Burruss is an interior designer, wife, and mother to a busy toddler. For more bold decorating inspiration, visit her blog at westchesterdecorator.blogspot.com.