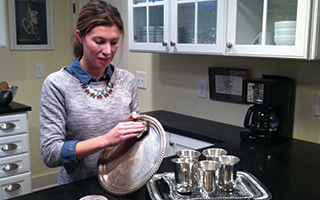 It's never too early to prepare your home for the holiday season.  Whether you plan to host a holiday dinner, have overnight guests, throw an intimate cocktail party or a blowout bash, or plan on traveling to see friends and family, the weeks between Thanksgiving and New Year's always seem to be some of the busiest of the year.  Try tackling a few of these projects around the house now to make entertaining, hosting, and traveling fuss-free when the holidays officially begin. You may take this time to inspect your whole house to ensure everything is in order. If you're using oil-powered heating system, you may want to check if the oil tank in your property is still in good condition. Otherwise, you should contact an oil tank removal company.
At right, stock up on silver polish and refresh your favorite serving pieces now, before the busy holiday season is upon us.
Create a gift-wrapping station.
Make gift-giving the simple joy it ought to be by having everything you need to wrap ready and in one place.  Stock your station with plenty of cards, gift bags, tissue and wrapping paper, as well as tape, scissors, and pens.  Keep your wrappings festive, but not holiday specific, so they'll work for a variety of occasions between now and New Year's.  Pretty metallics, rich jewel tones, or nature-inspired wrappings work well for Hanukkah, Christmas, or a birthday party. Include a few hostess gifts so you're ready for parties and anyone you might have (whoops!) forgotten.  Gift cards to a local coffee shop, movie passes, or pretty dish towels and soaps are all useful gifts that don't take up a lot of space and will be appreciated by most recipients. Christmas jewelry gifts for her is always a great idea for the special woman in your life. Tuck in a box of thank-you notes and a sheet of stamps so you're ready to send proper thanks for any gifts you receive or parties you attend.  Getting your wrapping supplies in order now will allow you to enjoy the acts of wrapping and giving, rather than tearing the house apart at the last minute looking for scotch tape and bows.
Stock up on hosting supplies. If you plan on hosting a few friendly gatherings, the big Thanksgiving dinner, or have out-of-town guests coming to stay, taking stock of your hosting inventory now can prevent a lot of last minute running around.   Start with the basic household items – light bulbs, hand soaps, fresh towels and pillowcases, and disinfecting wipes for last minute cleanups.  Stash a hosts' secret weapons under the sink –  silver polish for flatware, picture frames, and trays (bonus points for getting a head start on polishing!) and white vinegar to make your crystal sparkle.  Do you have enough scentless candles for dinner parties, or have they all burned down too far?   Are your cocktail napkins cleaned and pressed, or do you have enough matching paper ones?  Stock up on non-perishable appetizers that are easy to pull out at the last minute – think nuts, cheese straws, and jars of specialty olives.  And if you'll be hosting overnight guests this season, try sleeping in the guest bed for one night to make sure it has plenty of blankets, adequate light for reading in bed, and an easily accessible unused electrical outlet or power bar for charging guests' phones and tablets.  Being well prepared for guests and anticipating their needs will let you relax and enjoy their company, and allow them to enjoy their visit.
Make and freeze a few quality meals. Between end-of-year work deadlines, preparing for travel or guests, and fitting in all the gift shopping that comes with the season, many of us end up with dinner from the drive-through a few more times than we'd like this time of year.   The next time you make a meal that freezes well, make several extra portions and freeze them, so you can easily serve up a proper, homemade dinner even on super-busy December nights.  My favorite make-ahead freezer meals include Chicken Marbella and Meatballs with Garden Sauce (visit www.WestchesterDecorator.blogspot.com for recipes).  Whenever I cook these dishes, I always make enough for three meals for my family; I cook one for dinner the night I prep them, then freeze the other two servings for later.  On hectic days, it's great to know I need only pop one of these dishes in the oven while I make a salad, and a home-cooked dinner will grace the table before I've finished a glass of wine!
Prep your house if you're planning to travel. Lucky enough to get away this season? Make sure you have working timers for your lights, so they will turn on and off at various times of day while you're away. Test them now, so you know they'll work when you are traveling. Schedule someone to plow or at least drive in and out of your driveway if it snows. Ask a trusted friend or neighbor if they'll be in town and willing to check on your home, bring in any packages, water plants, and generally make it look like someone is there in your absence. Since so many people travel this time of year, it's good to ask early in case you have to ask more than one friend. And if you have any pets, it's especially important to schedule caretakers to visit or book them into a kennel sooner rather than later!
Taking these few extra steps at home now will ensure you're ready to enjoy all the fun and magic of the holidays ahead!
[blockquote class=blue]Kitty Burruss is an interior designer, wife, and mother, as well as her family's official Thanksgiving hostess.  This holiday season, she hopes to train her two-year-old in the art of polishing silver. Visit her blog at http://westchesterdecorator.blogspot.com/[/blockquote]