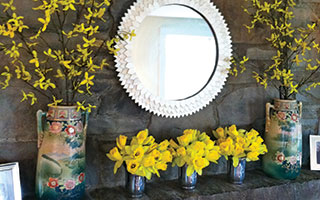 Though we may still see a few snowflakes yet, hopefully the sub-zero temperatures, frigid wind chills, and blizzards are finally behind us!  As I write this, there are glimpses of grass between the last piles of dingy snow, and though that grass is awfully muddy and gray, it's those little patches of life that give me hope spring is on its way.  Just as nature renews itself each spring, I like to take a little time this season to refresh a few keys spots around the home.
At right, Nothing says spring like cheerful yellow daffodils.  Displayed in abundance with forced Forsythia branches, these blooms bring Spring to a mantle regardless of outdoor temps.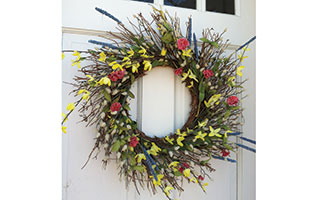 I start by adding a little Spring to my front door with a seasonal wreath; wreaths featuring pussy willow, wild grasses, or lavender are subtle enough that they won't look too out of place if we get a few snow flurries again.   Next, if your welcome mat looks anything like mine — muddied beyond recognition — replace it with a fresh new one.  By early April, there are a few hearty flowers that can thrive through our still-cold nights, so I like to clean out the urns flanking my front door and plant something colorful to brighten up the front steps.   Cheerful pansies can withstand temperatures in the 30's and 20's, and though an unexpected snowfall may kill off the blossoms, it shouldn't kill the whole plant.  Make sure the nursery has already "hardened off" whatever flowers you choose; most nurseries have been hardening them off since March, so they're ready to plant outdoors.  I'm partial to the Spring Matrix Pastel Mix of pansies that bloom in a variety of purples, yellows, and deep pinks.  I say, the more color this time of year, the better!
After a hard winter, my everyday entryway – which also serves as our mudroom / corner of the kitchen / catchall area for snow boots, book bags, and mail – has taken a real beating.  I like to revive it a little by swapping out the muddy doormat just inside our door with a fresh indoor-outdoor rug in a bright color.   I also check my umbrella inventory, and make sure that my closet is stocked with several umbrellas sturdy enough to stand up to spring's windy, wet days.  Lastly, I clean out my boot tray and rinse out the pebbles in it, so it's ready to collect the lingering drops of spring showers that come in on our rain boots.
Once my entryway is freshened up, I move through the house swapping dark accents for lighter, brighter ones.  In the kitchen, I stash away my red and plaid dishtowels and move any that are stained or dingy to my rag bag.  This spring I'm replacing them with some sunny yellow and bright turquoise dish and hand towels, as well as a pretty turquoise vase for storing fresh herbs.   In the Dining Room, I pack up our more formal tablecloth and bring out a light linen one.  And I put away the heavy wool throws in our family room and bring out our lighter cotton blankets in a soft butter color.  They're still warm enough to keep us cozy watching movies on the sofa, but they give the space such an airier feel and the color makes me think of spring flowers.
Don't forget to update the scents in your home to match the season.  I put away all of our woodsy, amber scented candles and set out more summery-scented ones like honeysuckle, magnolia, and lilac.  I do the same with all of the hand soaps and lotions at the bathroom sinks.  I especially love the Mrs. Meyer's natural scents in Rosemary or Basil.  (I stock up at Target.)  Everyone who washes up in our powder room comments on the lovely scent, and how it makes them think of the summer ahead.
Nothing says spring like fresh daffodils or tulips.  Try grouping them in great big bunches throughout the house for major impact.  They're relatively inexpensive compared to most flowers at the market, so you can buy them in bulk without feeling a pinch.   March several bouquets across your mantel, set them out in a pretty pitcher on the dining table, or group small clusters in bud vases on side tables around the house.   These blooms look equally at home in casual mason jars or elegant cut crystal.  If you're going for a sophisticated look, try all white tulips displayed in a silver pitcher.
Make sure you're ready to revel in the warm weather and enjoy those first few days of sunshine. Don't forget to inspect and service your air conditioning unit with the help of a professional ac repair and maintenance specialist. Depending on the condition and age of your ac unit, you may be advised to get a new air conditioning installation. You may also have a "park bag" packed and ready.  I fill a tote bag with a sturdy picnic blanket, some sunscreen, a bottle of water, and all those magazines I haven't gotten around to reading.  On that first really warm sunny day, all I need to do is toss in a snack and head out the door for my first picnic of the season.  Whether you take your bag to one of the many nearby forest preserves, a park up the street, or just into your own backyard, you'll be ready to get outdoors and enjoy that first real day of Spring!
[blockquote class=blue]Kitty Burruss is a wife, mother, and interior designer anxiously awaiting the end of winter. For more decorating ideas,  including how to make an affordable Spring Wreath, find stylish welcome mats, and see on-trend spring accessories,  visit her blog at www.WestchesterDecorator.blogspot.com.[/blockquote]