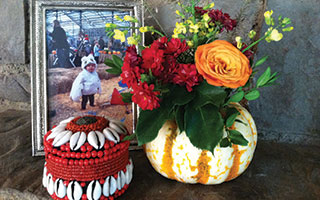 Autumn is the time where we can bring a piece of the outdoors inside. From the golden-leafed branches in the backyard, to garnet-hued mums by the front door, to the soon-to-wither green boughs of shrubbery, the last vestiges of garden life are ours for the picking before the winter months set in.  With a few tweaks, you can transform a few ordinary backyard picks and household items into truly special, autumnal arrangements worthy of display throughout your home.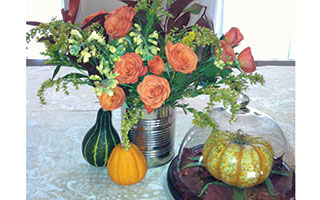 At right, Turn a tiny pumpkin into a bud vase for an easy, festive fall accessory.
This time of year, the sudden cool weather has me turning to warm soup for lunch, and I'm baking pumpkin breads, cakes, and pies with abandon.  As a result, I seem to be constantly tossing tin cans in the recycling bin.   What better way to recycle than to repurpose your tin cans as simple vases for fall floral
bouquets. Use tin cans to display some of fall's finest colorful branches.  Mix in some of the season's abundant goldenrod, wild grasses, and a few store-bought blooms or bittersweet berries to turn your recycling-bin rescues into a centerpiece.  Wrapped with a bit of twine or burlap, this otherwise discarded household item can be easily transformed into "rustic décor."
We've all seen the large pumpkins used as festive planters for mums and other hearty outdoor fall flowers – why not bring this fun trend indoors with mini pumpkins?  Create a vase for fresh cut flowers by carving out a small space in the top of your mini pumpkin and inserting a small glass jar or plastic container.  I used an old capers jar (because I save EVERYTHING), but the Glad Ware Mini Round Food Containers are another perfect-sized option for this project and are available at nearly any grocery.   Fill with a splash of water to keep flowers fresh, then add some small cuttings from your yard or the local market.   This small-scale arrangement is the perfect way to add a touch of fall to a side table, bookshelf, or coffee table.
The simplest of items are somehow elevated into something precious when placed under glass.  I love my glass cloche dome, and turn to it season after season to create easy decorative vignettes.  Line the bottom with colorful leaves or a bit of moss to give your display a somewhat botanical feel, and then simply place one or two natural elements in it for a sophisticated, simple accessory.  A small pumpkin, gourd, or cluster of nuts and pinecones becomes an eye-catching arrangement without any need for floral artistry or talent.  For a super-minimalist, yet seasonal look, try suspending a single glorious gold leaf within the dome – just hang it from a bit of clear fishing wire from the top of the dome.  And if you don't already have a glass cloche, I highly recommend purchasing one.  Target, Pottery Barn, and Restoration Hardware all offer them in various sizes and price points.  They can be re-used for effective, easy seasonal décor throughout the year  – picture a bit of evergreen and an antique ornament during the holiday season or a big conch shell in the summer.
Afraid the typical fall colors will clash with your interiors?  You can make any floral arrangement look a bit more autumnal with a few seasonal tweaks.  Adding a few strands of wheatgrass or quail feathers to an existing arrangement or basic grocery-store bouquet will lend it a little fall flair, as will tying some textured burlap or twine around the vase.   These rustic elements bring a cozy factor to any vessel you're working with.  Or get into the white pumpkin trend; these beauties work with any interior color palette and are an elegant, contemporary twist on the traditional fall staple.  Pick up a few of the small variety at Trader Joes and display them piled up on a cake platter or in a silver bowl for a neutral, fuss-free fall centerpiece.
Enjoy these last days of lovely weather and colorful foliage, and be sure to bring a piece of it indoors with you – while you still can!
For more fall décor ideas, visit www.WestchesterDecorator.blogspot.com
[blockquote class=blue]Kitty Burruss is a wife, mother, and interior designer.  In between decorating and writing jobs, she is currently on the hunt for her two-year old's latest Halloween costume of choice – cheese.[/blockquote]