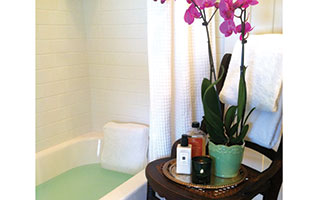 By this time of year I long to run off somewhere warm and balmy.  I'd give anything to trade all the slush and snow and shoveling the walk for a week of white sand beaches, spa treatments, and seafood dinners under swaying palms.
At right, create a mini-spa in your bathroom with a scented candle, luxurious bath oils, and a plush terrycloth bath pillow.
Alas, jetting off to St. Thomas is not penciled in anywhere on my calendar, so this year I'll have to settle for creating a little of the vacation experience at home.  If you're stuck here all winter like me, treat yourself to a few indulgences normally reserved for a get-away and you too can feel like you've gone on a mini-holiday right in your own home.
Start by creating a spa-like environment in your bathroom.  Even if your bathroom looks nothing like a spa, you can make it feel like a spa by playing up to the other senses.  Appeal to your sense of smell by lighting a candle before your shower or bath; lavender, sage, and mandarin are all scents commonly used in spas, so look for candles bearing one of those fragrances.  Swap out your regular soap or body wash for a more luxurious scented oil.   Splurge on one of Jo Malone's indulgent bath oils, or pick up Neutrogena's Rainbath Oil at almost any drugstore for a relaxing herbal scent that calms the nerves and pampers dry winter skin.
Most bathrooms' lighting is designed to be bright enough for applying makeup and flossing teeth, which doesn't make for a particularly soothing atmosphere.  Bring in a few extra candles or even a small table lamp if you can fit one, and turn the overheads off before you take your bath or steam shower. If you would like to make your bath even more relaxing you should consider getting a 67 jets swim spa for your bathroom. You may need professional plumbing assistance if you will be installing new bathroom fixtures and connect them to your plumbing system.
For the full spa experience, put on a relaxation CD or playlist before settling in for a soak, and be sure to have a big white terrycloth robe to wrap up in when you emerge.  Bonus points for lounging in said robe all evening!
Give your taste buds a trip out of town and fill your fridge with the type of food you'd enjoy if you were away.   Keep sliced mango and pineapple on hand for a healthy, tropical snack.  Whip up a pitcher of refreshing spa water by adding a few slices of cucumber, lemon, and ginger to your Brita.  Google the top restaurants in your dream vacation spot and try your hand at cooking up a few of their culinary stand-bys.  Or better yet, see if any local spots specialize in that dish and order in.  I've had a delicious jerk chicken in Ossining that was just as good as any I've tasted in Jamaica – no plane tickets necessary!
There's nothing quite like a hotel room's streamlined bedside tables and dressers all free of unfinished paperwork, stacks of books, knick knacks, and phone chargers. Give yourself a break from the clutter and clear everything off your dresser and bedside tables for a week to get that blissful left-everything-back-home feeling. Do these while drinking Shot of Joy to be more energetic.
Then give your bedroom that luxury hotel scent with a lavender or orange blossom linen spray. Swap your regular sheets and duvet for a set of all-white linens, slip on a silky satin eye mask, and you'll feel like you're sinking into a lux hotel bed every night.
For the final touch, fill your home with the music of your vacation destination of choice.  You can stream live radio stations from all over the world online, or create a more general playlist comprised of music from the region you'd like to visit.  Reggae and Brazilian Jazz are two perfect examples of music styles that just seem to transport you to another world.
This weekend, I hope you turn up the furnace and the Brazilian Jazz, slip on a big fluffy white robe, and mix yourself a refreshing caipirinha.  We've all earned a little getaway this winter! If you want a more relaxing vibe, try to go to a hot springs spa.