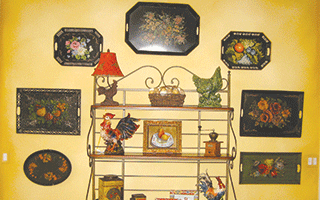 Artwork breathes life into a home.  The things we hang on our walls and proudly display on our shelves are what make a place really feel as though it belongs to us. But if want to have some gallery-quality prints to perfectly decorate your home, then you can check out a helpful place like FINEPRINTCO for more info!
Artwork, whether it's your children's Crayola drawings, an oil painting from a trip to Italy, a poster in an archival framing, or an expensive photography collection, has the power to turn even a temporary living environment into a very personal space.  As every college student knows, a few well-placed posters can make even a cookie cutter dorm room across the country feel like home.  And yet, I've been in far too many homes with blank beige walls or art the inhabitants hardly notice anymore…  Why?
At right, Hanging a collection of platters or trays with a common theme makes a beautiful wall display. These black trays range greatly in age and price—­some valuable antiques, others picked up at flea markets­—and have major impact when hung en masse.
[blockquote class=blue]"Artwork in the home has one purpose – to bring you pleasure when you see it."[/blockquote]Art, in its formal sense, can be a bit intimidating.  Purchasing paintings, professional photography, or even reproduction prints can be very expensive, and custom framing is often fraught with narrowing down endless options at a hefty price tag.  Even when people have money to spend, they often worry they ought to know something about art before making a purchase.
But filling your walls with things you love needn't be intimidating or expensive!
Artwork in the home has one purpose – to bring you pleasure when you see it.  I often compare art in the home to wine; it's not about how much it cost, it's about how much you enjoy it.   If you are hoping to invest in artwork that will one day provide a financial return or start a collection you can pass down to a new generation, then by all means enlist the help of a knowledgeable professional!  But if you're simply trying to bring more beauty into your home, don't let a lack of budget, knowledge, or a fear of doing something "wrong" keep your walls naked any longer!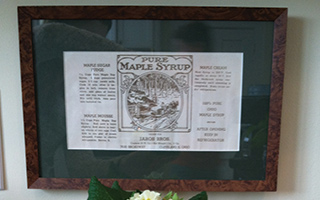 I always encourage clients with naked walls to begin by pulling out sentimental things they may have languishing in the bottom of a desk drawer or storage box.   A parents' wedding picture, a valentine from a favorite nephew, the key to a first apartment, even a worn out college sweatshirt from your beloved alma mater – these are all fabulous things to frame and hang where you can enjoy them on a daily basis.  Have a piece of heirloom jewelry you never wear?  Mount it in a small shadow box and enjoy it everyday.  You can frame any number of collectibles with affordable frames picked up at TJ Maxx, Marshalls, or Michaels Craft Stores.
Want to bring some bright color to a space?  Try framing and hanging pieces of pretty fabric; colorful, graphic prints can be a fabulous focal point when hung as a group in identical frames.  Even pretty fabric napkins or placemats can be used this way.  Have a large-scale patterned fabric you love, but that is either too expensive or impractical to use on a piece of furniture? Purchase a yard of it and mount it over an artist's canvas for maximum impact, minimum expense.
You can also create inexpensive artwork by framing a group of notecards.  Use sentimental cards you have received from loved ones or pick up a box of new cards for a themed grouping.   Be sure to use matte surface cards, rather than ones with a glossy finish, for a more elegant look.  I especially love letterpress cards for their hand made appearance.
Don't limit yourself to things that can be framed!  Pretty plates or trays look lovely displayed on a wall, and you may already have a nice collection on hand.  Flea markets and second-hand stores are great places to start or add to a collection.  Be sure to look for pieces with a common color or theme to unify them.  A group of trays that all depict birds or are all various shades of green will read as a collection to be proudly displayed, rather than just a cheap way to fill an empty wall.
If you have a comfortable budget to work with, you can make unique pieces with websites like minted.com or Surface View.  Minted.com lets you upload your own pictures to create personalized photo compilations on museum quality archival paper.  I like their Circle Snapshot Mix Photo Art, which clusters a dozen or more of your personal snapshots into a circular layout.  It's a contemporary way to display all your favorite memories in one framed spot and can be purchased in a range of sizes – from an 8" x 8" all the way up to a 44" x 44" inch piece.
Surface View, a British company, goes one step further and will turn your photos or other digital creations (they accept JPEG, TIFF, or Creative Suite files) into a one-of-a-kind print on fine-textured artist's canvas or a wall mural using the latest coating technology.  Surface View is also a great source for purchasing prints and reproductions thanks to their usage agreements with several museums, including London's National Gallery.
Keep an open mind as you begin curating your own collection. One of my favorite pieces of  "artwork" is actually just a letter my husband wrote to his parents when he was nine years old and away at summer camp.  He informs his folks that the counselors are a bunch of "jerks" who force him take swimming lessons, then goes on to request that his mom "please send more food and money immediately."   Seeing that cheeky note hanging over the coffee pot makes me laugh every morning, even though it certainly doesn't qualify as real "art."
Remember — the goal is to bring a smile to your face!
[blockquote class=blue]Kitty Burruss is a wife, mother, and interior designer.  She is slowly amassing her own collection of artwork and still broods about a painting she fell in love with on St. Simon's Island….and foolishly didn't buy! www.WestchesterDecorator.blogspot.com. [/blockquote]