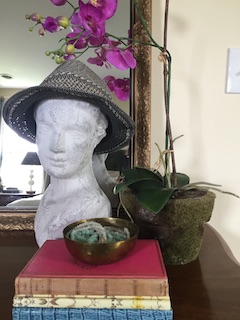 There are several go-to accessories I turn to time and again to add a layer of sophistication to the interior design I create for clients and style for events.  These guaranteed winners all complement any style of home –  from contemporary to traditional, bohemian to preppy, and casual lived-in to formal entertaining spaces.
These pieces can be easily transitioned from one room to another over the years, as I've found they look just as at home dressing up a spacious Kitchen counter as greeting guests in the Foyer or accenting a Living Room fireplace.  If you're looking for something new to dress up a space in your home, these pieces all provide a timeless elegance you can count on to last.
Photo: A plaster bust, one of the author's go-to accessories, sports a straw sunhat and rounds out the decor on this bedroom dresser.
A pair of urns or ginger jars, whether large or small, is a classic accent that never goes out of style.  These accessories offer a beautiful way to lend symmetry to a space, and they can stand alone or mix well with other accent pieces.   Depending on their size, you can place on either end of a hearth, flanking or tucked under a console table, or on a Dining Room buffet.  Urns and ginger jars typically bring to mind a formal style, but they can be found in rustic or sleek contemporary styles as well.  Ballard Designs alone offers a classic blue & white chinoiserie version, a casual woven rattan style, and a glamorous mercury glass option all from one source.
Whether made of plaster or carved from marble, a dramatic bust adds instant gravitas to any decorative vignette.  Create a focal point at the end of a hallway or neglected corner by placing a bust on a pedestal, or incorporate one into an existing tablescape.   Reproduction busts are inexpensive, yet they often look like pricey antiques and add great character to a room.  You can dress a bust up by draping it with elegant glass or wood beads, or add a bit of charm by topping it with a fedora or sun hat.  Steer clear of the busts of famous historical figures, which can feel a bit cheesy, and stick to anonymous ladies and gentlemen.
Miniature oil paintings are another elegant accessory that work in almost any room.  A small impressionist landscape, abstract still life, or even a tiny portrait can be tucked into a bookcase, displayed on a nightstand, or grouped with a potted plant and scented candle on a tray for an instant, easy display.  I scoop these tiny treasures up anytime I find them in second-hand stores and flea markets and keep a small stockpile in my studio, as they are the perfect way to dress up side tables, powder rooms, desks and more!  Etsy.com offers hundreds of unique options, and once you have one or two in hand, you'll discover they are the perfect piece to tuck in just about anywhere and are much more elegant than a framed photograph.
Whatever space, be it an entire room or just a hallway table, consider introducing one or two of these decorator-favorites and see how quickly they can transform a ho-hum area into a WOW!
And if you are interested to learn more about interior design, then you might want to enroll in interior design schools and attend professional courses.
Kitty Burruss is an interior designer, wife, and mother. Follow her at www.WestchesterDecorator.blogspot.com