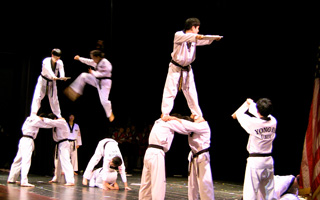 The summer I was 18, I was given the rare opportunity to travel to a university in South Korea for martial arts training. I remember arriving at the peaceful mountain campus setting unsure, exited and with just about every 80's martial arts movie stereotype swirling through my head. By the time I left I had developed an unparalleled appreciation for not just what the human body is capable of, but also for the raw potential of the human spirit.
Yong-in University is one of the premier martial arts institutions in the world.  Founded in 1953 as the first college-level institution specializing in martial arts in Asia, Yong-in offers comprehensive programs in tae-kwondo, judo, hapkido and several other styles of combat. Admission to these programs is reserved for those elite individuals who are consummately dedicated to their art.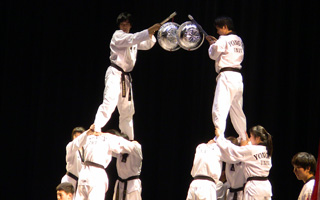 For these students this is no casual college degree, it is their full time passion supported by a lifetime of commitment. The majority of Korea's Olympic and world medalists in judo and world medalists in taekwondo and other combat sports have come from this university. Most of the coaches and lecturers are former national team members and international medalists, ensuring that the level of training and instruction is at the highest possible standard. Yong-in University's Taekwondo, Judo, and Hapkido Demonstration teams are world-renowned and continue to set the standard for innovation and excellence.
Describing the level of skill and dedication I encountered on my trips to Yong-in has always been a challenge. However, this past summer Yoo's Martial Arts in Tarrytown had the opportunity of hosting the Yong-in University's Taekwondo Demonstration Team. Having the chance to expose this experience to the Tri-State area through a demonstration event was an especial privilege and honor for our school. The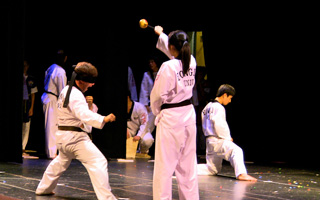 24-member strong team didn't come just to put on a show, but to inspire through their positive energy and disciplined demeanor. The team led three days of teaching workshops, selflessly sharing their time and experience with the students of our school. Their trip culminated in a demonstration held at Sleepy Hollow High School's auditorium on July 16th. The event started with the energized young students of the Yoo's Martial Arts Jr. Demo Team displaying their budding skills and confidence in the spotlight. Next a traditional percussion group gave the audience a rare taste of authentic Korean culture. Finally the main event was an unbelievable high-flying display of board breaking, kicking techniques, and tightly-synchronized forms by the Yong-in University Taekwondo Demonstration Team. The audience, made up of martial arts enthusiasts from all over the Tri-State area, was kept on the edge of their seats as they witnessed the high-energy performance of such rare and amazing techniques. The team continued their summer US tour, but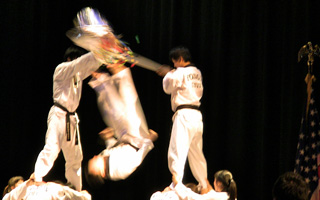 not without leaving Tarrytown with a deep lasting impression of what human beings are capable of with dedication, discipline and a positive body, mind and spirit.