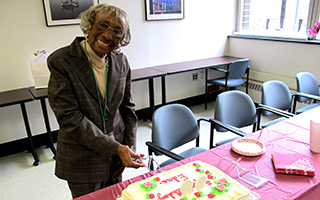 Edna Coggins, who has been volunteering at Phelps Memorial Hospital Center since 1993, was recently honored by the Volunteer Department on the occasion of her 99th birthday.  Phelps President Keith Safian was among the guests who attended the celebration. Edna is Phelps' oldest volunteer and considers every day she can help out at Phelps a day to celebrate.
At right, Edna Coggins of Ossining who  has been a volunteer at Phelps for 22 years, turned 99 years young.
Edna comes in one day a week to fold letters for the mammography department, for distribution to patients.  Her work for mammography is particularly poignant because she survived breast cancer twice – in 1997 and again in 2007.
Not only is Edna the oldest volunteer at Phelps, she is perhaps the most stylish, forgoing the traditional pink smock for smart pantsuits and chic accessories. She regularly visits her hairdresser to have her pageboy haircut styled.
Mary Sernatinger, Director of the Marketing Department, has worked with Edna for nearly 16 years. "I tell Edna that Tuesdays are the best day of the week in our office, because she is here, with her wonderful sense of humor and positive energy," says Sernatinger, "Edna works hard at her tasks, and we are all grateful for everything she does. More than that, we love hearing her tell stories about her life and value the pearls of wisdom that she shares."
Edna says she feels at home at Phelps, "I've always appreciated coming to Phelps to volunteer, because it gives me my own space away from home, and I enjoy seeing all the people I've gotten to know over the years."
Phelps is also close to home – she and William, her husband of 48 years, live in Ossining. For information about volunteer opportunities at Phelps, call the volunteer office at 914-366-3170.
Phelps Memorial Hospital Center is a 238-bed acute care community hospital in Sleepy Hollow with more than 1,700 employees and 500 medical staff members representing 60 medical specialties. Phelps offers one of the broadest ranges of community hospital services in Westchester. Patients benefit from distinguished physicians, many of whom are pioneers in their field, offering the most advanced procedures using the latest technology. www.phelpshospital.org. Phelps' multispecialty medical group, Phelps Medical Associates, has 14 practice locations on campus and in the surrounding communities. www.phelpsmedicalassociates.org.