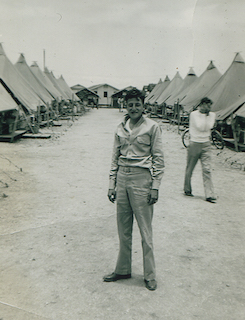 As Pearl Harbor becomes a 75th Anniversary, a former 19-year-old soldier, who witnessed the attack firsthand, is actually in Hawaii. Now 94 years old, Armando "Chick" Galella of Sleepy Hollow was the beneficiary of a fundraiser held earlier this fall at J.P. Doyle's Restaurant and Public House.
Owners Brian Doyle and Nick Bell, along with David Schroedel and the help of generous patrons, raised enough money (unbeknownst to Chick at the time) to send him back to the Island and the commemoration of an event that has lived with him for such a very long time.
We wish him and the other survivors of Pearl Harbor, whose numbers have dwindled remarkably as the years mount and their ages advance, peace of mind and acceptance of our deep gratitude for their service.
For Chick Galella this voyage back to Pearl Harbor has been a lifetime in coming.