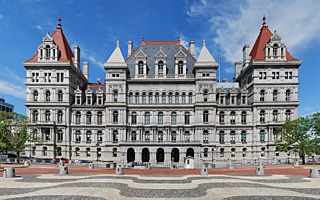 Our school districts are facing financial hurdles of a magnitude never seen before. This is not the direct fault of school boards, administrators, teachers, local communities, or anyone else. It is simply math.
"The factors that drive your costs go up every year," explains Howard Smith, Superintendent of the Public Schools of the Tarrytowns. "Health insurance goes up 8-10%. Retirement costs have been skyrocketing. The automatic increases in salary schedules… chew up a big chunk of whatever money's available." In the past, a school district had two options: find ways to cut spending and/or raise property taxes.
For the past three years, many districts, including Irvington and Tarrytown/Sleepy Hollow, have hopped on the austerity train with a vengeance. "Over the last three years, we've been very hard on ourselves in terms of keeping our budget down," says Irvington School Board President John Dawson. Lisa Davis, Executive Director of the Westchester-Putnam School Boards Association, warns that there simply isn't much left to cut. "The next time we'll have to cut a little deeper in and things are going to be a little more painful and they're really going to affect the classroom more," she says.
Enter the 2% tax cap (which is actually a 2% tax levy cap, meaning your actual taxes may rise more than 2%) which was signed into law this year. Under the cap, districts are unable (without the consent of 60% of the voters) to raise their tax levy beyond the 2% mark, and that means it's time to make cuts.
"In order to stay within any kind of tax levy limit there will be cuts. Either staff or programs. The math does not work otherwise," says Davis. Any program that is not state or federally mandated is a candidate for savings. "Some districts are looking at reducing their Pre-K program," she says, then adds ominously, "Kindergarten is not a mandated program."
How did it get to this point? What are we spending our tax dollars on if we can't afford to run our school districts? Where is all that money going? If you're looking for answers, look towards Albany.
As much as 90% of a school district's costs are mandated by the State. Many of these mandates cost districts a lot of money to implement, and they get no financial help from the State to ease the burden. "Every time there is some new requirement that comes to us from the State Education Department… you have to take somebody who has other work to do, take them away from that task and have them devote whatever time is necessary to pulling together the data that's being requested," explains Dr. Smith.
The No Child Left Behind yearly testing is a huge cost that's passed on to the school districts, and Dawson pointed to a new unfunded initiative hitting the districts this year. "We have a big unfunded mandate [this year] and that is the whole APPR [Annual Personnel Performance Review] and Common Core Standards that are being imposed on us by the State Education Department," he said.
While each of these programs costs districts time and money, there are many other areas where a school district's expenses are dictated by the State. "The biggest one that people are pointing to… is Special Education," says Dawson. "Some districts have thrown out a number and said Special Education counts for 27% of their budget. I know it's rather high in Irvington as well."
As costs for Special Education soar, more and more fingers are pointing once again to Albany. "New York State supersedes federal regulations by about 200 items [in Special Education], and that's another area that will keep growing as a part of the school district's budget," says Davis. "New York State spends more than any other state [on Special Education], and our results are no better."
The other main driver of a district's costs is the cost of labor. "[Approximately] 77% of a school district budget is for salary and benefits," explains Davis. "That's where most of the dollars are and that's also where a lot of the dollars in those areas are constrained because of either contractual obligations, health insurances, NY State pension costs… if you really want to move the number you have to be able to move something in that area."
Since most district employees are union employees, and nobody is talking about breaking any existing contracts, the push is for Albany to enact reforms that will help districts reestablish some financial security moving forward. One of the most popular issues currently being pushed is pension reform. "We've been advocating for quite a while that there should be a new pension tier that advances some kind of hybrid option [where the employee can choose] either a defined benefit or a defined contribution plan," says Davis.
This would be a change from the current state-mandated, defined benefit-only program. Giving incoming employees the choice would allow employees who chose the defined contribution plan to take their pensions with them if they were to switch careers, as well as make it more appealing to those coming into the educational system later in life as a second career, who may not expect to work the 25 or 30 years it takes to optimize their pension benefit. The benefit for districts is cost certainty – the employer would make a fixed, predictable contribution while the employee is working.
As much as pension reform would save districts money, there is another topic at the top of most school districts' wish lists. "If you asked school officials candidly to tell you the single most burdensome requirement right now, they would say it's the Triborough amendment to the Taylor law," says Dr. Smith. "Actually, just a piece of it."
That piece is an interpretation of what happens when a contract currently expires. "Instead of unions holding the threat of strikes over everybody's head, the unions agreed that strikes would be made illegal," Explains Smith. "But to protect them, there was this notion that the terms and conditions of your contract remain in effect after it expires. Otherwise an employer could say well, you don't have a contract anymore, we can do whatever we want. The problem is, the way school compensation schedules are structured, salary schedules have steps on them. This has been interpreted as requiring the employees and teachers to still move up on the schedule [after a contract has expired.]"
"Increases continue even if a contract has expired," says Davis. "We feel that takes away some of the incentive for labor to come to the table and settle on a new contract, particularly in times like this when we're under a tax cap." The proposed solution? Freeze step increases when a contract expires. "Until there's an agreement, you just stay where you are. You're protected, you're not going to make any less, but you're not going to make any more," says Dr. Smith.
To do any of this, of course, requires convincing representatives in Albany to act, which is not always an easy task. "There's really not the political will [in Albany] and not enough pressure from the people who vote, so you end up with some special interests that tend to lead the political agenda," says Davis. "We're only going to see changes when the voters and the taxpayers and the parents… really step forward and say this is going to hurt how we educate our children." Dawson agrees that the public needs to get involved. "The public is going to have to be a main part of any successful attempts at getting rid of some of the mandates," he says.
So what can the average citizen do? It may seem old-school, but the answer given by everyone was to write one's representative an old-fashioned letter and let them know what you think. Legislators take note of now many letters they get from their constituents on a certain subject and what they are saying. The more voters who weigh in on a matter, the more there is chance of convincing the legislator to act.
Dawson worries, however, that the perpetual campaign atmosphere in Albany (all State Senators and members of the Assembly run for reelection every two years) will make it difficult for legislators to take a risk and propose true reform. "If people in Albany finally start thinking about what's best for people instead of how best to get reelected," he says, "then I think we'd start to see some changes." ©
Who Are Your State Representatives?
For Irvington, Tarrytown, Sleepy Hollow and portions of Briarcliff Manor:
NY State Senator Andrea Stewart-Cousins
28 Wells Avenue Building 3, Yonkers, NY 10701
Assemblyman Tom Abinanti
303 South Broadway, Suite 229, Tarrytown, NY 10591
For the remaining portions of Briarcliff Manor:
NY State Senator Suzi Oppenheimer
222 Grace Church Street , 3rd Floor, Port Chester, NY 10573
Assemblywoman Sandy Galef
2 Church Street, Ossining, NY 10562