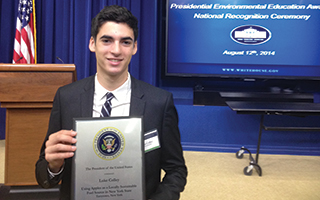 Happy New School Year! After a much-deserved break, students are once again filling the halls and classrooms of our region's schools. Our first roundup of the 2014-15 school year features a local teen being honored at the White House, another winning a
national service award, a $4.6 million bond referendum going before voters, and the results of our area schools' State Assessment Tests.
At right, 2014 Sleepy Hollow Graduate Luke Colley at the White House.
"The tests are substantially more rigorous than in the past. In a word: they are harder," wrote Tarrytown Superintendent Christopher Clouet in a letter to parents.  "As a district, we have made progress in Math, exceeding the Statewide
average. We went down a few percentage points in English Language Arts (ELA), putting us in line with the State average… Students and teachers are in the process of adjusting to the new and more rigorous standards."
Area districts are now in the process of digesting the results and deciding how to incorporate their findings into future curriculum. "The State assessments are one of multiple measures of student growth and teacher effectiveness," said Irvington Superintendent Kristopher Harrison. "The information gleaned from the State tests is reviewed in conjunction with local assessments and teacher observations to identify to how best serve our students' needs."
IRVINGTON
Irvington Schools Field and Facility Bond Referendum Coming October 7
There will be a district-wide vote on a referendum on Tuesday, October 7 to approve a $4.6 million bond that will be used for improvements to school facilities and athletic fields. The project will include selected infrastructure work at all district schools as well as remediation of East Field, replacement of the Oley track, and replacing Meszaros field with an organic-infilled, artificial turf product.
The district has scheduled budget forums to discuss the details of the project with members of the community to take place on Monday, September 15 at 7:00 pm (at the Campus Presentation Room), and on Wednesday, September 17 at 9:30 am and Monday, September 29 at 7:00 pm at the Irvington Public Library.
"We are pleased to offer the community a proposed bond issue that has been crafted to address a number of longstanding issues with both our facilities and our fields," says Irvington Superintendent of Schools Kristopher Harrison. "The emphasis of this bond has been efficiency, which is reflected in the 'basic needs' approach to the projects that have been included in the proposal. We look forward to sharing as much information as we can during the month of September through a variety of communication vehicles, including meetings, publications, and website updates."
Voting will take place at Main Street School between the hours of 7:00 am and 9:00 pm.
Irvington Village Trustees Approve Additional Crossing Guard
The Village of Irvington Board of Trustees approved the hiring of an additional crossing guard to work the intersection of Broadway and Heritage Hill Road. This individual will assist students of Irvington Middle School and Irvington High School, and is meant to greatly bolster pedestrian safety. Anyone interested in learning more about and possibly applying for this new position can visit the website of the Village of Irvington Police Department at http://www.irvingtonpolice.com/,  or by contacting Lieutenant Morano at 914-591-8080.
Youngest Irvington Students to Experience "Fundations"
The Irvington School District this year is introducing a new elementary literacy program to its students in Kindergarten and First Grade. Fundations, a "phonological/phonemic awareness, phonics and spelling program," is meant to better support students' literacy skill set at the very early stages of development, while also preparing students to grow into more confident readers and writers.
Irvington Middle School Welcomes New Assistant Principal
The Irvington Board of Education has appointed Allyson Daley to be the new Assistant Principal at Irvington Middle School, replacing Joyce Chapnick who has taken over the position of Principal of Main Street School. Ms. Daley most recently served as a leave replacement Assistant Principal at Chatsworth Elementary School in Mamaroneck. During her more than 15 years of experience in education, she has also served as a district-wide literacy coach for the Mamaroneck Schools, and as a K-5 literacy staff developer in New York City.
TARRYTOWN/SLEEPY HOLLOW
2014 Sleepy Hollow Grad  Wins Presidential Environmental Award
2014 Sleepy Hollow Graduate, Luke Colley, was honored at a White House ceremony as the winner of the U.S. Environmental Protection Agency's President's Environmental Youth Award. His project, "Using Apples as a Locally Sustainable Fuel Source in New York State," explored the possibility of producing apple-based ethanol. His study found that not only was apple-based ethanol a viable alternative to petroleum, but the production costs of this more environmentally- sustainable fuel would be lower as well.
"Mr. Colley's innovative problem solving is an inspiration to all of us," said Judith A. Enck, EPA Regional Administrator. "Protecting our environment and creating sustainable solutions is a job worth doing for every generation."
BRIARCLIFF MANOR
Briarcliff Student Recognized for Outstanding Community Service

Briarcliff High School student, Caroline Pennacchio, was named a Distinguished Finalist for the State of New York in the 2014 Prudential Spirit of Community Awards program. Created in 1995 by Prudential in partnership with the National Association of Secondary School Principals (NASSP), the awards program honors middle school and high school students for outstanding volunteer work done at the local, state and national levels.
Caroline was recognized for her continuing work encouraging literacy in the community. She organized two book donation programs which together acquired hundreds of books for the Briarcliff Manor Public Library, raised over $9,000 for the library through used book sales, and distributed hundreds of books to local charities.
"Caroline distinguished herself as a young woman of superlative ability," said State Senator Sandra Galef, who along with fellow State Senator David Carlucci met with Caroline and her parents in Senator Galef's office. "[She] establishes a high standard of community service, purposefulness of life, and sense of responsibility rarely achieved in youthful years."
Briarcliff Manor Board of Education Re-Appoints Leaders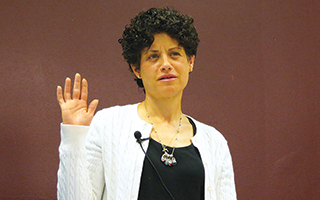 On July 14, the Briarcliff Manor Board of Education held its annual reorganization meeting ahead of the upcoming school year. Board President Jennifer Rosen, re-elected by voters in May, was sworn in and re-appointed to serve as President. Also sworn in and re-appointed to their current positions were Vice President Dina Brantman and Superintendent of Schools James Kaishian.