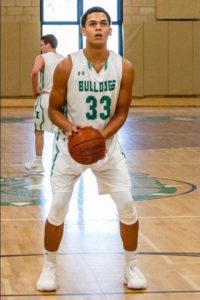 Self-discipline, motivation, hard work, and leadership are only a few characteristics embodied by Irvington High-School's basketball player Sidney Thybulle. Producing an impressive average of 13.6 points and 12.8 rebounds per game, it is clear that Thybulle is dedicated to his team and perseveres on the court until his goals are met.   
For his accomplishments on the court, Thybulle has been named both "LOHUD Player of the Day," and "Most Valuable Player of the Hendrick Hudson Championship Tournament." Sidney also achieved impeccable academic success alongside his feats on the court. With a host of advanced placement courses, honors courses, high test scores and an incredible 4.27 grade point average, it is evident that Thybulle has mastered the art of balancing academics and athletics.  
Through his dedication to Irvington's National Honor Society, along with his work as a peer leader, it is no surprise that this St. Michael Book Award Winner has been recognized for his stellar academic achievements.  
When Thybulle was asked for his source of inspiration, he remarked upon his younger sister. "She inspires me to be the best person I can be each and every day," stated Thybulle. While academic success and athletic achievement are important to Thybulle, his motivation in both areas is rooted within his home and family. 
"The reward of achieving feats for my team is sharing the glory of victory with my teammates," explained Thybulle. Always considering his teammates, it is the spirit of collaboration and humility that Thybulle carries on his shoulders in order to achieve success, both individually and as part of the team.  
While it may seem as though Thybulle has his hands full between the classroom and the court, he manages to spend significant time and energy volunteering at the Irvington Recreational Basketball Program. In addition, Thybulle both encouraged and organized his basketball team's participation in environmental volunteer work, entailing the clean-up of Irvington's nature trails.  
With brewing recruitments promising a future of athletic and academic options to choose from, Sidney Thybulle will no doubt continue to possess the balance and commitment needed to succeed as a dedicated student-athlete with strong community values.  
Sydney took some time to answer a few more questions. Here are his thoughts and comments.
How do you balance community involvement, as well as academic achievement, with the commitment of athletics?
It is not easy to balance all of my commitments, but I do so by managing my time. I efficiently organize the little time I have so that I can go to school, make practice, and still have enough time to study or get involved in my community.
What motivates you most on the field, court, etc.?
My greatest motivation is to be the best I can be. I push myself in practice every day to get better and work as hard as I can on the floor to help my team achieve victory. I am never satisfied and always am looking to improve my game.
What do you consider to be your best accomplishment (could be academic, athletic, community-related)?
My best accomplishment is achieving a 4.27 GPA in high school. For this I received a book award from my school, indicating that I am in the top 12 students of my class.
What is the most rewarding part of achieving feats for your team?
The reward of achieving feats for my team is sharing the glory of victory with my teammates. We work incredibly hard every day on the court and develop close bonds off it. It is incredibly rewarding to have our hard work pay off by achieving the goal we set out to do, and I will do anything I can to achieve those goals for my teammates.
Is there someone who has inspired you, or helped you meet your achievements?
My younger sister Grace is my greatest inspiration. My 15-year-old sister is amiable, smart, and incredibly unique. She inspires me to be the best person I can be each and every day.
How do you involve yourself in the community?
One way which I involve myself in my community is by doing volunteer tutoring. I am part of the National Honors Society, and we have a program in which underclassmen can request tutors and we can volunteer to tutor them.
If you could describe your experience as a student-athlete in three words, what would they be?  
Intense, Fun, Fulfilling
About the Writer:
Sarah Dolgin is a senior at Briarcliff Manor High School. She's the Managing Editor of The Briarcliff Bulletin, the School's student run newspaper. Sarah will be attending the S.I. Newhouse School of Public Communications at Syracuse University in the fall.
Thanks to our Scholar Athlete feature partners, Club Fit and Laur-Lee Sports. 
Scholar Athlete of the Month Selection Process 
The River Journal worked with school superintendents in Briarcliff Manor, Irvington, Ossining and Sleepy Hollow/Tarrytown to develop the selection criteria – exemplary academic achievement, athletic success, and community involvement.  
The superintendents and their colleagues (principals, administrators, athletic directors, etc.) each nominated a student from their high school. Our editorial staff chooses the scholar athlete to be featured in each issue. All nominated students are acknowledged by the River Journal.