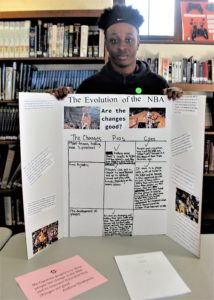 From a video on making Patois the second official language of Jamaica to an animal cruelty presentation to a panel discussion on race and law enforcement, Ossining High School seniors covered a lot of ground as the first full grade to complete the four-year Capstone Showcase.
The January event culminated four years of preparation and research on a 'passion topic' that began during freshman year when the Class of 2019 studied research techniques and resources. The following year, they identified their passion, question or frustration, or a need they saw, and created a research project.
Some students conducted projects on Ossining schools and the community, while others created art installations or published articles about their work in the school newspaper. The second Capstone Showcase for the remaining seniors will take place in the spring.
Nadine Zeidan looked at generational views on technology and how they affect communities and news distribution and sought ways to reduce the generational divide. She became the social media editor of The Current, the school newspaper, to get news and information to more people.
"Communities really need to come together in order to thrive," said Zeidan.
Andrew Thompson conducted a research project on changes in the NBA and its impact on the game.