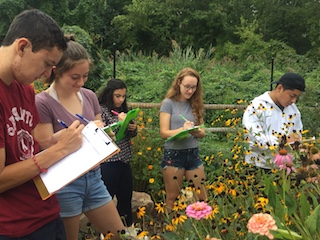 Once again, our schools are creating ever-evolving ways to help our students grow and develop. A new flexible learning space sparks creativity and engagement. A program in yoga and mindfulness helps children balance mind and body and deal with life's stresses. Painting a mural that focuses on pride in who we are and celebrates diversity gives students a sense of accomplishment and improves their sense of self.
Learning how to save a beautiful but endangered living creature teaches young students that each of us can make a difference, while studying in an outdoor classroom allows older students to experience and connect with nature directly. This semester also finds time to cheer our highest-achieving scholars and most talented musicians. Applause, applause is in order all around – for the schools, the educators, and above all, the students!
Tarrytown
A Classroom without Walls – Sleepy Hollow Students Study at the Peabody Preserve
Sleepy Hollow High School 11th and 12th-grade AP Biology students put theory into practice as they immersed themselves in nature this September at the Outdoor Classroom at the Peabody Preserve in Sleepy Hollow.
Photo: Students study in the Outdoor Classroom at the Peabody Preserve.
"You can stare at a book or a screen for as long as you want, but actually seeing biology in action is much more stimulating and inspiring," said one Sleepy Hollow High School student after spending time at the Outdoor Classroom. Students examined about 50 species of flowers. Students credited the outdoor lessons with offering a deeper understanding of the science and found the lessons exciting. The classes use the data collected to create a timeline that shows the development of flowers through the ages. An added element to studying at Peabody is the opportunity to discover and observe animals in the preserve.
Go the Distance, Make a Difference – Jose "Armani" Curet of Sleepy Hollow Leads Maria Fareri Fundraiser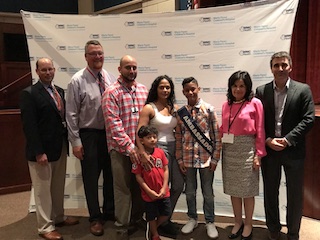 Jose "Armani" Curet looks and acts like a typical 11-year old. He loves to play basketball and baseball and enjoys wrestling. Yet the Sleepy Hollow Middle School student had life-saving surgery and had to learn to walk again.
"About two years ago, I was having headaches and staring seizures," said Armani.
At first doctors thought Curet had a brain tumor, but then they diagnosed him with a rare condition called arteriovenous malformation. Abnormal blood vessels got tangled in his brain and emergency surgery at Maria Fareri Children's Hospital gave him a second chance at life.
On Sunday, September 16, Curet walked a mile around the hospital as the ambassador for the Go the Distance Walk and Family Fun Day, leading thousands of former patients and staff members at Maria Fareri's major fundraiser.
Earlier in the week, classmates watched as he received his Ambassador's sash in the school auditorium surrounded by family, school leaders and hospital officials. Grateful for the care he received during his illness, Curet said, "It was scary. I didn't know what was happening, but the hospital helped me."
"They caught the disease in time," said the boy's mother Maria Negron, swelling up with tears. "There are children who die from the disease."
Saving the Monarch Butterfly at the Morse School in Sleepy Hollow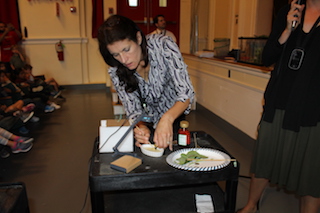 You could hear the excitement in the W.L. MorsevElementary School in Sleepy Hollow auditorium on September 21 when parent CarolvVinzant released Monarchvbutterflies into the air with the help of first and second-graders. Known as everyone's favorite butterfly, the black, orange and white creatures – possibly the most beautiful insect form known – may soon become an endangered species.
Vinzant explained that Monarch butterflies only eat a plant called milkweed and pesticides, global warming and severe weather have impacted the plant and the species over time.  Students watched intently as Vinzant fed and 'tagged' a butterfly for tracking before setting it free. She and parent Ginny Williams explained how the community can make a difference and help save the Monarch if families grow milkweed and raise, then release the butterflies at home. Morse has even created a Way Station for Monarch butterflies, known to fly across the country to Mexico, on school grounds. The butterflies can stop at the station for food before they journey across the country.
Irvington
Irvington High School Seniors Named Commended Students and Semifinalists in National Merit Scholarship Program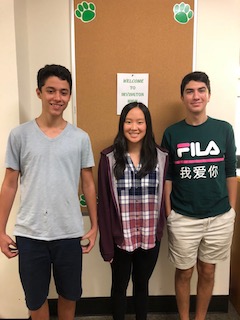 Thirteen Irvington High School seniors werevrecognized by the National Merit Scholarship Corporationvas Commended Students in the 2019 National Merit Scholarship Program; three ranked as semifinalists.
The National Letter of Commendation went to:vArielle Ades, Julia Caldropoli, Jacob Dunefsky, BenjaminvFlock, Sohum Gala, Anna Horowitz, Aayushi Jha,vSamantha Kimura, Jacob Lewin, Rishikesh Madabhushi, Daniel Marshall, Nicole Radlauer and Hwa-Lyang Sugihara. Being recognized as a Commended Student is an honor given annually to outstanding students who achieve exceptional scores on the Preliminary SAT/ National Merit Scholarship Qualifying Test.
The Commended Students are among 34,000 students throughout the nation to be so recognized for their exceptional academic achievements. They placed among the top 50,000 scorers of more than 1.6 million students who took the qualifying test in 2017.
In addition, three Irvington High School seniors – Ethan Chang, Braden Donoian and Chrysmine Wong – were named 2019 National Merit Scholarship semifinalists.
"It is a tremendous accomplishment to be selected as a National Merit semifinalist," Principal David Cohen said.
Irvington's semifinalists are in the running for approximately 7,500 scholarships worth more than $31 million that will be offered next spring. Finalists will be announced in February, while scholarship winners will be announced in the spring.
Irvington Middle School Students Thanked for Hurricane Relief Efforts
Members of the French Club at Irvington Middle School, under the guidance of French teacher Deanna Tessler, have initiated several projects to raise money for hurricane victims."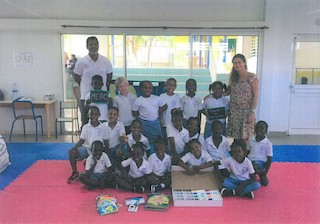 "We held a week of schoolwide celebrations for French Week and all proceeds were donated to hurricane relief," said Tessler.
The students raised a total of $3,000, then donated $600 to the Houston Independent School District for Hurricane Harvey relief; $600 to the Hispanic Federation's Unidos: Disaster Relief and Recovery for Puerto Rico; and $600 to the United Way of Miami-Dade for Hurricane Irma relief.
With the remaining funds, they bought and shipped classroom posters, pencils, paper and beginning reader books for the St. Martin Primary School on the island of Dominica as well as books, paper, scissors, crayons, pencils and markers for the Eliane Clarke Elementary School, located on the island of St. Martin, which was severely impacted by Hurricane Irma.
They were delighted to receive a letter and picture from the students of the Eliane Clarke school thanking them for their generosity.
"I want to thank you warmly because the school life in St. Martin is always very difficult," wrote Frederick Peuron, director of the Eliane Clarke Elementary School. "Life in general is still very complicated and very slow. This material will allow us to finish the year more serenely."
Yoga Creates a Positive Learning Environment at Irvington's Main Street School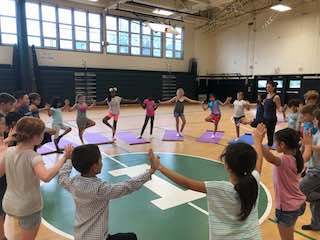 During two 45-minute yoga sessions in September and two additional sessions in January, fourth- and fifth-graders at Main Street School in Irvington learn skills for calming and balancing body and mind, regulating emotions and dealing with the everyday stressors of life. With yoga instructor Cynthia Svigals, they stretch their muscles, practice becoming aware of their emotions and learn breathing exercises and yoga postures in fun and engaging ways.
"By integrating a yoga experience into the school day, our students will develop the tools necessary to be mindful and present in learning," said physical education teacher Laura Shaw, who implemented the program along with teacher Gina Menendez. "Mindfulness helps set up a positive learning environment and helps strengthen relationships with students."
The flexible learning space and the mindfulness program are supported by generous grants from the Irvington Education Foundation.
Flexible Seating at Dows Lane Fosters Creativity and Curiosity
Dows Lane Elementary School has debuted its new flexible learning space, located in the atrium on the second floor of the school. Complete with wobble seats, bounce chairs, varied seating and different height tables, the new and innovative seating supports student choice and movement to optimize learning.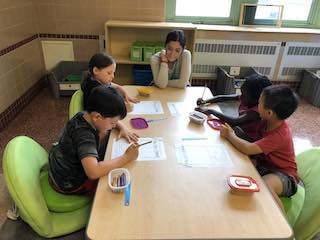 "It is a bright, inviting space where we strive to promote curiosity, creativity, collaboration and problem-solving," Principal Deborah Mariniello said. "Open, collaborative spaces with options and flexibility for student choice in seating fosters higher levels of engagement, as well as self-reliance. In addition, the space provides for different types of activities using flexible grouping and more open forums."
The flexible learning space has seating for two classes at a time and is appropriate for students in kindergarten through third grade. Teachers engage students in a variety of learning activities, including reader and writer workshops, morning meetings and collaborative projects. Teachers also bring supplies to the space for students to explore and create, then apply the design thinking process to their own innovative ideas.
Briarcliff Manor
Briarcliff Manor Third Graders Take on Tech Leadership
Ten third graders were recommended for the Todd Tech Experts program. A second-grade team delivered recommendations based on behaviors observed over the last school year and this year's students were chosen to work with Director of Technology Erica Beasley and her professional technology team. The Todd Tech Experts first learned best practices including the 'do's and don'ts' of using iPads, how to properly carry them (otherwise known as giving it a 'hallway hug'), exploring the search feature, downloading an app and, finally, two important rules: no food when using iPads and no password sharing. Then the students were deployed in groups to go and teach the rest of the students.
Assistant Principal Jennifer Jacobs said, "I am so proud of our Todd Tech Experts. They took their assignment very seriously, worked hard at engaging their fellow students in the rollout, and can't wait for their next assignment."
Briarcliff HS Seniors Ranked National Merit Semifinalists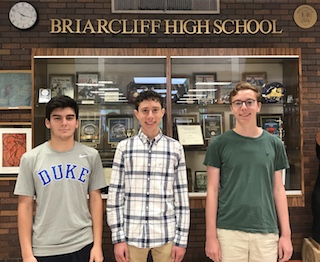 Three Briarcliff High School seniors – Noah Benson, Benjamin Cooper and Andrew Van Camp – were named semifinalists in the 2019 National Merit Scholarship competition. Principal Debora French said, "It is a wonderful recognition for not only Noah, Benjamin and Andrew, but for our entire school community to consistently have our students highlighted on a national level."
The students are among approximately 16,000 semifinalists representing less than one percent of all high school seniors in the country. The students compete for 7,500 National Merit Scholarships worth more than $31 million.
Talented BHS Musicians Recognized by NYSSMA
Congratulations to a trio of talented musicians from Briarcliff Manor. Joshua Kupka was selected for viola to play in the orchestra at the 2018 All-State Conference; James Flanagan and Juliet Freedman were chosen as alternates for viola and alto, respectively. Having a role in the All-State Conference is the highest statewide honor for high school musicians.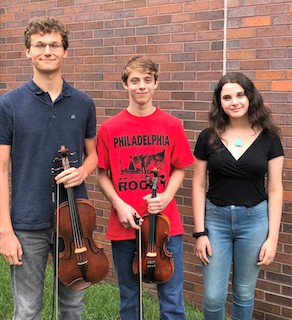 Kupka, Flanagan and Freedman were selected in the spring during auditions at solo and ensemble festivals throughout New York. At NYSSMA's Winter Conference in Rochester, New York, nearly 900 students will perform as part of the All-State ensembles.
BMS and BHS Celebrate Global Day of Clay
For the second time, NCECA (National Council onEducation in the Ceramic Arts) and the ceramics department at the 92nd Street Y in NYC hosted the Global Day of Clay on October 10th. Briarcliff Manor students from middle school and high school attended.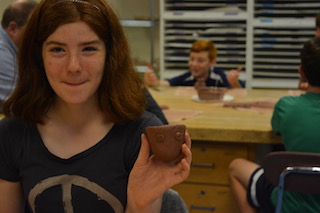 Using technology to link individuals, arts organizations, universities and galleries all over the world, the mission of the day is to create interest around ceramics. The event pulls people from within the field and outside into a deeper state of consciousness regarding the role this medium plays in our lives.
Briarcliff Art Teacher Jessica Dubin noted that she created a project in clay for each class and posted the process and results to the online platform via a special Instagram account. "The students love the opportunity to engage in this productive and educational use of social media," said Dubin.
To learn more about the Global Day of Clay, visit www.92y.org/globaldayofclay.
Ossining
Ossining Students Get a Free "Grab and Go Breakfast"
All Ossining students are now eligible for a free breakfast under an expanded program the school district launched in September.
The district's "Grab and Go Breakfast" is paid through the district's Cafeteria Fund at no cost to taxpayers. Children pick up the meal when they arrive and eat it in their classroom or the cafeteria.
"We are pleased to provide this opportunity for students and hope that many families take advantage of it," Assistant Superintendent for Business Alita McCoy Zuber said.
Studies have shown that eating breakfast helps students pay attention in class, perform problem-solving tasks and improve their memory. They are also more likely to behave better in school, have fewer absences, and have a more adequate nutrient intake than children who skip breakfast.
Ossining students eligible for reduced-price meals will also receive a free lunch. Full price for lunch remains $2.15 in the elementary schools and $2.25 in the middle and high school.
For more information, visit www.oufsdbolt.com or contact Lisa at 914-941-7700, ext. 1338, or lholmes@ossiningufsd.org.
In Ossining … Snowden Park Playground Opens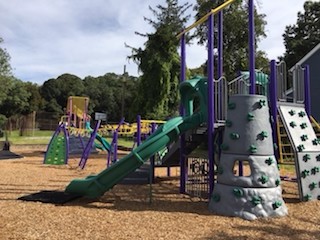 A new playground in Ossining, featuring a small skate park, a basketball court and a playground with different size slides, climbing walls, and swinging apparatus, opened recently at the corner of Snowden Ave and Broadway.
The park is down the street from the Ossining train station.
Students Create Pride Mural at Ossining High School
A group of nine Ossining students spent the last week of summer vacation working with artist Joe Pimentel of Newburgh to paint a colorful Pride mural on the first floor of the high school.
The 30-foot mural was created around the district's new tagline: "Pride in all that we are." The mural, which directly faces the wall of international flags, reflects the district's diversity by incorporating flags into its design.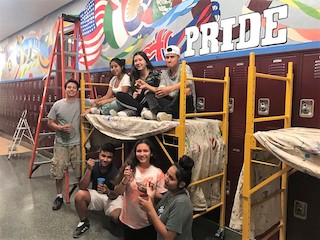 "This is a reflection mural which captures the images of many of the flags across from it," Ossining High School Principal Stephen Hancock said. "Ossining is rich in diversity and it is something we are proud of and celebrate. Our new brand, 'Pride in all that we are,' is the focal point of this mural, but it embraces the countries that make up who we are."
The project was funded by a grant from the Ossining MATTERS Education Foundation.
OHS sophomore Alessandra Gutierrez readily said 'yes' when staff asked her to help with the mural. "I like the mural a lot," she said.
The OHS project was Pimentel's 26th collaborative school mural. Students learn the process for creating the artwork and take pride in what they accomplish. "At the end, they see this giant, colorful mural, and they were a part of it," said Pimentel.
Summer Renovations Enhance Learning Environment in Ossining Schools
Teachers and students returned to Ossining schools Sept. 6 to find several improvements and upgrades.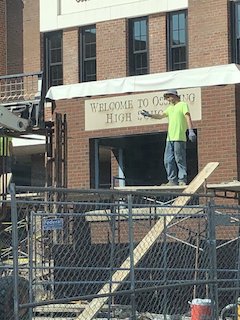 At the high school, the entrance was extended to include a security vestibule where visitors sign in. The main lobby was renovated to create a warm and inviting space, and the entrance by the gym was reconfigured to create a security check-in area. New turf was also installed on the lower field.
The district completed construction on a small kitchen addition at Roosevelt. Cafeteria walls were painted, new lighting was installed, and a new outdoor space with tables was added.
At Anne M. Dorner Middle School, workers replaced the water main, installed new bleachers in the gym, and resurfaced the gym floor.
The small STEM (science, technology, engineering and math) lab was relocated from the basement to the library at Claremont. The new program is STREAM – the "R" is for reading and research.  Ossining MATTERS! grants have paid for most of the lab's equipment and resources.
"We're trying to make sure that we have safe environments for our kids that are warm and welcoming, and that are ever-evolving to support our district's programs and student enrollment," Superintendent Raymond Sanchez said.