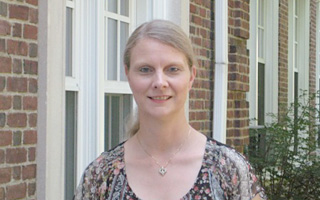 With regime change all the rage in the world right now, it was only a matter of time before it struck here in the Rivertowns. The leadership of Dr. Bill Greene and Randal Lichtenwalner, Principal and Assistant Principal respectively, at Washington Irving Elementary School (WI) has come to an end. Taking over for the 2011-2012 school year are two new faces, one familiar to the school district, and one unfamiliar.
The familiar face is current Sleepy Hollow Middle School Assistant Principal, Michael Scarantino, who steps in as WI's new Assistant Principal. Taking the reins at the head of the school will be Dr. Debbie J. Hand, current principal at P.S. 166, The Richard Rodgers School of the Arts and Technology in Manhattan.
Dr. Hand comes to Tarrytown with a Doctor of Education degree in Educational and Organizational Leadership from the University of Pennsylvania, and Masters Degrees in both School Administration and Supervision from Fordham and in Literary Education from the College of New Rochelle. She's been the Principal at P.S. 166 for three years, and before that worked at P.S. 119 for fifteen years, where she worked her way up through the school from teacher to Principal, with a two-year stop at the regional level in school support in between. After twenty years in the city, she leapt at the chance to come up to the Rivertowns.
"I really envision myself as a very collaborative school administrator, and at this point in my career, I'm looking for a school district where there's continuity and a strong sense of cohesiveness throughout the district," says Hand. "It was very interesting that this particular position [at WI] was available, and after looking into it, [I saw] it had a lot of what I was looking for: diversity, commitment from the community to the school system. The student population mirrored a population that I am very familiar working with and with which I have had a lot of experience."
Both Hand and Scarantino are taking a wait-and-see approach to any changes they may or may not make to the school. "The first thing you learn as you become a school leader is that making systemic changes without first analyzing them isn't going to be successful," says Scarantino. "I think before we change any policies, we need to find out which ones are working, and which are not," Hand agreed. "Any time you are taking a leadership position, the beginning part of your experience is to be a very good listener. Not just to listen, but to really value the uniqueness of the school and figure out together, as a school community, where you're going to move forward."
The incoming Hand/Scarantino regime intends to be accessible to all. "The one thing you can expect from us will be open, honest, and timely communication," assures Scarantino. For her part, Hand envisions her role extending beyond the walls of WI and into the surrounding community. "I love to be involved in the community further than my position as the principal.  I'm very invested in the lives of the children, and in the professional growth of the teachers and the faculty we will be working with."
Just as each educator is new to the school, so is each new to each other. However, preliminary meetings between the two have been fruitful, with promises of a strong working relationship. "I think that from the first impression, I was extremely surprised, yet comforted, that we had this automatic connection to each other.It was this immediate sense that this was going to be a great partnership."
One issue likely to rear its head during their time at WI is the growing concern over student bullying. Hand sees the problem more as one of children still learning how to navigate social interaction, but promises a position of no tolerance. "No tolerance means once we get sight of something, it needs to be addressed. It doesn't necessarily need to be addressed in this punitive, consequence-based way, but it does need to be addressed… through teaching children how to work out their differences, teaching children how to respect differences, always having high expectations and not allowing anything to get under the radar. Once it starts to fester and the adults aren't paying attention, that's when I think it turns into more of a problem," she explained.
For his part, Scarantino plans to share his positive experience with the anti-bullying program, "Oleweus"— which is currently being put into practice at Sleepy Hollow Middle School— with Dr. Hand to see if it is something that could be utilized successfully at WI.
The two are excited to get their feet wet in the waters of Washington Irving, and hope their excitement and passion will be a force of positive change within the school. Hand, in particular, is looking forward to her first job in the Rivertowns, and at Washington Irving in particular. "I have had my eye on Washington Irving for quite a while, and I clearly like Tarrytown. So once I saw [the position at WI] advertised, I was pretty excited," she confessed.