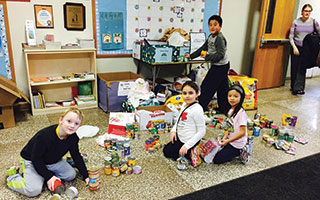 Happy New Year! As we switch out our wall calendars, our area schools are closing the books on a successful 2014 and preparing for new adventures in 2015. Some highlights this month include elementary students collecting for charity, a Presidential Scholar Finalist, and an upcoming parent education evening focused on helping your child with time management.
At right, Dows Lane students sort donations to a local animal shelter as part of December's celebration of "Dows Day."
IRVINGTON
Dows Lane Students Serve Community With Monthly "Dows Days"
This past December marked the inaugural "Dows Day" at Dows Lane Elementary School. Each month, students will choose a local charity or organization within the community to support, along with a goal which, if reached, will allow the children to wear wacky outfits to school based on a chosen theme. Mrs. Alpert's & Ms. Kiernan's class chose the initial cause, selecting a local animal shelter. The students were challenged to collect over 100 items, and ended up more than tripling that number, resulting in a Pajama Friday.
January's cause selected by Mrs. Child's class is Climate for Change, benefiting the Wolf Conservation in South Salem, NY. Students are being asked to search their house for loose change, and if they bring in over $100, they will celebrate with a crazy hat/crazy hair day later in the month!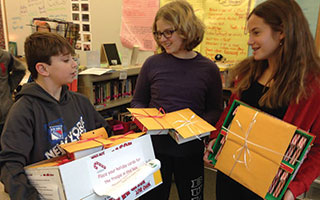 Middle Schoolers Send Christmas Cheer to Troops Overseas
This past December, the Middle School Student Council brought in candy canes and worked with their peers at school to create holiday cards to send to an American military platoon currently stationed overseas. Over 200 cards and candy canes were shipped out to the sponsored platoon by the students.
Academic Challenge Team Knows Their History
The Irvington High School Academic Challenge team competed in the Lower Hudson regionals of the National History Bee and Bowl on
December 13th, doing their community proud. The Varsity team of juniors Miles Gilbert and Connor Winton, and sophomore Jordan Schwed excelled, scoring high enough to earn a spot in the History Bowl playoffs later in the year. Individually, Schwed's work in the JV Bee earned him a spot in the National Bee Competition. Other members of the JV squad included sophomores Dorian Barber and Atsuyo Shimizu, as well as freshmen Kristin Lee and Claire Song.
Middle School and High School to Offer Breakfast
On January 5th, the Irvington Union Free School District launched a pilot program offering a full breakfast menu in the Middle School/High School campus cafeteria. "Research has proven that breakfast is an important way to start the day," wrote Superintendent Kristopher Harrison, announcing the program. "The District is excited to test this program with the secondary students."
The new program will allow middle school and high school students currently receiving free/reduced price lunches to also receive full breakfasts at the same free/reduced price levels. Breakfast will be served from 7:30 – 8:30 a.m. on school days. The January breakfast menu is now available on the District website, www.irvingtonschools.org.
TARRYTOWN/SLEEPY HOLLOW
Rivertown Parents Bring Time Management Lecturer to Sleepy Hollow
Rivertown Parents – a parent education organization made up of PTA groups in Sleepy Hollow, Irvington, Dobbs Ferry, Hastings, and Ardsley – are presenting an evening lecture on Wednesday, February 4th devoted to helping your children with Time Management skills. The lecture, entitled, "It's About Time! How to Help Your Child Tackle Time Management and Transitions into Middle School and High School" will feature a panel discussion including Leslie Josel (author of "What's the Deal with Teens and Time Management?" and creator of "Order Out of Chaos"), Ardsley Middle School Special Education Teacher Pamela Caldara, and Child Psychologists Jennifer Altman, Ph.D. and Lori Walsh, Psy.D.
The event will be in the Sleepy Hollow Auditorium, located at 210 North Broadway, beginning at 7:00 pm.
Nutcracker Visits Washington Irving
On December 15th, Sleepy Hollow High School senior Elizabeth Sobolik and Sleepy Hollow Middle School 6th grader Caroline Yawman visited the fourth grade classrooms at Washington Irving to share with the students their experiences performing in The Nutcracker 2014 this holiday season at the Westchester County Center.
Sobolik and Yawman gave the students an up close and personal look at the hard work and preparation that has gone into the production. Their visit was part of the annual program, sponsored by the Foundation for the Public Schools of the Tarrytowns, that brings all fourth grade students to the holiday ballet. The students attended the ballet and got to see Sobolik and Yawman on stage on December 19th.
High School Math Department to Offer AMC 10 & AMC 12 Exams
The High School Math Department is once again offering the AMC 10 and AMC 12 Exams, sponsored by the Mathematical Association of America, to students interested in challenging their math skills. The AMC competitions feature puzzling mathematical questions, and participation can give a huge boost to a student's college application. Students who perform well enough locally can move on to compete on the national level, and there is a $200 prize for the first Sleepy Hollow student who qualifies for the next level AIME Exam.
BRIARCLIFF MANOR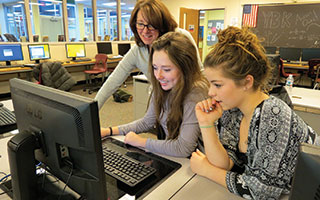 Briarcliff High School Yearbook Wins National Silver Award
For the second year in a row, the Briarcliff High School yearbook, "The Bruin," has won a Columbia Scholarship Press Association award. The success of last year's yearbook, co-edited by 2014 graduates Devon Levy and Olivia Gelardm has motivated the 2015 team immensely.
"The goal is to make it the best yearbook it can be," said junior Allison Greenberg, co-editor-in-chief with senior Emily McGranaghan. "We want to make it a yearbook for everyone." Putting her words into action, the team is attempting to ensure that every student in the school is mentioned at least twice in the finished product – no small feat. The hope is to build on last year's success and earn a Gold Award for the 2015 yearbook.
High School Student Organizes Successful Toy Drive
Andrew Sugrue of Briarcliff High School organized a successful toy and gift drive over the holidays, collecting over 100 items in total. He teamed up with Mount Kisco-based Neighbors Link, for whom he was already an active volunteer. "I decided to partner with Neighbors Link for their Mercado de las Fiestas, or Holiday Market," he said. "I felt drawn to the mission of Neighbors Link, where I currently volunteer as an ESL tutor, which is to help underprivileged immigrant families find work and a better life."
The incredible response from the community has him already thinking about next year. "The community's response was tremendous; we received donations from families, teachers, students and even some local stores," he said. "I was thrilled to be part of this community effort and hope to make this an annual project."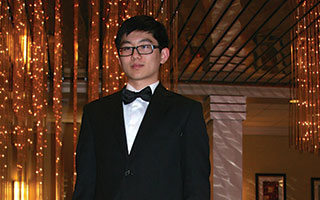 Briarcliff Flutist Earns All-State Honors
Briarcliff High School student and flutist Edwin Zhou performed at the Eastman Theatre in Kodak Hall in Rochester this past December as part of the All-State Wind Ensemble. Zhou earned a spot on the prestigious ensemble with a perfect score on his Level 6 New York State School Music Association solo. "Edwin worked really hard preparing his music prior to his arrival in Rochester, and continued that hard work in
rehearsal from December 4th to the culminating concert on December 6th with other talented musicians throughout New York," said Briarcliff High School band director Delia Montenegro.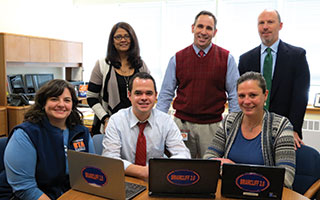 Briarcliff to Receive $70,000 Technology Grant
Briarcliff Superintendent of Schools James Kaishian has announced that Briarcliff 2.0, a technological initiative of the Briarcliff Manor Union Free School District, has been awarded a $70,000 grant from the State. "Briarcliff 2.0 is about teaching and learning," he said. "It's about transforming the classroom and creating a student experience that matches what the world is going to expect from our students as they leave here."
Superintendent Kaishian worked closely with Senator David Carlucci (D-Rockland/Westchester) in securing the aid for the program, which aims to equip every faculty member, administrator, and student in grades four and above with personal computing devices. "Working together we have been able to provide critical funding to expand technological opportunities for our students at the Briarcliff school district," said Senator Carlucci, who visited the district on December 18th to learn more about how the funds will be used. "This new technology will give our students the necessary tools they need to succeed in a 21st century economy."
Thus far, the District has equipped faculty members and students in grades four and five with personal devices. The district plans to roll out devices to middle school and high school students over the next couple of years.