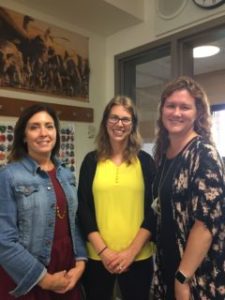 Three educators from the Irvington Union Free School District were invited to share their best practices with other educators from across the state during the Science Teachers Association of New York State conference held in Rochester from November 2 through 5.
Irvington Middle School eighth-grade earth science teacher Karen Bodnar, sixth-grade science teacher Amy Panitz, and Irvington secondary instructional coach Sara Rust discussed how they've realigned curriculum at the middle school level to address the new science standards.
Some of the changes implemented in classrooms include beginning lessons with a phenomenon that engages students and encourages them to think critically while also exposing potential misconceptions. It incorporates student-driven lab activities and rewriting assessments to monitor students' progress not only in their knowledge of the content but also in their ability to think deeply about it.