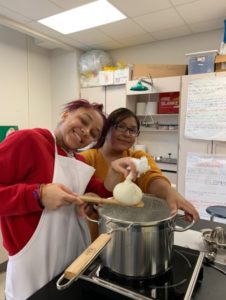 During the summer of 2018, Sleepy Hollow High School science teacher, Michele Zielinski, participated in Stone Barns' Teacher Institute and was inspired to bring "Food Studies" to Sleepy Hollow High School.
The 35 students in the one-semester elective focused their studies in biology, chemistry, and cultural studies embedded in food studies. The students also participated in a cooking lab at Stone Barns where they learned the connection between good soil health and the nutrients in the fruits and vegetables. Students were encouraged to try new foods, such as a kale salad, spinach panna cotta or pickled watermelon.
The success of the course and the novel experience that the students gained would not have been possible without the generous donations from the following:
Stone Barns Farm provided cooking equipment, including induction burners, mixing bowls, pots and pans, cooking utensils and ingredients, Fishkill Farms at TASH Farmer's Market donated fruits and vegetables for cooking labs, and BJ's in Yorktown and Costco in Port Chester donated gift cards that were used to purchase ingredients.
Ms. Zielinski believes the course has helped engage students in science while assisting them in making educated choices about the food they eat.