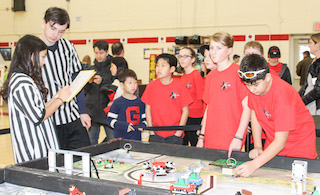 As we slide into February and enjoy our first solid dumping of snow, students in the region have lots to celebrate aside from snow days. This month we Talk Science, introduce a mobile book display, come in third at FIRST, and correctly locate the Papahanaumokuakea Marine National Monument.
Sleepy Hollow/Tarrytown
Middle School Lego Robotics Team Enjoys Home-Field Advantage
Photo: The Headless Horsebots are judged at the FIRST LEGO robotics competition.
The First LEGO League Robotics competition was held recently at Sleepy Hollow Middle School, featuring competitors gathered from schools throughout Westchester County. Teams were tasked with building small robots, out of the ubiquitous bricks, that could then navigate a series of complex tasks while friends, family, and a large number of volunteers from the school looked on.
The challenge of this initial competition was "Animal Allies" and students used their robotic creations to explore the relationship between animals and humans. The finished robots were put through the grinder, having to navigate around obstacles as well as collect and manipulate a series of objects. Eleven teams in all competed, with Sleepy Hollow's own Headless Horsebots coming in third behind the Chappaqua Robochaps and the Edgemont EdyHexabots. All three top finishers qualified for the next round of competition.
Science Students Visit Rockefeller University
Sleepy Hollow High School students Gabi Brown, Samantha Silver, Diego Rodriquez, Kaylen Ward, Kathy Franco, and Alaina Otto visited Rockefeller University in New York, NY to attend a lecture series entitled "Talking Science." Chaperoned by teachers Leana Peltier and Michele Zielinski, the six students enjoyed a presentation given by Jean-Laurent Casanova, M.D., Ph.D., pioneering immunologist, pediatrician, and geneticist, on the role of genetics and microbes in infectious diseases as well as the historical evolution of pathology. The "Talking Science" lecture series is aimed at high school science students with a profound interest in science.
Irvington
Third and Fifth Grade Students Innovate During Genius Hour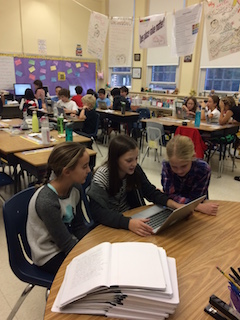 For one hour every week, the third grade classes of Dows Lane Elementary School teachers Liz Winnegar and Crystal Raymond, along with the fifth grade students of Main Street School teacher Susan Wallace are letting their individual geniuses shine. The Project, called Genius Hour, allows students to work independently and take control of their own learning as they pursue interests, make discoveries, and explore different topics in depth.
"Our students are allowed to follow their passions and present what they have learned when they are ready," said Wallace. "When I introduced the idea of Genius Hour to parents during an Open House celebration, they were intrigued and completely supported our work. They've also had an opportunity to witness their children's work, and the enthusiasm was over the top."
In Ms. Wallace's class, one group of students have been working on TED Talk-style presentations, exploring such topics as composting, cross-pollination, endangered animals, and solar energy. At Dows Lane, third graders Sarah Fanfarillo, Simran Jain, Madeline O'Reilly, and Aaron Schwartz are tackling bullying by creating anonymous compliment jars for every Dows Lane classroom in hopes of having other students build up peers who may be feeling lonely.
The students will present their final projects in February before beginning a new round with different topics of interest.
Sixth-Grader Triumphs in Middle School Geography Bee
Ten finalists faced off in the Irvington Middle School Geography Bee, answering questions covering all facets of geography, both in the United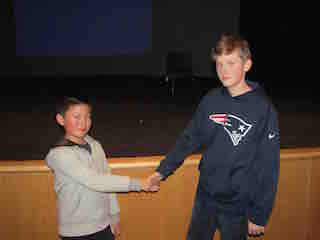 States and around the world, in front of an audience of students, teachers, and administrators. The students — Richard Ackerman, Graham Adams, Chloe Banino, Killian Daly, Anton Dedvukaj, Henry Demarest, Miles Demarest, Iain McGiffin, Matthew Weidler and Andrew Zhou — had scored the highest on a written test to advance to the finals.
"These 10 students waged a spirited competition, contending with a very challenging set of questions and were supported by an enthusiastic audience," said Principal David Sottile.
At the end of the competition, the last two remaining competitors — eighth-grader Killian Daly and sixth-grader Andrew Zhou — faced off to determine the ultimate winner. That honor went to sixth-grader Zhou when he correctly stated that the Papahanaumokuakea Marine National Monument was located off the coast of Hawaii and that the country north of Nicaragua in which archaeologists have begun excavating an ancient lost city in the region called La Mosquitia was Honduras.
With his victory, Zhou is now eligible to take a written test to determine his eligibility to compete at the statewide National Geographic Bee in March.
Briarcliff
Todd Elementary Introduces Mobile Book Display to Encourage Reluctant Readers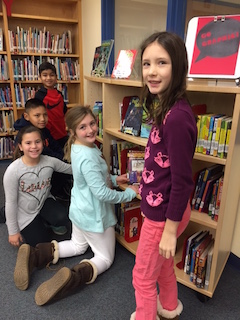 A new, mobile book display is rolling along the floor of the Todd Elementary School library.
Dubbed the "Reluctant Readers" display, it is stocked with books with a wide range of appeal and the school hopes it will encourage more independent reading amongst students who may otherwise be more reluctant to read.
"Offering a rich selection of appealing books is one of the strongest strategies to combat the reluctant reader problem," said teacher librarian Tara Phethean, who has also added graphic novels, nonfiction, and series fiction selections to the library to appeal to more students. "We want our children to be lifelong learners and readers.
The benefits of reading have been well-documented. It boosts vocabulary, increases empathy, engages imagination, inspires further learning and stimulates complex thinking."
High School Students Enjoy Virtual Gallery Tour
Students at Briarcliff High School were treated to a guided tour of the Westport Art Center's "More Than Words: As We Are" exhibition by the art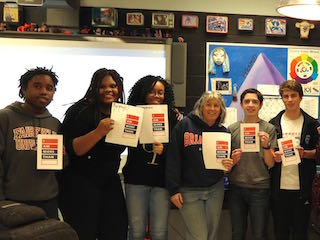 center's education manager Noah Steinman. And they didn't even have to leave their desks.
Teachers Melissa Carnahan and Dr. Jean Linville set up a virtual tour through a video chat platform to allow students to experience the work, ask questions, and analyze the meaning of what they were viewing. "This all happened because [Carnahan] and I went to see the show and were so excited about it," said Dr. Linville. "It seemed like it was such a great fit for the high school."
The exhibition includes a framed 2014 photograph of Auschwitz titled "I Believe I Can Fly,"  "Shame on You" – a mixed media installation requiring viewers to use black lights to reveal hidden phrases, and an installation by artist Theaster Gates called "Suite" which at first appears to be an old fire hose, but which gains profound significance when one learns it was used during the race riots of the Civil Rights Movement.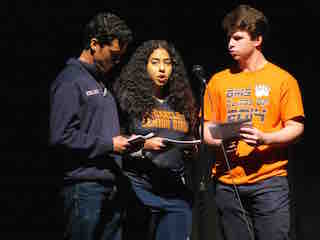 Students Honor Diversity at Third Annual Martin Luther King Jr. Assembly
High School students came together to share a powerful message with their peers during the annual assembly leading up to Martin Luther King Jr. Day. There were performances from a jazz quartet, the high school chorus, Bare Bones Theater performers, and the singing groups Noteworthy and Bellatones. The Coalition for Human Dignity club, whose club advisor Jeanne Claire Cotnoir coordinated the event, delivered messages regarding Dr. King's impact on the Civil Rights Movement, connecting them to current events, including the Black Lives Matter initiative.
"I think sometimes we become insensitive to the injustices happening, unless it's actually happening to us," said Briarcliff High School Principal Debora French. "We think it's a shame that something bad happened, but we don't consider it a possibility that it can happen to us. Whatever happens to one person directly affects all of us."
The event culminated in a call to action for the students."Be the example for others; be more than just yourselves and realize you all have the right to belong, to be accepted, to self-dignity," said French. "If there's anyone who can right the ship, it's the students of Briarcliff High School."
Ossining
Robotics Team Comes in Third at FIRST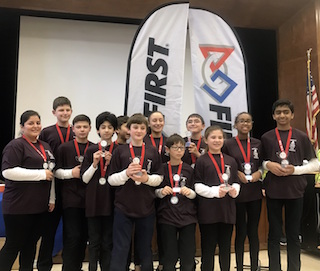 The Ossining High School Robotics Team competed against more than 20 regional teams at the FIRST (For Inspiration and Recognition of Science and Technology) Tech Challenge Hudson Valley held January 21 in Yonkers. They built robots out of aluminum, polycarbonate, motors, sensors, and other materials and programmed them to shoot balls at targets and press a series of buttons located along the walls.
The team placed third in the competition, and moved on to the regional finals held at Pace University. They were also awarded the "Motivate" award, given to the team exemplifying the essence of competition through team building, team spirit, and enthusiasm.
"This weekend was a blast," said sophomore Elliot Ocheltree. " You could feel the excitement on the competition floor. The teams were in high spirits while keeping gracious professionalism as their highest priority."
"Congratulations to our Ossining High School Robotics Club for their success in the FIRST Tech Challenge qualifying tournament," said Superintendent Raymond Sanchez. "They should be particularly proud of the 'Motivate' award, which shows their excellent character, commitment and enthusiasm."
Middle School LEGO Robotic Wizards Advance to Semis
Anne M. Dorner Middle School's LEGO robotics team, The Robotics Wizards, wove their magic at the Hudson Valley FIRST LEGO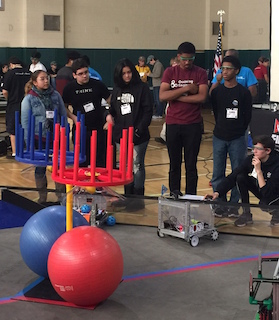 League qualifying tournament held in Chappaqua. The competition was divided into three sections — a robot game, a research project, and a requirement to develop team core values. The Wizards placed third in the robot game, first in the research project, and third overall.
For their research project, based on the required theme of "Animal Allies," the Wizards studied the issue of humans interfering with leatherback sea turtle habitats. The students proposed erecting tunnels, which they named Turtle Shell Tunnels, made of sound-proof, tinted Plexiglass. These tunnels would be set up during nesting season to allow the hatchlings to travel from the nest to the high tide line with little distraction.
Team members William Curvan, Rebecca Galindo, Nathaniel Itty, Dylan Juan, Tyler Kaplan, Sofia Merladett, Matthew Mione, Sola Mori, Tanmay Singhal, and Janessa Yan began preparing for the competition last fall, meeting after school three days a week for two hours at a time under the guidance of technology teachers Jessica Zhinin and Amanda Maliszewski, as well as K.F. Etzold, an IBM retiree who volunteers to help the students.