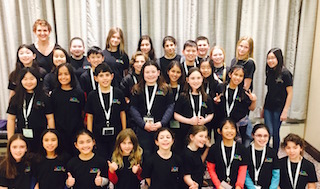 Spring has sprung – and with it – snow, wind, downed trees, power outages – but wait, that's all behind us now (we hope)!  Either way, Westchester Rivertowns remain unbowed (even when our trees bend and break!) and undaunted as our spectacular students continue to receive awards, accolades and, let's not forget, applause! It's been a time of great achievements by tomorrow's leaders as we watch so many give their personal best as they excel as thespians and scholars! Bravissimo!
Photo: Briarcliff Manor's Todd students, led by Wilma Messenger, gather at a practice.
BRIARCLIFF MANOR
Briarcliff Singers in Fine Voice at ACDA Conference
Singers from Todd Elementary School and Briarcliff Middle School brought their talents to the annual American Choral Directors Association (ACDA) conference held this year in Pittsburgh, PA.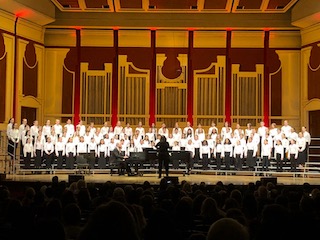 Students selected by audition participate in one of the honor choirs that perform at the conference attended by music professionals – mostly school music teachers, college professors, composers and choral directors – along with college music majors.
"My students have been working since the beginning of the school year to master the extremely challenging songs…" said Todd music teacher Wilma Messenger. "At the conference, they had the opportunity to perfect the songs under the leadership of a world-renowned choral director."
BMS Shines at "You Be the Chemist" Competition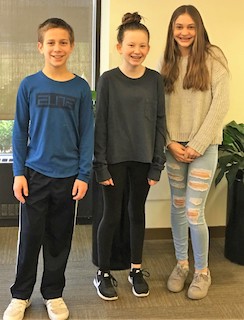 Three Briarcliff Middle School eighth graders participated in the "You Be the Chemist" Westchester competition on Saturday, March 17th, thanks to an effort coordinated by BMS eighth grade science teacher Jodi Shearer.  Sponsored by the American Chemical Education Foundation, the competition is open to middle school students around the country. Eleven schools across Westchester and several boroughs of New York City participated.
A number of rounds built up to increasingly difficult questions, and 18 students moved on to the State competition in April, including all three BMS students. Lucas Martin earned second place in the Westchester County competition.  The State competition in April will include participants from Broome County and the 18 students from the Westchester Local Challenge. www.chemed.org
How to Succeed in Having a HS Musical Run Despite a Storm – and Really Trying!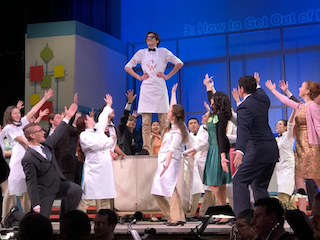 The World Wide Wicket Company came to Briarcliff Manor in early March and, despite Mother Nature's meddling, the show DID go on – though, a week later than planned due to storms and resulting power outages.
How to Succeed in Business without Really Trying, the lively story of ambition and love, took a satirical look at the interaction between executives and secretaries, women and men in the workplace, and remains as relevant to today's world as it was in the 1960s. With music and lyrics by the inimitable Frank Loesser and a clever book by Abe Burrows, Jack Weinstock and Willie Gilbert, the show is based on a book by the same title by Shepherd Mead.
Regeneron Reigns at Briarcliff
Nineteen BHS students participated in this year's Regeneron Westchester Science & Engineering Fair (WESEF). Their projects were among 560 representing 44 high schools in the region, including Westchester and Putnam Counties.
The Briarcliff Science Research Team had an incredible year with four 2018 WESEF Award Winners! The honors were: The ASU Walton Sustainability Solutions Initiative Award to Farhaanah Mohideen; The Innovations in Biological Sciences Research Award to Matthew Tu; The College Admissions Central Science Horizons Award to Andrew Van Camp; and The Office of Naval Research Award to Benjamin Harris.
Additional recognitions included: Abigail Hentel, first-place winner in medicine and health; Max Pushkin, second-place winner in cellular and molecular biology; and fourth-place winners Olivia Bergstein for animal sciences; Eli Karp for behavioral and social sciences; Noah Benson for cellular and molecular biology; and Hannah Gelfands for medicine and health.
Congratulations to all 19 participants from BHS!
Noah Benson – cellular and molecular biology; Oliver Benson – environmental science; Olivia Bergstein – animal science; Weston Cooper – medicine and health; Jacob Fridakis – engineering; Hannah Gelfand – medicine and health; Maya Goldheim – medicine and health; Benjamin Harris – engineering; Abigail Hentel – medicine and health; Eli Karp – behavioral and social science; Nikhil Krishnani – behavioral and social science; Livia Marchese – animal science; Farhaanah Mohideen – environmental science; Max Pushkin – cellular and molecular biology; Sarah Raphael – medicine and health; Maegan Rosenberg – physics and astronomy; Kyra Swatko – medicine and health; Matthew Tu – neuroscience/bioinformatics; and Andrew Van Camp – medicine and health.
IRVINGTON
Irvington Brings Literature to Life Cinderella-Style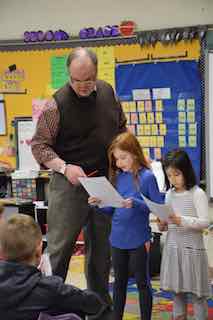 Second-graders at Dows Lane in Irvington brought literature to life for a performance of different versions of Cinderella before an audience of peers, teachers and parents on March 28.
Working with theater educator Peter Royston on the 10-week-long "Bringing Literature to Life" enrichment program, the students learned about tools actors use such as gestures, facial expressions, body language and words to tell a compelling story. They also wrote their own scripts to a version of Cinderella – or the same story told from different perspectives. The program helped them gain confidence in public speaking.
"They're so invested in the story that they want to pronounce and accentuate the different words [from the script]," said teacher Dina Lenhardt. "Theater is a very powerful medium especially for young children."
The program is funded by the Irvington Education Foundation.
World Maths Day Raises Funds for UNICEF at Irvington
With computer keyboards at their fingertips, first- through fifth-grade students at Dows Lane Elementary School and Main Street School competed in real-time games of mental arithmetic against peers from around the world on March 6.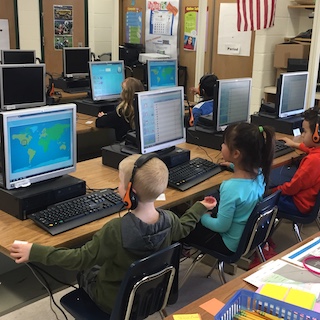 Math coach Christine Rosner, who helped organize the events at both schools, explained, "World Maths Day is about uniting people from around the world through numbers and fluency activities."
Playing 60-second math fact games, the students tried to earn points supporting the United Nations Children's Fund's educational programs.
"[The UNICEF] points get turned into cash to help support UNICEF's projects," Rosner added.
Second-grade teacher Philip Levine noted that one of his students answered more than 13,000 questions and played against children from the Dominican Republic, Mexico, Nigeria, Pakistan and Uganda.
Main Street School Principal Joyce Chapnick said, "Past results have shown that students make significant improvements in their mental arithmetic skills and have fun in the process."
More than five million students from 240 countries correctly answered millions of mathematics questions to earn points to support UNICEF's educational programs.
Whiz Kid: Irvington HS Student Earns Spot at National and International History Competitions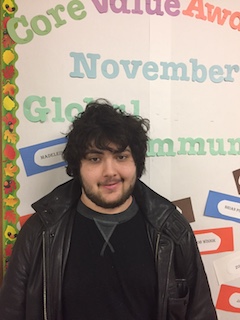 Zachary Rosman, an Irvington High School sophomore and Academic Challenge team member, has earned a spot for the second time in the prestigious National History Bee and Bowl, taking place April 27-29 in Washington, D.C. and Arlington, Virginia. Rosman also qualified to compete in the International History Olympiad in Berlin this July.
A history and geography whiz, Rosman qualified for the competitions after an outstanding performance at the Lower Hudson History Bee and Bowl at White Plains High School on January 15. He placed first on the Junior Varsity U.S. History Bee National Qualifying Exam, second on the Junior Varsity U.S. Geography Olympiad and International Geography Bee qualifying exams, and was a finalist in the Junior Varsity History Bee after finishing in sixth place.
"It's clear to anyone who has seen Zach compete that he's amazingly intelligent and talented, and will continue to excel," said Alison Zerbo, a teacher and Academic Challenge adviser.
Irvington High School recognized as a Reward School
Irvington High School is among 155 schools across the State to be identified by the NYS education department as a high-achieving Reward School.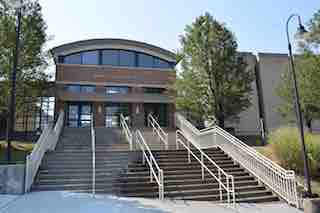 "We are so proud of all of our students and faculty whose hard work and talent is reflected in this recognition," Superintendent of Schools Dr. Kris Harrison said. "Irvington is a dynamic community with outstanding schools; however, we would not be where we are without a supportive Board of Education and an engaged and supportive school community."
Principal David Cohen said that he has the honor of leading one of the finest high schools in the State every day. Cohen acknowledged and gave thanks for "the inspiration fostered by our exceptional faculty and the perseverance demonstrated by our outstanding students," crediting both groups for the recognition.
Commissioner of Education MaryEllen Elia said, "All of these schools serve as models to others in the State to inspire them to achieve a high level of accomplishment and improvement."
OSSINING
OHS Students Stand Out in Multiple National Science Competitions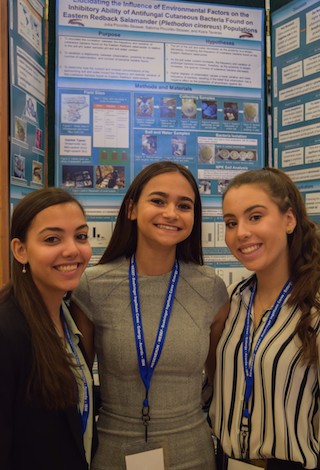 Ossining High School Science Research Program students have been recognized numerous times this year for the rigor of their work, their promise as scientists, and their potential to make important contributions to their fields.
Student Skyler Jones finished eighth in the Regeneron Science Talent Search 2018, one of 40 finalists nationwide who traveled to Washington in March for the finals. She received a $60,000 award for her research on the use of perovskite crystals as semiconductors in solar cells.
Jones recently finished in first place at the Upstate Junior Science and Humanities Symposium and will progress to the national competition May 2-5 in Hunt Valley, Maryland.
Other Regeneron semifinalists from OHS were Sarah Hoffman, Catherine Kamp and Emma San Martin.
Hoffman and San Martin also received recognition for their research at the Upstate Junior Science and Humanities Symposium March 7-8, as did Eric Schmid for his environmental studies research project.
OHS students won 54 awards at the Regeneron Westchester Science & Engineering Fair (WESEF – see Briarcliff) in March, including five for first place, 11 for second place, seven for third place, five for fourth place plus 26 special awards.
Five Ossining students were grand-prize winners at WESEF. The team of Julia and Sabrina Piccirillo-Stosser (who are twins) and Kiara Taveras, as well as Madiha Zia, will compete in the Intel International Science and Engineering Fair in Pittsburgh May 13-18.
Magdalene Ford, the fifth OHS grand-prize winner at WESEF, will advance to the Genius Olympiad June 11-16 at the State University of New York at Oswego.
Expansion Projects Taking Place at Roosevelt and Park Schools in Ossining
Two Ossining schools are undergoing construction projects that will increase space for students and staff: a cafeteria kitchen expansion at Roosevelt and a building addition at Park.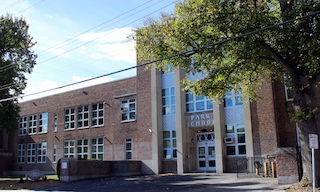 The District started work at Park during April break. The one-story addition will add four classrooms, each with its own bathroom, as well as two small-group instruction rooms and a staff bathroom. Ossining received about $1.5 million in State funds for the project, which is expected to take five months.
The Roosevelt construction, which started Nov. 10, is expected to be completed in April. The size of the existing kitchen has limited the variety of foods that can be prepared. In May 2017, voters approved using $1.08 million from the School Lunch fund to cover the cost of the renovations.
Park School's small footprint will require changes to the playground areas and parking on Everett Avenue during construction. The District and Town have agreed to close Everett Avenue on the school block during school hours to give children additional space for recess. The street will be open for morning and afternoon bus runs.
"We're making sure that we have as little disruption as possible so instruction is not impacted," Superintendent Raymond Sanchez said.
Ossining Students Mount Production of "Bring It On: The Musical"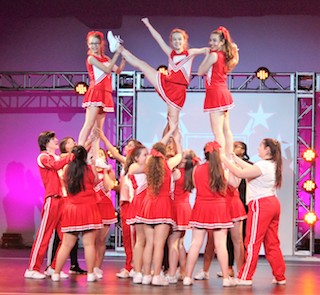 Ossining High School students performed "Bring It On: The Musical" March 22-24, a show about a high school cheerleading competition. More than 70 students were involved in the production on stage and behind the scenes.
"The kids love this show and have worked so incredibly hard, six days a week, to learn and master the choreography and cheer stunting," said Jessica Beattie, OHS theater director. "We're really excited about showcasing it for everyone."
TARRYTOWNS
Washington Irving Students Travel through The Time Machine
Washington Irving Students traveled through the ages during their performance of "The Time Machine."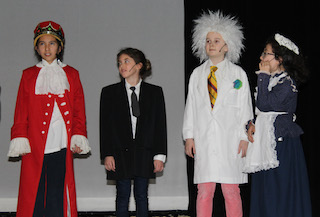 Fourth and fifth graders embarked on the journey March 15th and learned more about history as well as acting techniques. The YMCA/Washington Irving spring production was written by former Off-Broadway Director Peter Royston who adapted the classic HG Wells science fiction novel.
"The Time Machine" tells the story of a young girl named Molly who is searching through time for her brother while accompanied by a Time Traveler. She leaves her London home at the turn of the 20th century and searches through modern times, encountering such historical figures as:  Martin Luther King, Jr.; Rosa Parks; FDR; Elvis Presley; and even The Beatles.
Royston likes using theater to teach history. "When they read about FDR in a book or hear music," he said, "maybe there will be an extra spark and they will remember the play."
Producer Barbara Turk from The YMCA of Tarrytown, assisted the students as they changed costumes and prepared for scenes. "Working with the children brings such joy. The kids are wonderful. We are so proud of them," said Turk.
Sleepy Hollow Students Bring Hope to Students Impacted by Florida School Shooting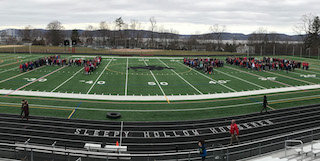 Sleepy Hollow Middle School students spelled the word HOPE on the high school football field on March 5th, offering support to the students who survived the recent school shooting in Florida. Eighth grade students from social studies teacher Darryl Atkinson's class spearheaded the event. They first wrote words on a poster following the tragedy at Marjory Stoneman Douglas High School in Parkland, FL.
"We thought it was an amazing idea and then took it to the next level," said eighth-grader Alicia Carvalho-Evans. Henry Poret said, "The point is to give them hope and to let them know that a lot of people care about them." First the entire eighth grade, then the entire school, wanted to be involved.
Sixth, seventh and eighth-grade students formed the letters H, P, and E around the Horseman logo to spell HOPE. Faculty and staff members made an exclamation point. "When tragedies happen, we tend to immerse ourselves in our own world," explained Atkinson. "This was an opportunity to show America that we care. We can empathize with them by doing small things."
Eighth-grader Delilah McCarthy believes uniting together will also help SHMS. "It sets a standard of peace for our school," she said. Fellow student Charis Polycarpou agreed. "If a community can come together, it can inspire other people to make change."
The SHMS students said they HOPE their actions will spur tougher gun control laws. They plan on sending a photograph and short videos to the students at Marjory Stoneman Douglas, so they know they are not alone.
Sleepy Hollow High School Senior Earns First Place in Prestigious Science Fair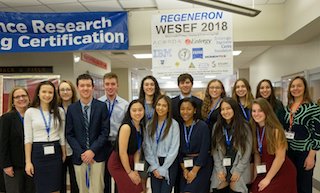 Sleepy Hollow High School Senior Alaina Otto is the grand prize winner in this year's Regeneron – Westchester Science and Engineering Fair (WESEF). Approximately 600 students from Westchester and Putnam competed in the event held at SHHS on March 17th. The students presented their multi-year science research projects to a panel of judges, providing them with skills for advanced college and graduate work.
The following students' projects were recognized through special awards: Emma Tucker – ASU Walton Sustainability Solutions Initiative; Fabiola Salerni and Karyme Briones – NASA Earth System Science Award; James Buzaid –  Ricoh Sustainable Development Award; Daniel Livingston Stokholm Junior Water Prize; Julia Friedman – Innovations in Biological Science Research Award; Helen Tejada – Momentive Inventing Possibilities Award; Eliza Grose – Dr. Samuel C. Klagsbrun Behavioral Health Award; Ilona Zamdmer – Teatown Young Conservationist Award; and Andrew Walek – Intel Excellence in Computer Science.
The following students were awarded best in category awards: fourth place – Maya Millstein and Helen Tejada; third place – Emma Tucker and Daniel Livingston; second place – Andrew Walek; first place – Alaina Otto.
Alaina Otto now advances as a WESEF Finalist to the International Science and Engineering Fair (ISEF) in Pittsburgh in May.