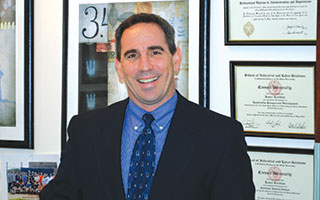 He is a familiar face in Briarcliff. James Kashian, the Principal of Briarcliff High School and soon-to-be School Superintendent, can be found on any given day wandering the hallways and greeting students, or in the parking lot before a school event greeting the parents as they step out of their cars. He is well-liked. "He is the best principal ever… he is so nice… all the kids really like him," says one high school junior. By his own admission, he believes that being a High School Principal is the best job one could ever hope for. Then he got a different one.
On January 15, 2013, the Briarcliff Board of Education approved James Kashian as the new Acting Superintendent of Schools, beginning July 1, 2013 through December 31, 2013. Deborah French, who is currently the Assistant Principal of the High School, will become Acting Principal. The Board approached Mr. Kashian and asked him to take over the position when it became clear that Neal Miller, the current Superintendent, would be serving only two years of his five-year contract.
There is a great deal of mystery as to why Neal Miller is leaving; even Mr. Kashian has not been filled in on all the details. Citing employment confidentiality, the Board has not been transparent with any information concerning the abrupt departure of Mr. Miller. There are many in the community of Briarcliff who believe they have right to know why the Superintendent is leaving, who initiated it and why he will continue to receive a salary of $120,000 (half of his current salary) plus $40,000 in additional payments of cash and retirement contributions as well as continued health coverage.
When Neal Miller abruptly left his previous job as Superintendent of the Medina, NY school district, also after only two years, the Journal-Register (a local paper headquartered in Lockport, NY) reported that Medina Board member, Virginia Nichols, expressed her feelings about Miller's departure: "We took him into our district with open arms," she said. "I am disappointed he didn't fulfill his contract." While she said she understood that Miller had to do "what's best for him," she felt the Board was "taken advantage of."
There are no Briarcliff Board members making comments such as these. Perhaps Mr. Miller made sure there would be no more negative press. We will never know because nobody is saying anything.
What many people are saying is that James Kashian should have been Superintendent all along after Frances Wells left in June of 2010. A teacher at Briarcliff High School said that most of the faculty members she spoke with are "relieved that someone who knows the district as well as Mr. Kashian does and who is so well-respected, will be in the position of Superintendent."
James Kashian has been with the Briarcliff School district since the summer of 2000. He served for five years as the Principal of the Briarcliff Middle School and has served as the High School Principal ever since.
He began his career as a teacher in New York City in both the Bronx and Bayside, Queens. He became a teacher in the Dobbs Ferry school district in the mid-nineties where he went on to become the Assistant Principal there in 1996.
Mr. Kashian lives in Yorktown Heights with his wife Regina and has six children. His oldest is a law student at St. Johns and his youngest is nine years old. It is a good thing Mr. Kashian likes children as much as he evidently does.
He is very excited about his new role as Superintendent as he has come to love the Briarcliff School District. He sees his new role less as an exciting visionary, for the time being, and more as a stabilizer. With concerns over the budget and the tax cap situation, field remediation and other issues that have rocked the boat in the last few years, it is important to calm the waters and ensure that Briarcliff can continue with its reputation for having outstanding schools. He believes that some decisions have been made quickly in the past, with the best of intentions, but that the long term consequences of some of those decisions have created some unintended results. The Board and the District office have been struggling, and he hopes to be able to help them plan in a cost effective manner.
There are tight budget issues facing the schools. Mr. Kashian believes that the entire community can help support the Village of Briarcliff by supporting the schools. This includes those people who don't have children in the schools who might object to tax increases. "Whether you have children or not," he says, "there are few people who can argue that the well-being of the children in any community is paramount."
A flourishing and well-respected school system impacts everyone's property values. It's important to see the forest through the trees. Kashian thinks Briarcliff as a whole should engage in "cogent, logical, and civil conversation" concerning the upcoming fiscal challenges it faces.
It is a changing and challenging time for students as well as school districts. Students are facing an uncertain economy, trying to prepare for a world where jobs are disappearing and new ones are being invented. The Briarcliff Schools are attempting to prepare students to redefine themselves as needed. The average graduate, according to Kashian, will be changing jobs throughout their work life and they therefore need an entrepreneurial and flexible mindset to be successful. The schools attempt to assist the students in writing and rewriting their narrative in preparation for this new world. This same preparedness would be of great value for the District and the Board of Education. Hopefully, James Kashian, as Briarcliff's new Superintendent of Schools, will be able to teach us all a thing or two.
He plans to continue to walk the hallways of the schools, greeting students and parents from time to time. He wants to see first-hand what is going on. He is on a personal mission to "advocate, highlight, and celebrate the successes" of a school system he is deeply committed to.