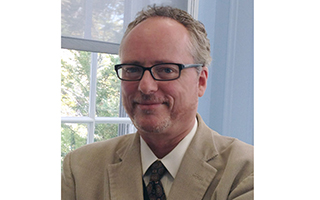 On Thursday, February 14, The Public Schools of the Tarrytowns officially introduced Dr. Christopher Clouet, who will take the reins from Dr. Howard Smith as the District's new Superintendent of Schools on July 1.
Dr. Clouet has been Superintendent of the White Plains Public Schools for the past four years. Before that, he served as Superintendent in Thomaston, CT for four years and then in New London for five. During his career, he has also served as a high school principal, a district curriculum coordinator, a technology director, and a bilingual teacher.
He's excited to make the move to the Tarrytowns because he feels the District is a great fit for his approach and talents. "I have enjoyed working in White Plains very much and I enjoy the people here," said Dr. Clouet. "The opportunity to work in a district that has a similar profile [to White Plains] in many ways, but is smaller, allows for a more hands-on interaction with students and staff, and is something that's very appealing to me. I would really like to dig in and work in the Tarrytown district for an extended period."
One of the biggest draws of the TUFSD for Clouet was the District's multi-cultural and multi-lingual profile. "In many ways, Tarrytown is a reflection – and a leading indicator – of the United States and what the United States will look like in the future," he says. In addition to English, Clouet has "a strong command" of both the Spanish and Portuguese languages, and he is looking forward to working with all segments of the community. "I think that one of my strengths is to be able to work with the whole [educational] spectrum of students," he said.
He and his wife, parents of three grown children, currently live in White Plains, but Dr. Clouet expects to be a constant fixture in Tarrytown and Sleepy Hollow. "I'm very much a person that's constantly out [in the district] in the evenings," he says. " A part of my practice for many years has been to host Superintendent's Evening Hours. Parents can come and touch base with me without having to go through the standard big meeting. I like to be available to parents, whether it's at a ballgame or at my Superintendent's hours or any format."
Throughout his career, Dr. Clouet has been an active advocate for public education, a role he expects to continue in the Tarrytowns. "I think that's an important part of the work," he says. "I am currently a member of the House of Delegates of the NY Council of School Superintendents. I'm also part of the Commissioner's Advisory Council, which is a small group of superintendents across the State who meet with [New York State Education] Commissioner [King] and a few of his lieutenants on an ongoing basis."
He is concerned with the growing emphasis on standardized testing in public education, but acknowledges the need for accountability. "I think that it's important to have ways to measure the growth and progress of students so we can see [gaps] more clearly," he said. "However I do think we've moved in a direction that's a little too heavy on standardized tests, and the result is there's been the introduction of anxiety for students that ultimately is not helpful. I think that there needs to be a recalibration of how we use the tests and how often kids are tested."
Dr. Clouet is already involved in many matters within the District. At the front of the line is the search for a new Assistant Superintendent of Curriculum to replace the departing Dr. Barbara Tantillo, and Dr. Clouet says he is working with the Board of Education and Superintendent Smith to define the positions qualifications.
Beyond that, Dr. Clouet plans to spend the next few months meeting people, talking to different stakeholders in the community, and getting to know the District. "I absolutely will be around and fully engaged over the summer," he promises. "I certainly want to begin to be of service right away to Tarrytown and Sleepy Hollow."