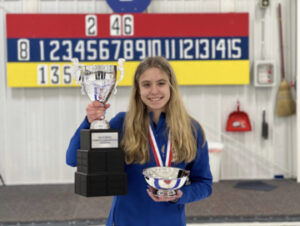 Briarcliff High School junior Megan Stopera recently won the gold medal at the USA Curling National Championships in Wisconsin followed by a silver medal at the U21 Junior Curling National Championships at Broomstones in Wayland, Mass.  
With fresh wins, Stopera, 16, is already focused on her next season. She has advanced from the club level and has been playing on the national curling circuit since January of 2023. Like any talented athlete she's focused on future performance. "I'm super proud of my accomplishments this year but I am ready to come back even stronger next year," Stopera said.  
The stakes are higher for Stopera as she advances in the sport. This fall, she'll compete in an event that serves as a qualifier for the Youth Olympic Games in Gangwon, South Korea, in 2024. After the South Korea qualifier, Stopera will focus on the path to the USA Curling Junior National Championships on the women's team followed by a mixed doubles team.  
According to Stopera's mother, Peri Stopera, curling has always been a force in Stopera's life. First as a spectator and later as a player. "She's literally grown up with curling and has been taken to tournaments all over the country and world since she was 3," Perri Stopera said.  
Family Affair  
A look at Stopera's family tree suggests that she has curling in her DNA. Her grandfather introduced curling to his children decades ago in upstate New York. He wanted a social sport that friends and family could enjoy outside in winter months. And the family love affair began. 
Megan's father, Bill Stopera, is an accomplished curling athlete. He's competed in multiple U.S. Men's Nationals. He won a gold medal at the U.S. Men's Championship in 2012 and came in 8th at the World Championships. In 2013 he competed in the U.S. Olympic team trials and won a bronze medal. Stopera was the 2013 Continental Cup champion and won the gold medal at the 2016 U.S. Club Championships.
Megan's brother, Andrew Stopera, is a seven-time Junior National Championship medalist, including gold in 2017, 2018 and 2019. He is a silver medalist at the 2017 World Junior Curling Championships, 2021 Bronze medalist in the U.S. Olympic Curling Trials, 2021, 2022, 2023 Silver at U.S. Mixed Doubles National Championship, and many other curling awards. He currently plays on a team ranked 10th in the world.
Curling  
Curling dates to 16th century Scotland and involves two teams. Each player slides round stones across the ice towards a mark in the center of a designated circle known as the house. The object is to get the stone closest to the center.   
Curling may not be the first choice for many young athletes because it looks peculiar. It's also not as accessible as other sports. According to Megan Stopera, some people don't even know what curling is. "I have to explain curling to a lot of people of every age," she said.  
Things may be changing. With the increase of sports coverage in the media and events like the 2022 Winter Olympics in Bejing, the sport is televised more frequently and has increased in popularity. Especially among younger generations.  
Keep an eye on Megan Stopera. She is one to watch in the sport of curling.