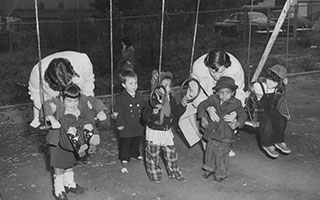 When we focus on women of achievement and those who have contributed to our society during Women's History Month, we might want to include the founders of the 120-year-old Ossining Childen's Center.
In 1895 the Women's Association of St. Paul's Episcopal Church started what was then called  "Christ Child Day and Nursery Home."   At that time, Ossining had a number of widowed immigrant women as well as women whose husbands had been incapacitated from injuries while working on the aqueduct and were unable to support their families.  These women needed to work, but there was no such thing as "day care." By opening the "Nursery Home," the visionary women of St. Paul's not only provided a much needed service, but created one of the first day care centers in the country!  The center that was opened in 1895 was under the direction of a well-educated headmistress, and the care provided was educational rather than custodial in nature, a tradition that continues today.
When the Center opened its doors, care was offered for free.  Nobody came! Some inquiries revealed that working poor women did not want a handout.  The Board decided to charge a small fee, and very quickly the center was filled.  The OCC maintains that tradition today – everyone pays something for his/her child's care.
The center became independent of  St. Paul's Church and was officially incorporated as a not-for-profit organization in 1906.  The original Board consisted of 15 women.  In 1963, the organization changed its name to the "Ossining Children's Center," to reflect the fact that its mission has always been to provide nonsectarian education and care.
As times changed, and women of every economic status joined the workforce, Ossining Children's Center's enrollment began to reflect the socio-economic diversity of Ossining.
During World War II, for example, the availability of high quality child care empowered many Ossining women to join the war effort by doing jobs vacated by men who joined the military.
Today, the Ossining Children's Center is recognized as one of the top child care centers in New York State, having earned a Four Star rating by the independent "Quality Stars NY" child care rating and improvement program.  Moreover, OCC and the Ossining Public School system are partners in an innovative full-day universal prekindergarten program.  OCC provides two sections of the Ossining Schools' Pre-K in its home-like setting.  The classes mirror the public school curriculum, are taught by certified teachers, and meet the New York State Common Core standards.
Over the years, thousands of low and moderate income children's lives have been transformed through access to educational opportunities that would have been out of their reach without the Ossining Children's Center.  Today the Ossining Children's Center cares for 150 children, ages 8 weeks to 12 years.  Its generous tuition assistance program keeps child care affordable for all working families.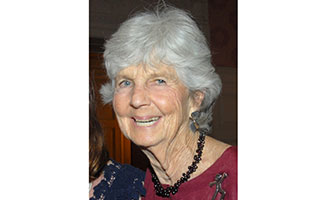 Throughout the Center's history, extraordinary leaders have stepped up to meet the ever-changing needs of the times in support of the OCC.   The Center plans to kick off a year-long celebration of its 120th  Anniversary  with a gala dinner honoring two such stalwart leaders, Betsy Block and David Swope, on Sunday April 26 at Abigail Kirsch-Tappan Hill in Tarrytown.  All proceeds from the event will benefit the tuition assistance program at Ossining Children's Center.
Betsy Block, an educator, has been on the Board of the Children's Center for close to 40 years, and served three different terms as Board president during that period.  When the Center added its outstanding Infant-Toddler Program 20 years ago, it was Betsy who chaired the Capital Campaign to purchase and renovate the building that now houses that program.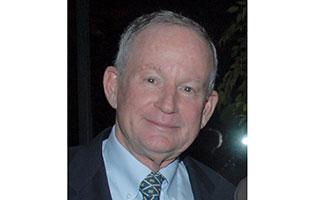 David Swope served on the Board of the Children's Center from 2000 through 2006, and has continued to serve as a key advisor to the Board since then.  Thanks, in large measure, to David's leadership, the Center tripled its annual philanthropic revenue over a ten-year period and conducted an endowment campaign that raised close to $1 million.
Committee Co-Chairs for the kick-off dinner at Tappan Hill are  Mary and Bill Horowitz, Marilyn and Richard Wishnie, Dorry Swope, Connie and John Curran and Becky and Art Samberg.
The Children's Center's year-long celebration will also include an Historical Exhibit at the Ossining Public Library for the month of June, curated by Mirla Morrison.  Ms. Morrison, a
nationally recognized history educator, is a former OCC Board member and former Ossining High School history teacher.  She has developed an integrated, media-based Social Studies/
English Language Arts curriculum for use at the local, regional and state levels in grades 1-5.
For additional information on the 120th Anniversary of the Ossining Children's Center, please call 914-941-0230 ext 13 occdevelop@aol.com