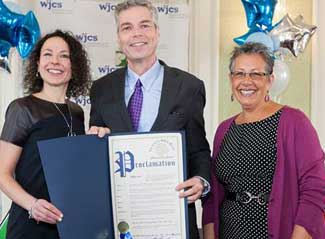 White Plains Mayor Thomas Roach was among the more than 260 guests, models and parents, and volunteers who attended the WJCS Kids' Kloset 2nd Annual Fashion Show to raise funds to continue providing free clothing and related items to children in need in Westchester. Mayor Roach presented a proclamation from the City to Kids' Kloset Director Stephanie Roth, left, and WJCS Director of Development Susan Lewen.
Walking the red carpet were 45 children ranging from two and half to 17 years of age who modeled selections from the clothing donated to WJCS Kids' Kloset and provided free through social workers at human service agencies, schools and other organizations to individual families. The clothes are chosen to match the sizes and tastes of the recipients and packed in bags, fondly deemed "bags of love" by one parent.
WJCS Kids' Kloset, a volunteer-driven operation, has been in existence for three and a half years and during that time has donated more than 6,000 "bags of love" to children in Westchester. The volunteers have been among the first responders to alleviate the upheavals of families displaced by fires in New Rochelle, Port Chester and other towns.  On a daily basis, Kids' Kloset is outfitting kids who don't have winter coats, hats or scarves or those who don't have sneakers needed for playing basketball or even babies who need strollers or just fresh diapers. Donations are collected at the warehouse at 170 E. Post Road in downtown White Plains.
Funds collected at the fashionable event, which was held recently at the Old Oaks Country Club in Purchase, will be used to replenish supplies of items that need to be new or to keep the operation going. Several sponsors and community organizations pitched in to make the event a rousing success. For more information on WJCS Kids' Kloset, visit www.wjcs.com/kidskloset.
WJCS is one of the largest non-profit, non-sectarian human services agencies in Westchester, serving 20,000 people annually at 70 clinic, school, community and home-based locations throughout the county. The agency's integrated network of services includes mental health treatment and counseling, child and youth development programs, residential and non-residential programs for people with intellectual and developmental disabilities, home health and geriatric services. The highest level of professional development and training is offered through the WJCS Educational Institute. For more information on WJCS, go to www.wjcs.com.