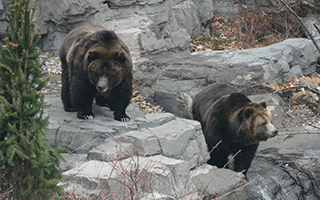 The WCS Central Park Zoo is opening an exhibit for rescued grizzly bears Friday.  The exhibit will open as the new home for two adult female grizzlies, Betty and Veronica, who were rescued in 1995 and brought to the Bronx Zoo. Betty originally came to New York from Montana and Veronica from Yellowstone National Park in Wyoming. Both had become too accustomed to humans, and local authorities considered them a danger to people. The bears are living in a remodeled habitat formerly occupied by polar bears. Significant portions of the exhibit renovation were made possible thanks to the generous support of Sandra de Roulet. Her generosity also helps support the care of all the bears in WCS's zoos. The upper level viewing area of the Central Park Zoo exhibit has been "Treena's Overlook," a play on a nickname de Roulet had as a child. At this overlook, visitors will learn how people can better coexist with bears in the wild.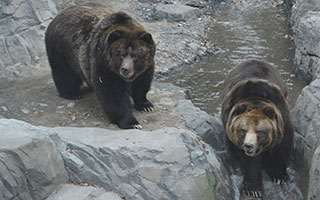 "This new exhibit and these grizzly bears are great additions to the Central Park Zoo," said Craig Piper, Director of WCS City Zoos. "This exhibit will provide us an opportunity to help people better understand how to safely coexist with bears when visiting or living in bear country."
WCS's Central Park and Bronx Zoos are currently home to nine rescued brown bears: two that came to New York in 1995; four that arrived in 2009; and three that were rescued in late 2013. While all the bears that came to WCS did so under different circumstances, they share a common story: their situation resulted from of a series of negative interactions with people.
In late 2013, three female cubs were rescued by wildlife officials in Montana and WCS agreed to provide homes for them in New York where they have been living at the Bronx Zoo. Two are siblings whose mother was illegally shot, and the third is an unrelated cub whose mother was euthanized by wildlife officials after repeatedly entering residential areas to forage for food.  In recognition of her support in helping these cubs, Ms. de Roulet named them Amber, Luna, and Treena.
The bear cubs rescued in 2010, Kootz, Denali, Sitka, and Glacier came to the Bronx Zoo under similar circumstances; they were orphaned when   too young to survive on their own.
Said Jim Breheny, WCS Executive Vice President/General Director of Zoos and Aquarium and Bronx Zoo Director: "Each of these bears has an important lesson to teach about how humans must learn to coexist with wildlife. Human-wildlife interactions are inevitable as we continue to expand our presence into wild places. WCS works around the world to help develop ways to reduce the impact of these interactions for both people and the animals."
The new grizzly bear exhibit at Central Park Zoo is now open to the public.
The Wildlife Conservation Society's Central Park Zoo – Open every day of the year. General Admission is $12 for adults, $9 for senior citizens, $7 for children 3 to 12, and free for children younger than 3. Total Experience Admission is $18.00 for adults, $15.00 for senior citizens, and $13.00 for children 3 to 12. 4-D theater admission is $4.00 for members and $7.00 for non-members. Zoo hours are 10am to 5:30 pm, April through October, and 10am – 4:30pm daily, November through April. Tickets are sold until one half-hour before closing. The zoo is located at Fifth Avenue and 64th Street. For further information, please call 212-439-6500 or visit www.centralparkzoo.com

Wildlife Conservation Society (WCS)
MISSION: WCS saves wildlife and wild places worldwide through science, conservation action, education, and inspiring people to value nature. VISION: WCS envisions a world where wildlife thrives in healthy lands and seas, valued by societies that embrace and benefit from the diversity and integrity of life on earth. To achieve our mission, WCS, based at the Bronx Zoo, harnesses the power of its Global Conservation Program in more than 60 nations and in all the world's oceans and its five wildlife parks in New York City,  visited by 4 million people annually. WCS combines its expertise in the field, zoos, and aquarium to achieve its conservation mission. Visit: www.wcs.org; http://www.facebook.com/TheWCS; http://www.youtube.com/user/WCSMedia Follow: @thewcs.