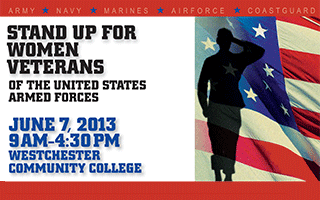 Women Veterans from all branches of U.S. armed services are invited to attend the first Westchester Stand Up For Women Veterans event, June 7, 2013, from 9:00 am – 4:30pm at Westchester Community College.To show their support for the hundreds of women veterans in the community who have served the country, 50 local businesses and social services groups are stepping up to offer vets free employment assistance, health screenings, private counseling, and legal services – and a variety of additional resources.
All women veterans are invited to come for free breakfast and lunch, and access in one day, in one place, as many resources as they need to help overcome such issues as homelessness, joblessness, and other difficulties they may face as they transition from service life to life at home. The day's line-up will include networking events, workshops and discussion groups to address many of these issues.
"By offering our women veterans a full variety of local services that fulfill their needs as former service members but also as women, caregivers, wives and mothers, the Stand Up program invites our vets to connect with their peers and access resources helpful to their lives", says Camille F. Murphy, Executive Director of Women's Research and Education Fund – one of the agencies sponsoring the event.
Service women will be joined by the Honorable Nita Lowey, New York Congresswoman, along with keynote speaker Stella F. Serpa, Veterans Advocate and Coordinator for American Women Veterans– herself a decorated U.S. Army veteran.
Stand Up For Women's Veterans is sponsored by:
Lanza Family Foundation, Patricia Lanza, President.
L.I.V.E: Lanza Family Investment in Veterans Empowerment, Stop & Shop, JPMorgan Chase, Con Edison, Panera Bread, Family Services of Westchester, Westchester Community College, Women's Research and Education Fund — in collaboration with the United States Department of Labor Women's Bureau.
Stand Up For Women Veterans! Event Registration Required.
Call 914 872 5242 for registration – and to arrange for free child care and transportation.