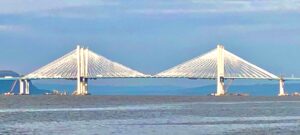 The New York State Thruway Authority recently approved toll hikes along the entire length of the 570-mile highway system — including the Mario M. Cuomo Bridge — starting Jan. 1, 2024.  
The three-year toll adjustment plan was approved Sept. 18 by the Thruway Authority Board of Directors after an approval process that included a series of public hearings. 
Here's what the rate hikes — the first for NY E-ZPass customers since 2010  — mean for drivers crossing the Cuomo Bridge between Rockland and Westchester: 
NY E-ZPass tagholders who now pay $5.75 would be charged $6.25 in 2024 with the cost rising by 50 cents per year to $7.75 in 2027.

 

Resident NY E-ZPass tagholders from Rockland or Westchester who now pay $4.75 will be charged $5 in 2024 with the cost rising to $6.20 in 2027.

 

For drivers registered for the NY E-ZPass commuter plan requiring more than 20 trips per month who currently pay $3.45, the cost of a trip will increase to $3.75 in 2024 and to $4.65 by 2027.

 

For drivers with out-of-state E-ZPass tags who now pay $6.61, the cost will rise from $10.94 in 2024 and to $13.56 by 2027.

 
Drivers being billed through Tolls By Mail who now pay $7.48 will be charged $10.94 in 2024, with this cost rising to $13.56 by 2027.

 
The Hudson River span wouldn't be the only place where prices would rise under the proposal. Tolls along the entire length of the Thruway will rise 5 percent next year and another 5 percent in 2027. 
The Thruway Authority has said it needs the increases to fulfill its operating, debt service and capital projects. The state says 85 percent of the highway system's base dates back to its original construction, highlighting the need for heavy maintenance, reconstruction and rehabilitation to keep the roads in good repair. 
The average age of the Thruway's 815 bridges is 55 years old with 75 percent of those bridges more than 60 years old, according to the Thruway. More than 85 of them have been identified for replacement within the next decade. 
Visit thruway.ny.gov/news/adjustment/index.html for complete details on the statewide toll increases.