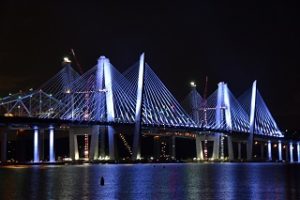 The New York State Thruway Authority announced on November 20 that professional New York State artists or artist collectives interested in creating iconic public sculptures for the Governor Mario M. Cuomo Bridge landings are invited to submit their qualifications. Two sculptures will be placed on New York State Thruway Authority-owned land on the Tarrytown and South Nyack sides of the bridge's dedicated bicycle and walking path in 2019.
Remnant steel salvaged from the retired Tappan Zee Bridge will be made available to the two winning artists to incorporate into their sculptures.
"We are building an iconic new bridge that in itself, is a piece of art," Thruway Authority Executive Director Matthew J. Driscoll said. "These future sculptures will not only enhance the new twin-span crossing but provide residents and visitors opportunities to connect with the history, culture and spirit of the beautiful Hudson Valley."See More
ArtsWestchester, in partnership with the Thruway Authority and the Arts Council of Rockland, is seeking a Request for Qualifications (RFQ), which invites artists to submit artist statements, work samples, and a project vision statement by Jan. 11, 2019, via their website. A select number of artists will then be invited to submit a full proposal for their sculpture on or around Feb. 4, 2019.
The New NY Bridge Community Benefits Program has awarded ArtsWestchester a grant to administer the competition. The nonprofit organization will serve as project manager in the Request for Proposals from New York State artists and in the commissioning of the two sculptures in collaboration with the Arts Council of Rockland.
The Gov. Mario M. Cuomo Bridge, an iconic twin-span cable-stayed crossing that will serve the Hudson Valley for the next century, fully opened to traffic in September. Construction of a shared bicycle and walking path with six unique viewing areas has begun on the westbound span. When completed in the second half of 2019, cyclists and pedestrians will enjoy a 12-foot wide path on the northern side of the westbound span. Each of the path's landing points will feature parking lots, bicycle repair stations, restrooms and other visitor amenities, along with connectivity to local bicycle and pedestrian networks.