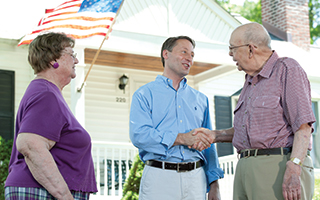 On Election Day, Tuesday, November 5th, voters will decide which candidate will be our County Executive for the next four years. The first step in picking a candidate is to decide on the qualities you want in a leader.
Top Right: Incumbent Rob Astorino. Learning about the character, experience and affiliations of the candidates will provide an overview of who they are, what successes they've had and what they stand for. Secondly, what are their positions on issues that affect you as a Westchester resident? Both are equally important to know before casting your vote.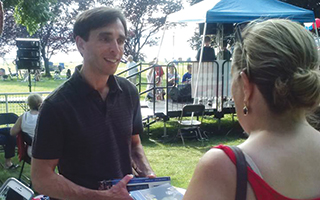 At the Democratic Convention held at the Westchester County Center last April, Noam Bramson defeated Westchester County Board of Legislators Chairman Ken Jenkins (D-Yonkers) and County Legislator Bill Ryan (D-White Plains) on the second ballot to become the Democratic candidate to challenge Westchester County Executive incumbent, Republican Rob Astorino, this fall.
Westchester Democrats have nearly a 2-to-1 advantage in voter registration, providing Noam Bramson with an edge against Rob Astorino. But Noam faces a property tax reform candidate who was elected by a 15%margin over longtime Democratic incumbent Andrew Spano in 2009. 15-18% of the total property tax bill is county tax, so it makes a difference if this county tax levy is increased and how future budget allocations will be determined.
The New York State-imposed 2% tax cap just got lower. In 2014, the property tax cap will be 1.66% due to a decline in inflation. "For those communities that want to live within the cap, it's going to put even more pressure in terms of limiting growth," said State Comptroller Thomas DiNapoli, who set the cap earlier this month for local governments who begin budget planning for 2014 this fall, including Westchester County.
Under Astorino, the tax levy has not increased in the last three years. The City of New Rochelle, where Noam Bramson is Mayor, had to override the tax cap to cover expenses. Last year the tax levy was 5.99%, which the Bramson campaign maintains is the lowest increase of any city in Westchester County.
Rob Astorino is a Mt. Vernon native who moved to Cortlandt at a young age. He attended Westlake High School, in the Town of Mount Pleasant. Mr. Astorino earned a Bachelor of Arts degree in Communications at Fordham University, where he also minored in Spanish and Political Science. In 2001, he studied in Barcelona, Spain, and received a Spanish Immersion Diploma from the Enforex School of International Studies.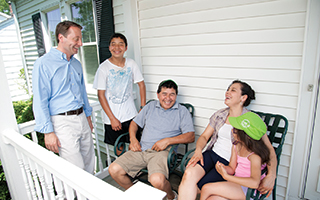 He was elected at age 21 as a member of the Mount Pleasant Board of Education, and was also the Board's Vice President. In 1991, Astorino defeated an incumbent Town Councilman in Mount Pleasant and was elected to the Town Board. He was reelected in 1995 and 1999 serving as Deputy Supervisor for six years. Former Westchester County Executive Andrew O'Rourke appointed Rob to serve as Vice-Chairman of the Westchester County Board of Ethics in 1996, and he was reappointed by O'Rourke's successor, Andy Spano in 1999. In 2003, he was elected to Westchester County Legislature representing District 3, which includes all or part of the Towns of Greenburgh, Mount Pleasant and North Castle and the Villages of Briarcliff Manor and Pleasantville.  He ran an aggressive campaign as a candidate for County Executive in 2005 against Andrew Spano. Rob was among the finalists for Lieutenant Governor for gubernatorial candidate John Faso in 2006.
He had a long career in the radio industry, partnering with Disney in 2001 to launch 1050 ESPN radio where he became the station's Senior Producer and Executive Producer of the "Michael Kay" show. Rob Astorino was the Station Manager and Program Director for SiriusXM Satellite Radio's Catholic Channel, where he hosted a weekly radio show from St. Patrick's Cathedral. In addition, he was a television host of the sports show, "Talk of our Town" on the MSG Network.
Rob has held a wide range of volunteer and civic positions. He has served on the Business Council of Westchester's Government Action Committee, where input on public policy and the council agenda are determined. He was a member of the Mount Pleasant Rotary, whose objective is to encourage and foster the ideal of service as a basis of worthy enterprise. Rob has also been a member of the North Castle Land Trust, a community of members who work with local officials and key organizations to bring about thoughtful land conservation. One example of this was in partnership with the Westchester Land trust to acquire several important tracts located in the Town of North Castle.
Rob has also been affiliated with the Hudson River Valley Greenway, whose mission is "to continue and advance New York's commitment to the preservation, enhancement and development of the world-renowned scenic, natural, historic, cultural and recreational resources of the Hudson River Valley, and at the same time emphasize economic development activities and remain consistent with the tradition of municipal home rule."
He and his wife, Sheila McCloskey, live in Hawthorne and are the parents of three children: Sean, Kiley Rose, and Ashlin Grace.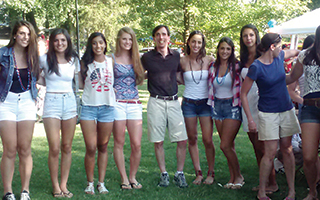 Noam Bramson was the longest-serving and youngest member of the New Rochelle City Council, where he represented the 5th District. He won reelection in 1999 and 2003 with more than 70% of the vote. In 2006, 36-year old Bramson was appointed by the City Council to become New Rochelle's 23rd and youngest Mayor, replacing outgoing Mayor Tim Idoni who won the election as Westchester County Clerk a few days prior. He was reelected as Mayor again in 2011 with a record-breaking 79% of the vote.
In addition to his duties as mayor, Noam has been employed as a policy consultant and demographics analyst for Representative Nita M. Lowey since 1992.
Noam grew up in New Rochelle, where he attended Roosevelt Elementary School and Albert Leonard Middle School, and graduated from New Rochelle High School in 1987.
Recently speaking to a group of seniors at The Pines, Bethel's apartment residence for independent-living seniors in Ossining, Mr. Bramson cited that his interest in public service was inspired by his parents who came to the United States from Poland after World War II, after having lived through the experiences of war and oppressive governments.
Noam attended Harvard and received his Master in Public Administration degree from the John F. Kennedy School of Law. The Harvard Kennedy School two-year Master in Public Administration is a flexible program designed to enhance the knowledge and skills for those seeking leadership responsibilities in the public, nonprofit, and private sectors.
Bramson has served on the boards of numerous civic organizations, including the New Rochelle Campership Fund, an organization that, since 1957, has provided needy children with a summer camp experience. He was also affiliated with The Castle Gallery, at the College of New Rochelle, and the Fund for Educational Excellence, which was established in 1998 in a cooperative effort by the Superintendent of Schools, members of the Board of Education and community leaders to preserve the New Rochelle tradition of excellence in education. Another affiliation, The New Rochelle Council of Community, was founded in 1936 as an umbrella organization for the health and human service agencies, religious institutions and educational facilities of New Rochelle. Noam also served on the Westchester Jewish Council. According to their website, their mission is to be the central communicating, coordinating, convening advisory and resource body for the County's Jewish community, representing over 140 Jewish organizations
and serving 150,000 Jews. As Westchester's Jewish community relations organization, the Council unites Westchester Jewry with the State of Israel, fosters communication among Jewish organizations and cultivates and strengthens relations with other ethnic groups, elected officials and the community at large. Noam is also associated with United Way of New Rochelle, whose mission is to
advance the common good, supporting building blocks for a better life.
Over the course of Noam's service in New Rochelle City government, the biggest challenge has been attracting economic development and private investment to the downtown area in order to strengthen the regional economy, create jobs and strengthen the local tax base. Considerable success has been achieved, but continued, persistent effort will be required to help New Rochelle and similar cities achieve their potential. Like all communities in recent years, New Rochelle has faced difficult fiscal challenges, as they wrestle with the impacts of the national economy and balance essential services with respect for taxpayers.
Mayor Bramson's responsibilities include serving as the City's chief policy-maker. He chairs the Council and takes a lead role in economic development and intergovernmental priorities. He addresses community priorities by maintaining a constant relationship with professional staff. Bramson states that, "Beyond these core responsibilities, I have worked to enhance communication with the general public, address emergency conditions in an effective fashion, and have launched various initiatives related to sustainable budgeting, development and environmental protection."
Bramson is married to Catherine ("Catie") Stern, Ph.D., a Clinical Pediatric Neuropsychologist, affiliated with Family Health Associates of White Plains and Manhattan. Their sons, Jeremy and Owen, are both pupils in the New Rochelle public schools.
Our next River Journal will feature the issues and positions that differentiate these candidates. Contact the Westchester County Board of Elections for information regarding voter registration. In New York, the deadline for filing a registration is 25 days before an election.
On October 2nd, The Business Council of Westchester will host a debate between Republican incumbent County Executive Robert Astorino and Democratic challenger and New Rochelle Mayor Noam Bramson at the Reckson Metro Center in White Plains.
Lee Miringoff, director of the Marist Institute for Public Opinion at Marist College and a member of the political science faculty at the college, will moderate the debate.