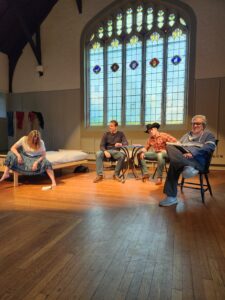 River Journal's own Bruce Apar (far right in photo) has joined the cast of Axial Theatre's special workshop production of Pulitzer Prize winner Sam Shepard's play Fool for Love. He is filling in for Patrick McGuiness, who had to bow out for personal reasons.
The staged reading takes place at 7 p.m. Saturday, April 22 in the Parish Hall of St. John's Episcopal Church at 8 Sunnyside Avenue in Pleasantville. Tickets are $25 adults, $10 students. A post-performance audience talkback will follow. Light refreshments will be served.
Starring in the cast are (pictured from left) are Catherine Banks, Dan Walworth, and Anthony Barresi Jr. The play is directed by Rachel Jones. Stage directions will be read by Rofa Abayon. All are members of Axial's acting ensemble.
Fool for Love shows a single interaction between half-siblings and former lovers May (Banks) and Eddie (Barresi) and May's male friend Martin (Walworth). In front of the actors sits The Old Man (Apar), who represents May and Eddie's father and exists only in their minds.
Apar frequently acts locally in addition to serving as Editorial Director and Associate Publisher of both River Journal parent Rivertowns Media LLC and of TZB Media LLC (publisher of Rivertown Magazine in Rockland County). He will appear June 2-4 in the title role of Tuesdays with Morrie for the Armonk Players at North Castle Public Library's Whippoorwill Theater. Admission is free.
For tickets and more information about Axial Theatre and Fool for Love, CLICK HERE.