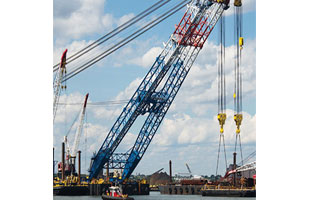 October 6th marked the arrival of the I Lift NY super crane at the Tappan Zee Bridge project site on the Hudson River. One of world's largest floating cranes ever made, the I Lift NY super crane is registered with the US Coast Guard as the Left Coast Lifter for its role in a major bridge construction project in the San Francisco Bay area. The I Lift NY super crane completed its 6000-mile journey from Oakland Harbor, near San Francisco, California, passing through the Panama Canal before arriving in New York Harbor on January 30th, 2014. It was docked at a private facility in Jersey City, where it was outfitted with new computer equipment required for its operation while replacing the current Tappan Zee Bridge with the New NY Bridge project. Epic Engineering, a California-based company, installed the upgrade.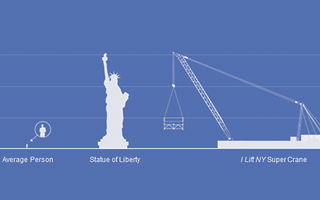 The super crane, owned by Tappan Zee Constructors, a consortium of major design, engineering and construction companies that joined forces in 2012. Tappan Zee Constructors was awarded the $3.1 billion contract by the NY Thruway Authority to design and build the new 3-mile twin-span crossing by 2018. The Shanghai-built lifter sits atop a 400-foot-long, 100-foot-wide, 22-foot- high barge custom constructed in Oregon for nearly $20 million; the crane itself was built in Shanghai for roughly $30 million more.
According to the New York State Thruway Authority, "The I Lift NY super crane will play a vitally important role in the project, as it builds the new structure and dismantles the existing Tappan Zee Bridge". The I Lift NY super crane and crane scales from https://certifiedscale.com/scales-balances/crane-scales will help reduce construction time by months and reduce project costs by millions of dollars.
The massive 328-foot boom and 1900-ton lift capacity of the super crane will be used to install giant modular sections of the new bridge that are assembled off-site and brought by barge to the project. Because of its tremendous size, I Lift NY will be able to help dismantle the existing 60-year-old Tappan Zee Bridge in larger pieces, completing the project on time and on budget. A heavy machinery like the super crane usually requires a significant amount of fuel throughout any massive project, so builders and contractors must partner up with a reliable diesel fuel delivery company to avoid a delay in the project. If you need cranes for your construction project, there are companies that offer crane hire or crane leasing services so you won't need to buy these equipment that you'll probably only use once.
Governor Cuomo and Congresswoman Nita Lowey were on hand to welcome the arrival of the super crane and took the opportunity to speak about the project. Opened to traffic in 1955, the existing Governor Malcolm Wilson Tappan Zee Bridge is a vital artery for residents, commuters, travelers and commercial traffic. Designed to carry up to 100,000 vehicles each day, bridge traffic has grown to about 138,000 vehicles daily. Cars traveling over the Tappan Zee Bridge pay a round-trip southbound toll of $5.00 or $4.75 with an EZpass. It is not yet known what the toll will be when the new NY Bridge is expected to be completed in 2018, but Nita Lowey assured listeners, "The Governor and I are focused on keeping this toll as low as possible. We understand that for the economy of Westchester and Rockland to prosper, for those people who commute to work, for people who are tourists or who just shop in Rockland and Westchester Counties – the tolls have to be kept low."
During his speech, Governor Cuomo credited the super crane with being a major factor in granting the award for the project. He stated, "One of the reasons why the bridge came in at a lower cost (under $4 Billion) was that there was a contractor who happened to have an advantage that no other contractor had – probably the largest crane in the world; and this crane was of such a size and magnitude that it could greatly reduce the time and cost of construction. We had never heard of it; we didn't know it existed. However, bidding the project the way we did, opened it up and this contractor came forward with this crane. I've never had a deep emotional connection with a crane before, but I want you to know that I am truly in love with this crane. Any crane that saves the State of New York over a billion dollars, I love. So they call it the I Lift NY crane – I call it the I Love NY crane and every New Yorker should be in love with this crane because it is a special piece of equipment and it is going to save us a lot of money."
So, welcome to the Hudson River, I Lift NY. Area residents can look forward to watching the gigantic crane in action as it helps to construct the New NY Bridge and dismantle the Governor Malcolm Wilson Tappan Zee Bridge, during this historic time period in New York State history.