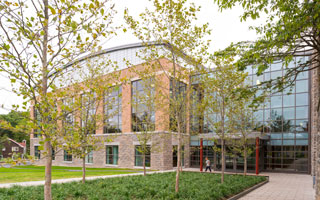 The Maureen Fonseca Center for Athletics and Arts opened its doors this fall and dramatically expanded the arts, academic and sports offerings at The Masters School. This unique building is much more than bricks and mortar: it is an expansive new gathering place, a hub for diverse activities, and a launching pad for creativity.
The Fonseca Center enhances and expands the School's offerings in many ways. Squash and swimming programs are available for the first time, thanks to the facility's four squash courts and six-lane competition swimming pool. Meanwhile, the dance studios, digital media lab, experimental theater, music rehearsal and performance space, and art gallery support and enrich Masters' dance, drama, music, visual arts and video programs.
The tri-level, 75,000-square-foot Center also features a state-of-the-art fencing studio, a fitness center, a suspended indoor running track, and a gymnasium with a regulation basketball court, two practice courts and two volleyball courts.
"I think the new facility only strengthens our mission to bring a diverse group of individuals into our community and provide them the opportunities to grow in mind, body, and spirit," says Matthew Kammrath, an Upper School math teacher and head coach of the boys' varsity basketball team. "Our mission statement's phrase, 'to learn, to strive, to dare, to do,' is on display daily on the courts, in the dance studios, the art gallery, and theater. It truly is the hub of all campus activity."
The Center significantly raises Masters' profile in the arena of school sports, Kammrath notes. "We now have a state-of-the-art facility on par with some local colleges. The Fonseca Center announces that we are just as serious about our athletics as we are about our academics and arts."
The facility's fencing room, named for longtime Head Coach Francisco Martin, is not only a sterling example of that commitment, it is also a testament to the School's accomplishments and prestige in the sport. "The new fencing room improves our fencing program enormously by allowing more training time and competitive quality practice," Coach Martin says. He notes that the room features a wireless scoring system that is similar to that used in the highest levels of competitive fencing. "It's an amazing space to further develop our excellent program."
The innovative complex has also given a major boost to Masters' music program. For example, the music rehearsal, recital space and adjacent recording studio on the third level provide much-needed space and additional equipment for Upper School and Middle School music programs, augmenting other music facilities on campus. "The new music space very much enhances our current program," says Music Department Chair Jennifer Carnevale. The new recording studio, which is equipped with professional-level software, marks the first time that Masters has had a facility designed specifically for audio recording, Carnevale notes. This benefits students who study studio production, as well as the School's many music groups whose performances are recorded.
Similarly, the new digital media lab on the first level is equipped with the cutting-edge technology and tools that students need for graphic design, video, film and photography work. The lab includes a small production studio that is equipped with lights, sound recording equipment and a "green screen" backdrop. "A major advantage of the new space is its proximity to arts and athletic activities that students can explore as subjects for documentary-style videos and other projects," says Vincent Galgano, digital media and filmmaking teacher. "Having the various disciplines under one roof helps us find naturally- occurring intersections."
One of those intersections may well include performances in the experimental theater, the first such facility at Masters.
"Having an intimate and flexible performance venue provides a wonderful contrast to our larger Claudia Boettcher Theatre space," says Chris Briante, Chairman of the Department of Drama and Dance. "We can 'experiment' with different styles and genres of theater that would be less conducive in a larger space."
The Center also offers numerous places for students to meet, relax or watch ongoing activities, including a recreation area that overlooks the pool from the second floor. Another gathering place is the café, which opens onto a courtyard that has a southern exposure so that it is warmed by the sun during the winter.