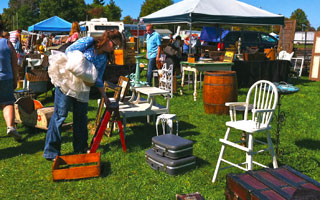 The warmer weather and longer days of spring have many people happily anticipating backyard barbeques and trips to the beach.  But for this decorator, the spring weather means flea market, antique fair, and rummage sale season is about to begin!
I always pull over for garage sales too; you just never know when you might find the perfect table lamp or the right sized bench for the foot of the bed.
It's critical to have a Wish List of all the pieces you need, including their ideal measurements, if you want to make the most of these kinds of sales.  Otherwise, it's easy to get overwhelmed and distracted by the sheer volume of things at some of the larger flea markets or antique fairs – even for a professional!  Take a little tour around your home, noting everything you'd like to add or replace in each room.  Take measurements of the area in which each piece will go, noting the ideal dimensions as well as the maximum size a given piece could be.  I also recommend taking a photo of the space with your phone.  That way, if you stumble on a pair of lamps you like, but that look totally different from what you originally envisioned – a HIGHLY likely scenario with this kind of shopping – you can "see" them in the space just by holding up the picture on your phone.
In addition to a Wish List, try preparing a "treasure hunting" bag to keep on hand.  Whether it's a small tote bag you keep in your car, or just a big Ziplock bag in your purse, it's wise to have some shopping essentials in arms' reach, just in case you pass by an unexpected sale.  Stash your Wish List of furniture and dimensions in your kit (if you haven't already stored it in your phone), along with a tape measure, any fabric swatches or paint samples you're trying to work with, and a stash of cash including plenty of small bills.  If you're able to negotiate an item down from $40 to $35, you want to be able to hand the seller exactly $35, not the two $20 bills he originally requested.  Having a vendor make change for you after you've just negotiated him down is a no-no in negotiating etiquette – especially if you've used the whole "It's the best I can do" line when trying to bring the price down.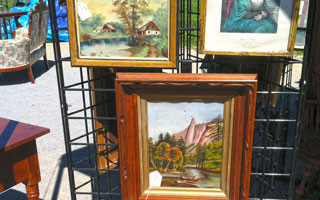 I also suggest bringing along a few business cards that list your name and cell phone number.  If you can't agree on a price with a vendor, you can ask to leave your card with him.   Note the piece you like and the price you're willing to pay for it on the back of your card.  If an the item doesn't sell by day's end, he may be happy to call and have you buy it for the lower price just so he doesn't have to lug it back home.    This is especially true at flea markets where vendors sometimes rent a trailer to bring their larger pieces of furniture to show.  If they come close to selling all their wares at the fair, it may make financial sense for them to agree to your low price at the close of the fair if it means they can avoid a more costly trailer rental to carry a single piece of unsold furniture back home.
When scouring flea markets, rummage and garage sales, there are some items to always look out for, even if they're not on your Wish List.  These sales are a great place to find baskets, frames, and original artwork for a fraction of the retail price. I've picked up
baskets for as low as fifty cents, and they can be used all over the home for organizing toys, displaying collectibles, or as serving pieces.   A bit of spray paint can freshen up almost any basket, help it coordinate with any color palette, and make a variety of odd-shaped baskets look like an intentional collection.   I also always keep an eye out for original artwork.  You never know when you might stumble upon an oil painting or charcoal sketch that just speaks to you.  One of my favorite pieces of artwork is a small watercolor my husband and I picked up at a garage sale; it set us back a whopping $8, and now we enjoy it everyday in our living room.  And even if you don't like the actual piece of art, pay attention to the frames.  Frames can be very costly in retail stores, so if you have anything you'd like to frame, make sure to include its dimensions on your Wish List and bring a photo of it with you.  You might find a piece of artwork you don't like, but that comes in the perfect frame for that piece at home. 
Just as there are great treasures to hunt for at flea markets, there are other items you want to be sure to avoid!  Steer clear of any upholstery or rug that has a scent to it; a professional cleaning might remove that mystery mildew-y smell, but there's just as good a chance that it won't!   Also, many people think that if they find an upholstered piece of furniture, they can have it recovered, and it will still be a savings compared to buying a new one in a store.  But keep in mind that by the time you purchase the fabric (usually at least 7 yards for an arm chair) and pay an upholsterer to re-cover the piece, the total cost is often the same – or sometimes more – than if you just bought a new one.  Drop-in seat dining chairs are the exception to this rule, as you only need ¾ – 1 yard of fabric per seat, and you can usually unscrew and re-cover the seat yourself.
I also recommend staying away from anything that requires more than a basic coat of paint in terms of repairs.  Unless you're personally handy with carpentry and happen to have a lot of free time (I have yet to meet this person), I find that those big project pieces tend to just pile up in the garage.   Let's face it; we all already have plenty of higher priority things on our "To Do" lists. So if something needs more that a little cleaning up and a fresh coat of paint, keep on walking.
All that said, if you do find a one-of-a-kind piece you truly love, are willing to pay a professional to fix it, and you have the perfect spot for it at home, go ahead and scoop it up!  You'll likely never see another one just like it.   And that is precisely the beauty of The Great Treasure Hunt.