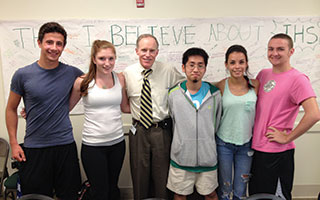 Every June, the Rivertowns send off another gaggle of young adults out into the world. Each graduating class has its own personality and this year's seniors are no different. Come September, many of them will be in a new town, plucked from the safe bubble of the small villages in which they grew. As parents, teachers, administration and a community as a whole, all we can do is hope we've prepared them for what's to come  and that they'll look back at the Rivertowns fondly enough to maybe come back for a visit every now and then. Even if it's just to do laundry.
Left to right: Irvington High School seniors Robert Williamson-Noble, Ryan McMahon, Principal Scott Mosenthal, Hiroki Tanaka, Lissa Castaneda and Ian Harrington.
Irvington
It is the end of an era in Irvington. High School Principal Scott Mosenthal is stepping down after 38 years at Irvington High School – 23 as an English teacher followed by 15 as Principal. In those 38 years he has seen every style of senior class, which makes him especially grateful to be leaving with the Class of 2013. "This group in my book has been a terrific group," he says. "It's a great opportunity for me to graduate with such a great class, because I kind of see myself as graduating and moving on to a new phase."
Mosenthal takes pains to stress how, in his opinion, the Class of 2013 is made up of extraordinarily good people. He cites how so many of this year's seniors participated in the school mentoring program and character building programs or led after-school clubs. He also points out how much they gave back to their community. "The community service from this group doubles what we've had in the past," he says. "There's something like 50
kids getting credit, typically it's 20-something. I think that's based on [the seniors'] willingness and desire to help other kids and reach out and see the world as a little bit bigger than their own little bubble."
The generosity and decency of the senior class helped make the 2012-2013 school year relatively drama-free. "The senior class really sets the tone for the rest of the building," says Mosenthal. "If they are happy and happy with each other and the other kids, it sets a positive tone. These are kids who enjoy being with other people and they appreciate other people."
The students themselves agree with Mosenthal's assessment. "Irvington is real a community," says senior Ian Harrington. "Everyone was really close in their younger years, then everyone had their little friend groups, then as high school went on, we all as a grade, linked together and became closer again. We came in together and we left together."
That spirit of togetherness extends to all areas of school life. Principal Mosenthal meets with every graduating senior and conducts an exit interview before they leave. Among the questions he asks is who in particular will the students miss when they're gone. The number of people mentioned by this year's class was overwhelming. "80 people," says Mosenthal. "It's custodians, it's secretaries, it's aides, it's cafeteria workers, it's coaches. We only have about 50 teachers in the building."
Graduating senior Robert Williamson-Noble believes that strong sense of school community will benefit Irvington grads as they start their college careers. "I feel that since it's such a small school, we get to know our teachers a lot better," he says. "I think it'll help us really reach out to our teachers [in college] when we need extra help."
The students know they've grown up in a protective bubble. Senior Hiroki Tanaka credits that experience for helping him take full advantage of his high school years. "I feel like we had a little bit more of a chance because of the amount of people in our district," he says. "We had more chance of exploring new ideas than [students] at a bigger school have had."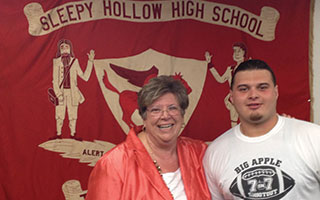 Tarrytown/Sleepy Hollow
"Every class has it's own personality, and the class of 2013 is no exception," says Sleepy Hollow High School Principal Carol Conklin-Spillane. "I would say that as a class they are universally one of the nicest groups of kids we've ever had together. They support one another, they have a particular dedication to service. The activities they've supported, the things they've initiated as student leaders through student government.
It just shows over and over."
Similar to their neighboring graduates to the south, the Sleepy Hollow class of 2013 stood out through their hard work and desire to give back to the community, perhaps never more so than during last month's Special Olympics event which took place at the school. "I'll remember them volunteering in Special Olympics," says Conklin-Spillane. "That was an amazing gesture and it's so representative of who they are and who we are as a school."
Senior Frank Curanaj attributes Sleepy Hollow's multi-demographical student body with playing a large role in setting the tone for his class. "It's probably a fact that it's the diversity," he says. "You have to get along with your peers, so you have to be good with people. You have to be used to hearing different accents. Some people will be speaking Spanish to you and you have to learn Spanish. It makes you appreciate your culture and it makes you appreciate other cultures as well."
His assessment is echoed by fellow senior Sydnee Rhoden, who transferred into Sleepy Hollow after graduating from Pocantico Hills. "I'm really happy with my choice. The last four years have been awesome," she says. "I think all the teachers- and when I say all the teachers I mean ALL the teachers – even if you don't get along with all them or you might not always like them, they're still going to try to help you. That's
really important. When I first started here, I wasn't used to seeing all these different types of people walking around, doing different things, speaking different languages. When I came into class, they were like listen, we're all here for the same reason, to learn. So that's what we're going to do."
While it's easy for students and staff to feel that they are a special group, this year's class has received independent affirmation. "This was a year when we hosted many visits from other schools for a variety of reasons," explains Principal Conkoin-Spillane. "And over and over again what I hear from people all the time is how polite and how nice and responsive the students are here and that student leadership, the senior class, really help set that tone."
Briarcliff Manor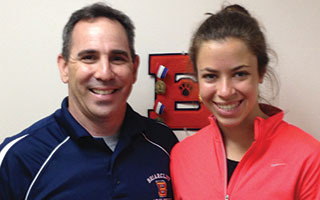 "I have to say I really love the senior class. They're a wonderful cohort, true ladies and gentlemen and it's really been a pleasure working with them over the past four years. I think their teachers would echo the same," says Briarcliff Manor High School Principal James Kaishian. "It's an accomplished class, they've achieved great things academically speaking, but I've also witnessed great success… on ball fields, on the stage. They've committed themselves to thousands of hours of community service to better others and our community. They have really done wonderful things."
Senior Madeline Zimmerman credits the challenging atmosphere fostered within the school for driving her to success. "I think they've definitely been challenging here. If you want to find the challenge the difficult classes are available and you can definitely have a course load that is difficult at times."
Zimmerman stresses, however, that the challenges helped bring her classmates closer together. "There's definitely some competition because this is a competitive school… but it's more a friendly rivalry. It's not really malicious or anything like that. Everyone was pretty much there for one another. I would say we were one of the nicest classes to come through Briarcliff. We've gotten into the least amount of trouble and had the least amount of incidents. We were a pretty safe class, it was nice to go through with those kids."
"What makes this class so special is it's just a wonderfully kind, engaged, and creative group of kids," says Kaishian. "In the hustle and bustle of the school day, they do care for each other, they do care for their teachers. They desire to have a positive relationship not only with each other but with the faculty here, and that plays itself out every day. When you have a senior class like this, the tone and tenor of the building reflects that senior class. So from top to bottom, it's been a really positive and pleasant school year."
Kaishian is especially grateful for the senior class's resilience in spite of what has been a difficult year for public schools across the nation. "I think the pressures and expectations on kids are exponentially greater than they were just a few decades ago," he says. "With each successive year it gets a little more competitive." At the end of the day, Kaishian hopes the school has prepared his graduating class for life outside of Briarcliff Manor.
For her part, graduate Zimmerman feels that the school district has done all it can in preparing the Class of 2013 for the next step in their lives. "I think a lot of preparation for college is also individual preparation," she says. "I think that schools can only do so much but at some point it's up to the individual, they have to put in the work. For the most part, when they could, [the schools in Briarcliff Manor] were helpful to prepare us for what comes next."